This White Chocolate and Raspberry Loaf Cake is the perfect sweet loaf cake! The caramelized white chocolate paired with the tart sweetness of the raspberries makes this recipe a keeper! It's a great addition to a breakfast, snack, or dessert.
Loaf cakes are some of the easiest and fool-proof ways to bake. Banana bread, zucchini bread, etc., are some of my favorite things to bake. They require very few utensils and don't require me to use an electric mixer. And then you pop it in a loaf pan and can walk away for about an hour. The hardest part about baking a cake is letting it cool enough so that it doesn't fall apart when you take it out of the pan. I tend to want to dive right in.
This kind of cake doesn't require any sort of icing to be delicious. I topped this loaf cake with extra white chocolate chips, which formed this super delicious and caramelized crust on top. I think it might be my favorite part!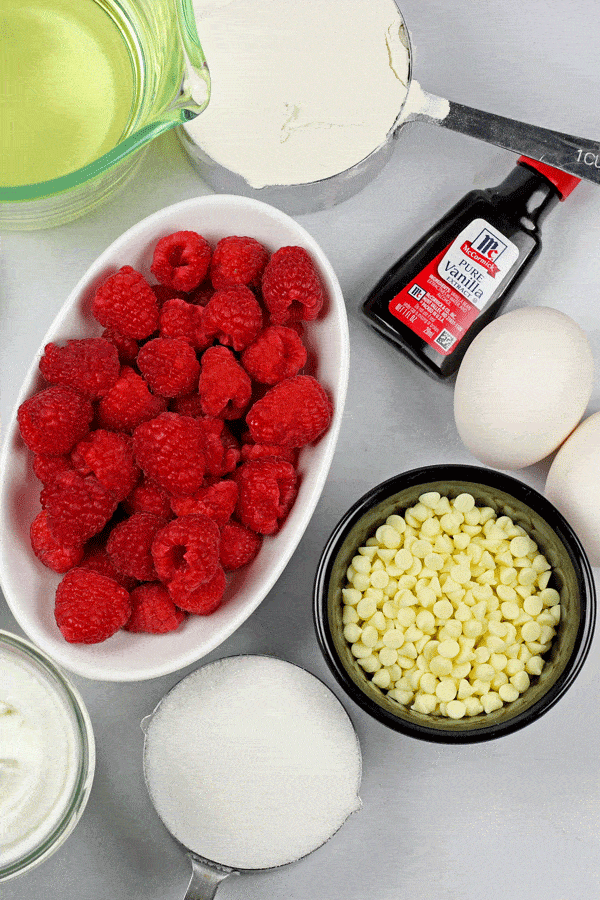 Ingredients
All-purpose flour: This is obviously the base of the cake. You can also use whole grain flour, but if you do, I would do a 50/50 blend with all-purpose. Or you could also try a whole grain pastry flour, which would give a softer texture than regular whole grain flour. I like the basic all-purpose for this cake. Not only was the flour used for the base of the cake, but I also used a little bit (about 1 tbsp.) to dust the raspberries before adding them to the batter. I'll tell you why below.
Baking powder: This is the leavening agent needed to make the cake rise. Make sure it's fresh and not expired, or you might end up with a flat cake.
Salt: This is needed for leavening purposes, but salt in baked goods gives the sweetness a little more sharpness because of the contrasting flavor.
Sugar: I used plain, white granulated sugar. I don't recommend anything else for this recipe as most other sweeteners (like brown sugar, maple syrup, honey, etc.) would alter the cake's moisture ratios causing it to potentially fall apart.
Greek yogurt: Getting Greek-style yogurt is important for this recipe because of the consistency. Greek yogurt also adds a tang and helps keep the crumb of the cake tender. It works similar to buttermilk in recipes.
Vanilla extract: This is a must for most sweet baking recipes for that warm, delicious vanilla flavor.
Milk: I needed just a little bit of milk for the consistency of the batter. I used 2% cow's milk, but I don't think it matters what kind you use.
White Chocolate: You can use mini or regular-sized chips. The recipe is for regular-sized chips; if you use the minis, I would cut the amount back to ½ cup or so.I really liked adding some white chocolate chips on top – it made the most delicious topping when it caramelized in the oven.
Raspberries: They are one of my favorite fruits. I used fresh and have not tested this recipe with frozen raspberries. If you want to try frozen, I can't promise the end result, but I do strongly recommend not letting them thaw before adding them to the batter. Add them frozen. And don't skip the dusting in flour trick that I explain below!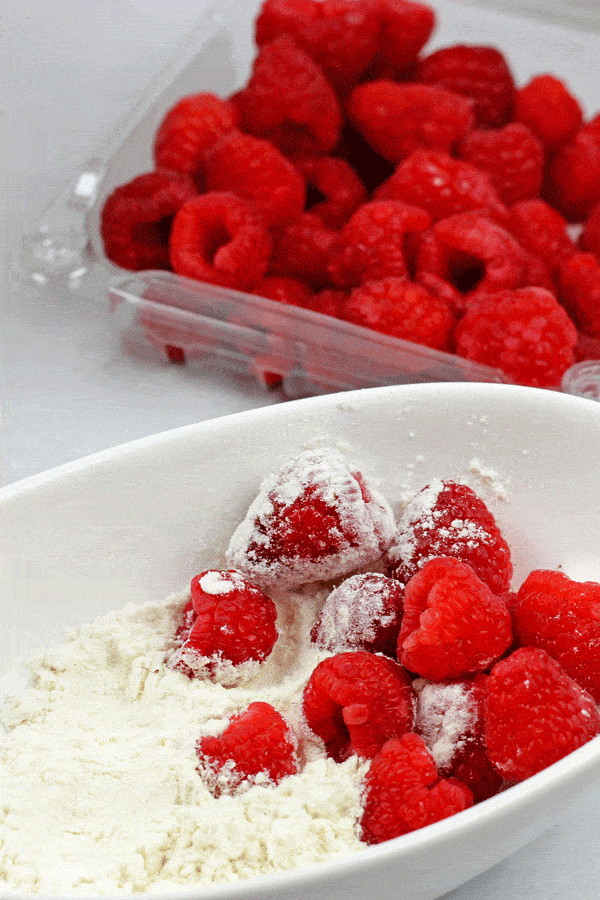 Important Cooking Tip
One big tip that I have when you're adding fresh or frozen fruit into your baking is to coat it in flour before adding it to the batter. This does two things. One, it helps absorb excess water given off from the fruit. This is especially important if you use frozen fruit because the freezing process damages the fruit's cell walls, causing it to spill all of its juice or liquid much more easily. This is why frozen fruit can be off in texture when eating it by itself, but it's also important to note that freezing only impacts the texture, NOT the nutritional profile. Frozen fruit is just as nutritious, if not more than fresh fruit. (Note: I did not test this recipe with frozen raspberries.)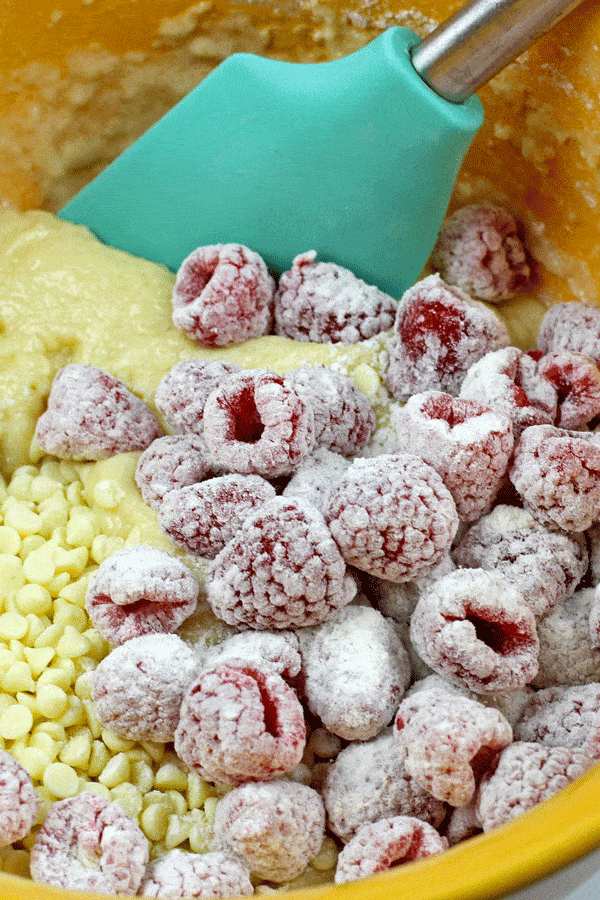 And two, it may help all the fruit from completely sinking to the bottom of the pan. Some of the fruit still did sink to the bottom, but there were definitely pockets of raspberry throughout the loaf cake.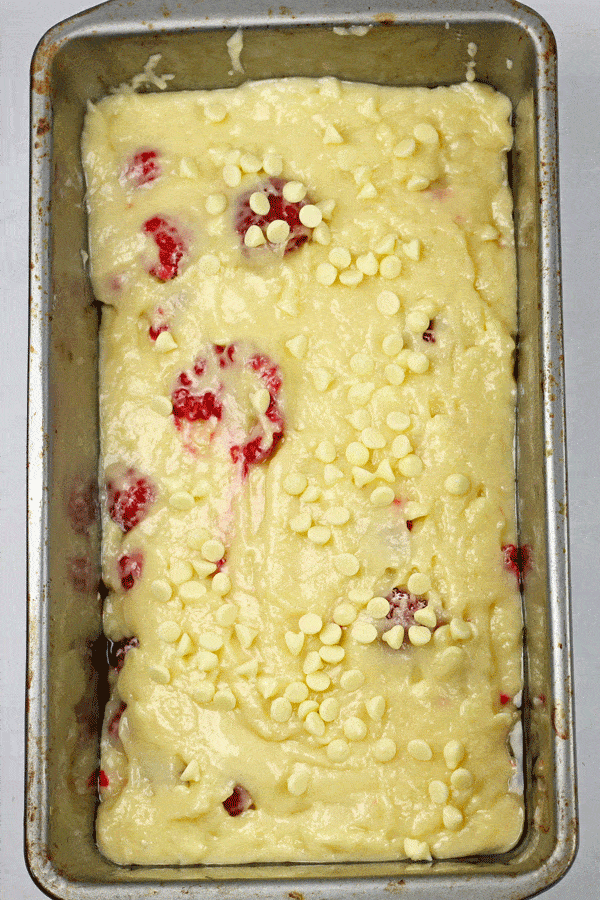 How to Serve White Chocolate and Raspberry Loaf Cake
This cake is good any time of day. I eat with breakfast, as a snack, or as dessert. You can top it with some butter and eat it like bread, eat it plain, or even spread some of your favorite yogurt or hazelnut spread like Nutella on top.
Another fun way to eat it would be to break it up into a small mason jar, and layer in yogurt and more fruit for a fun take on a trifle.
TBH though, I mostly eat it plain, standing in my kitchen. I can't usually wait to put it on a plate, make any fancy preparation, or let alone sit down to eat it. It's that good.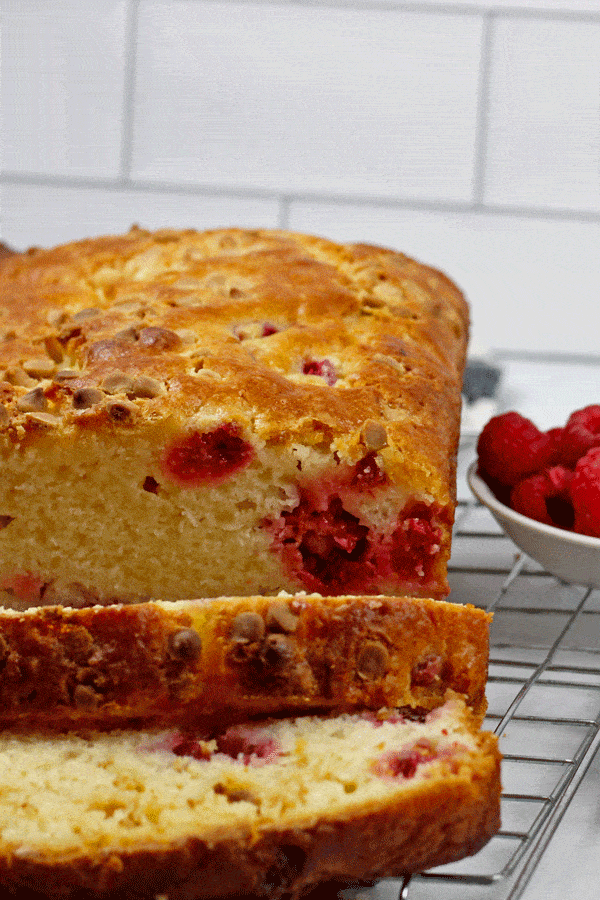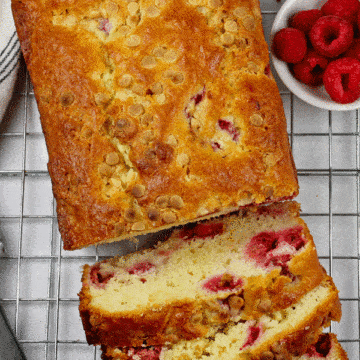 White Chocolate and Raspberry Loaf Cake
This White Chocolate and Raspberry Loaf Cake is the perfect sweet loaf cake! The caramelized white chocolate paired with the tart sweetness of the raspberries makes this recipe a keeper! It's a great addition to a breakfast, snack, or dessert.  
Ingredients
1 ½

cups

all-purpose flour + extra 1 tbsp.

2

tsp.

baking powder

½

tsp.

salt

1

cup

sugar

½

cup

Greek yogurt

½

cup

vegetable oil

2

large eggs

1

tsp.

vanilla extract

⅓

cup

milk

1

cup

white chocolate chips

divided

1

6 oz. container fresh raspberries
Instructions
Preheat oven to 350 degrees. Grease a 9×5 loaf pan with butter or cooking spray.

In a large mixing bowl, whisk together dry ingredients – 1 ½ cups of all-purpose flour, baking powder, salt, and sugar. In a separate bowl, whisk together wet ingredients – Greek yogurt, vegetable oil, eggs, vanilla extract, and milk. 

Then add the wet ingredients to the dry, and mix until just incorporated. Fold about ¾ of the white chocolate chips into the batter. Save the remainder of the chips for the top of the cake.  

Toss the container of raspberries in 1 tbsp. of all-purpose flour. Gently fold in raspberries to the batter until evenly distributed. Pour batter into the loaf pan and top with remaining chocolate chips. 

Bake for about 60 -75 minutes or until a toothpick is inserted and comes out clean. Allow to cool before removing from pan and slicing. 
CLICK TO DISPLAY NUTRITION INFO
Nutrition
Calories:
474
kcal
Carbohydrates:
61
g
Protein:
7
g
Fat:
23
g
Saturated Fat:
7
g
Polyunsaturated Fat:
8
g
Monounsaturated Fat:
6
g
Trans Fat:
0.1
g
Cholesterol:
53
mg
Sodium:
297
mg
Potassium:
175
mg
Fiber:
2
g
Sugar:
40
g
Vitamin A:
99
IU
Vitamin C:
6
mg
Calcium:
160
mg
Iron:
2
mg