These pepperoni rolls are a fun twist on the original, made with an EASY homemade dough and rolled up with cheese, pepperoni, and bell peppers.
One of my favorite childhood foods is pepperoni rolls. I thought it was high time to make my own spin on the humble pepperoni roll by making my own dough and putting a slight twist on the classic with the addition of bell peppers.
What are Pepperoni Rolls?
If you grew up in western Pennsylvania or West Virginia, then you know what pepperoni rolls are. These are not to be confused with any pizza roll-type concoction as there is no sauce – only cheese, bread, and pepperoni, and they're easy to make. As children, we sold them for school fundraisers and could buy them at the concession stands at sporting events. Some people make them homemade, and you can even find them in gas stations (not the good ones, though). My favorite kind are the ones that are golden brown on the outside and slightly doughy on the inside.
Fun fact about pepperoni rolls is that they were created by Italian immigrants that came to work in the coal mines of West Virginia in the early 1900s. The Italian-American credited with creating pepperoni rolls was Giuseppe "Joseph" Argiro, who hailed from Calabria, Italy. This is the same region that my Italian great-great-grandparents emigrated from in the late 1800s.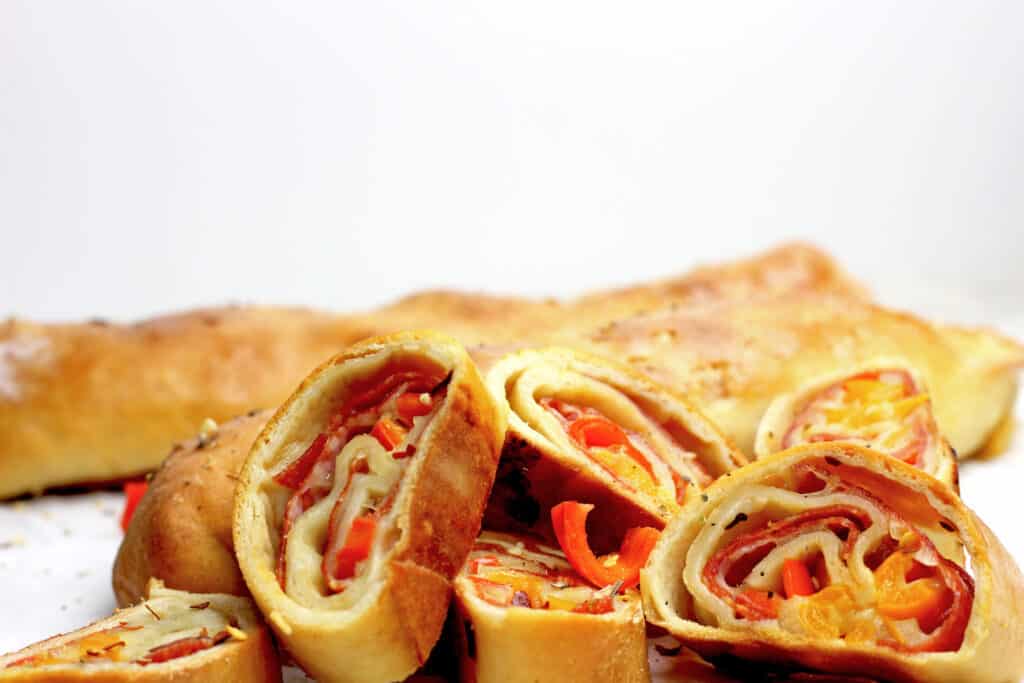 How to Make Pepperoni Rolls
What you'll need to make the rolls:
Dough: You can buy pizza dough or make your own if you desire. There is a recipe for "two-ingredient" dough that I've seen lurking about on the internet that is used to make all sorts of things from pizza to bagels to garlic knots. It kind of sounds very diet-y by making a dough that is made of only self-rising flour and non-fat Greek yogurt, but it actually tastes good, and it's super easy. So, I chose to use the famous "two-ingredient dough," and I really like the flavor that the Greek yogurt yields. It reminds me of sourdough but easier to make. I didn't use self-rising flour, so technically, it's a "few extra ingredient dough." My dough recipe calls for flour (all-purpose or whole wheat), baking powder, salt, Greek yogurt, and an egg. I have tried making the dough with whole fat, low fat, and non-fat Greek yogurt, and surprisingly the best texture and flavor comes from the non-fat. The fat makes the dough too tender, and it falls apart, so definitely stick with the non-fat yogurt if you're going to use my dough recipe.
Pepperoni: You can use whatever kind of pepperoni you desire – pork, beef, turkey, plant-based, etc. It's your call, so whatever floats your boat.
Mozzarella cheese: Shredded or a block sliced up works just fine.
Sliced bell peppers: Traditionally, pepperoni rolls aren't made with any fillings except cheese and meat, but I love the taste of sweet bell peppers. I used orange, red, and yellow peppers in mine. Feel free to throw in some spicy peppers, too, like jalapeno.
Seasonings: I like to sprinkle the tops with Italian seasoning before popping them in the oven, and I also like a little dash of red pepper flake for a kick when serving.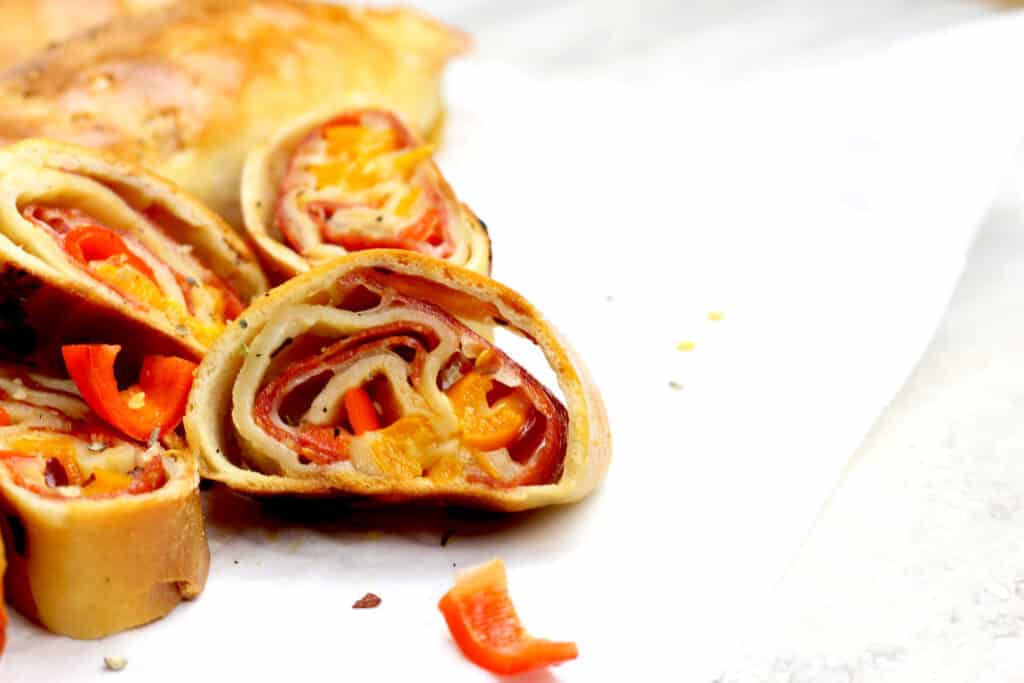 Tips for Making this Pepperoni Roll Recipe
When rolling out your dough, try to make your dough into a rectangle so that you can easily roll all of your fillings into a nice, smooth log shape. Admittedly, I'm not very good at rolling my dough into perfect shapes, but my rolls still turned out just fine.
Seal the ends tightly. One of mine leaked some filling, so make sure those ends are tight!
I love eating these rolls hot or cold, and they make great meal prep for lunches or snacks. I made mine yesterday, and today I had a couple of slices for a quick bite on the go. They'd be a great addition to a school lunch, too!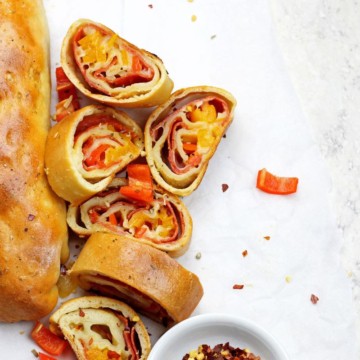 Pepperoni Rolls
These pepperoni rolls are a fun twist on the original, made with an EASY homemade dough and rolled up with cheese, pepperoni, & bell peppers.
Ingredients
1

cup

flour

all-purpose or whole wheat or a blend of both

2

teaspoons

baking powder

½

teaspoon

salt

1

cup

non-fat Greek yogurt

4

oz

mozzarella

shredded or sliced

4

oz.

pepperoni

1 ⅓ - 2

cups

bell peppers

chopped

1

egg

beaten

Italian seasoning

for sprinkling

Red pepper flake

for serving (optional)
Instructions
Preheat oven to 350 degrees F. Line a baking sheet with parchment paper or a

silicone baking mat

. 

In a

stand-mixer

bowl, combine the flour, baking powder, and salt. Add the yogurt and mix with a paddle attachment until dough comes together into a sticky ball. 

Lightly dust flour on a work surface and turn the dough out on surface, knead the dough until the dough is smooth and no longer sticky, using more flour as needed to make dough smooth. 

Divide dough into 4 equal balls. Roll the each ball into a thin rectangle – it doesn't have to be perfectly shaped. Divide mozzarella, pepperoni, and bell peppers between all the rectangles. Starting with a long side, roll the dough up tightly and pinch the seams and ends to seal. Place on the prepared baking sheet and brush with egg. Sprinkle each roll with Italian seasoning.

Bake for 30-35 minutes. Let cool at least 15 minutes before cutting. Serve with red pepper flake. 
CLICK TO DISPLAY NUTRITION INFO
Nutrition
Calories:
423
kcal
Carbohydrates:
35
g
Protein:
23
g
Fat:
21
g
Saturated Fat:
9
g
Polyunsaturated Fat:
2
g
Monounsaturated Fat:
8
g
Trans Fat:
0.5
g
Cholesterol:
95
mg
Sodium:
1191
mg
Potassium:
495
mg
Fiber:
3
g
Sugar:
7
g
Vitamin A:
4137
IU
Vitamin C:
159
mg
Calcium:
396
mg
Iron:
3
mg