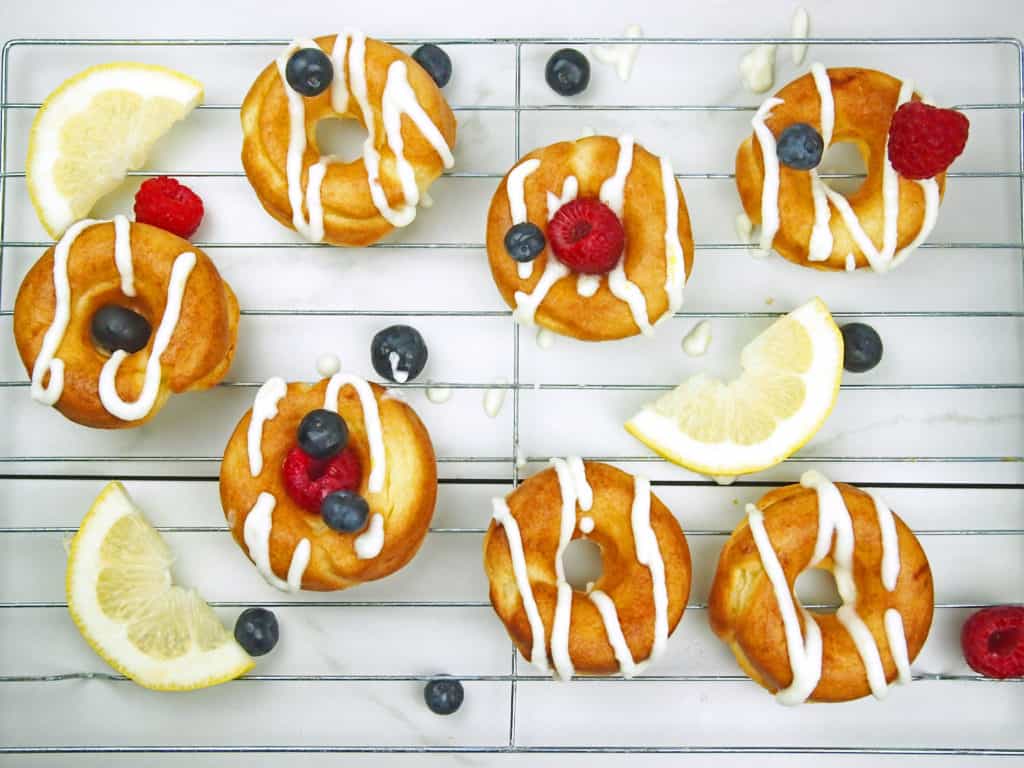 Happy National Doughnut Day! Technically at time of publication, I'm about an hour and half early to be celebrating, but I'd be happy to celebrate doughnut day any day.
In honor of this hallowed holiday, I recreated my favorite doughnut from my favorite Charleston doughnut shop: a berry and lemon mascarpone doughnut. However, I've adapted for ease of making at home.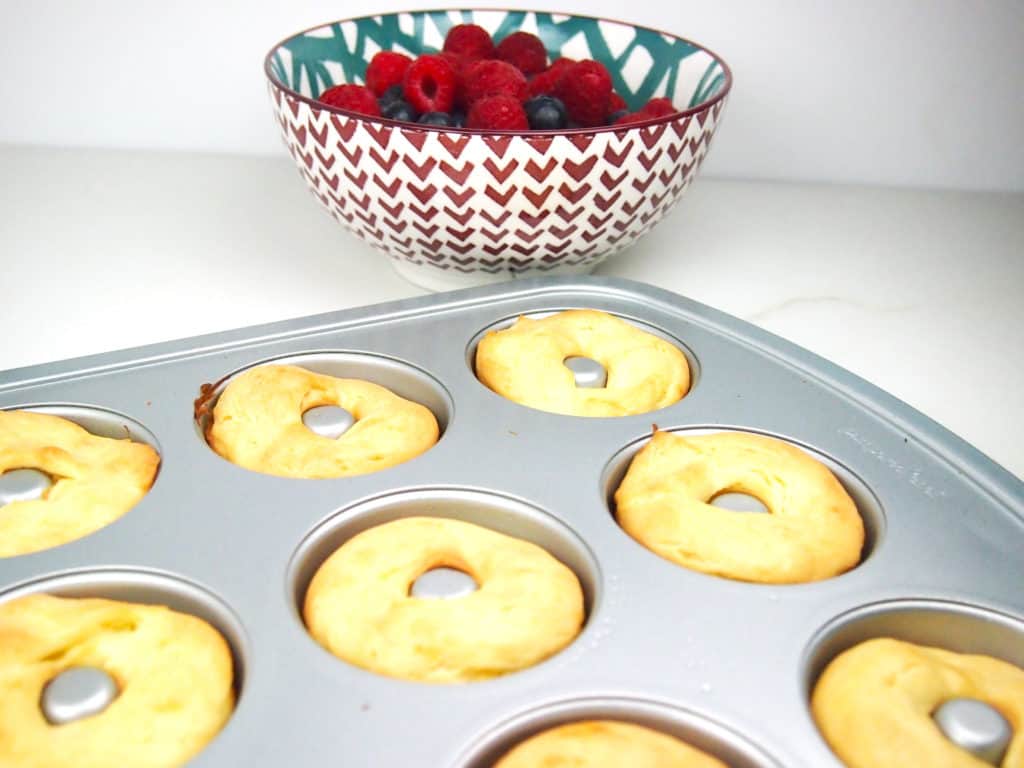 Recently, I bought a doughnut pan, and I knew instantly what I wanted to make: a fluffy doughnut with lemon mascarpone cream and berries. They hold up incredibly well too – you can bake them and reheat the next day or freeze for a later date.
I tested this theory by giving some of the day old doughnuts to some good friends. (Don't worry, I was sure that they would hold up, because you don't give bad doughnuts to good friends!)
They confirmed that by reheating them the next day either in the microwave or the toaster oven, the doughnuts are still perfect. In fact, I received a text message that day stating "10/10, would eat again." If that doesn't convince you to try, I don't know what will.
The tart lemon with sweet berries on a fluffy pastry is perfect summer flavor combination – not to mention will match any Summer holiday decor with the red, white, and blue theme.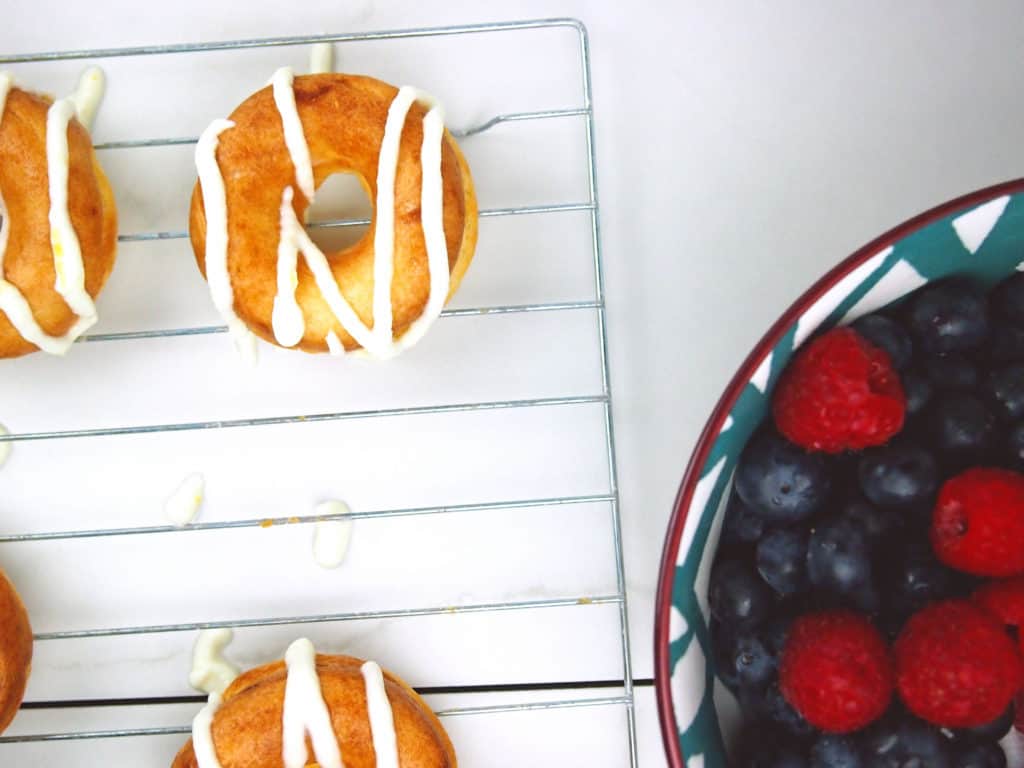 No go, nay, run to the kitchen and whip you up some of this deliciousness.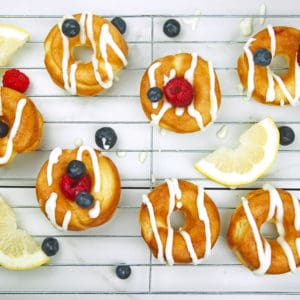 Lemon Mascarpone Doughnuts
Ingredients
1

cup

water

6

tbsp.

butter

½

cup

sugar

divided

zest of 1 lemon

divided

¼

tsp.

salt

1

cup

all-purpose flour

3

egg yolks

2

egg whites

juice of 1 lemon

divided

8

oz.

mascarpone cheese

softened

1

tsp.

vanilla extract

assorted berries for topping

optional
Instructions
Preheat oven to 450 degrees

Place the water, butter, ¼ cup sugar, zest of half the lemon, and salt in a heavy-bottomed pot and bring to a boil over medium high heat. Add the flour and stir until the flour is completely incorporated. Continue to cook and stir for 3 to 4 minutes to remove as much steam as possible.

Move the mixture to the bowl of a stand mixer fitted with the paddle attachment. Beat the mixture on medium for about 1-2 minutes to allow it to cool. Add one egg yolk. Mix it mix in completely incorporated and then scrape down the sides of the bowl, if needed. Add the remaining egg yolks, one at a time, and mixing in completely between each addition. Add the egg whites and mix until the paste will hold a slight peak when pinched with your fingers. Transfer the batter to a ziplock bag, pushing the batter to one of tips. Cut the tip to use for piping.

Pipe the batter into a doughnut pan that has been sprayed with non-stick spray. Make sure that the batter is as even as possible using an off-set spatula. Bake for 5 minutes, then reduce heat to 350 and bake for another 15 minutes. Turn off the heat, open the oven door slightly and let the doughnuts sit in the oven for another 5 to 10 minutes.

While the doughnuts are baking, make the lemon mascarpone icing. Mix together juice of 1 lemon, remaining half of the lemon zest, the softened mascarpone cheese, remaining ¼ cup of sugar, and vanilla until evenly distributed. If icing is thick and is unable to be drizzled – add in 1-2 tbsp. of milk if needed to thin.

Remove doughnuts from oven and place on a rack to cool, drizzle with lemon mascarpone icing, and top with berries.
CLICK TO DISPLAY NUTRITION INFO
Nutrition
Calories:
233
kcal
Carbohydrates:
19
g
Protein:
4
g
Fat:
16
g
Saturated Fat:
10
g
Polyunsaturated Fat:
0.5
g
Monounsaturated Fat:
2
g
Trans Fat:
0.2
g
Cholesterol:
81
mg
Sodium:
111
mg
Potassium:
31
mg
Fiber:
1
g
Sugar:
10
g
Vitamin A:
558
IU
Vitamin C:
3
mg
Calcium:
38
mg
Iron:
1
mg