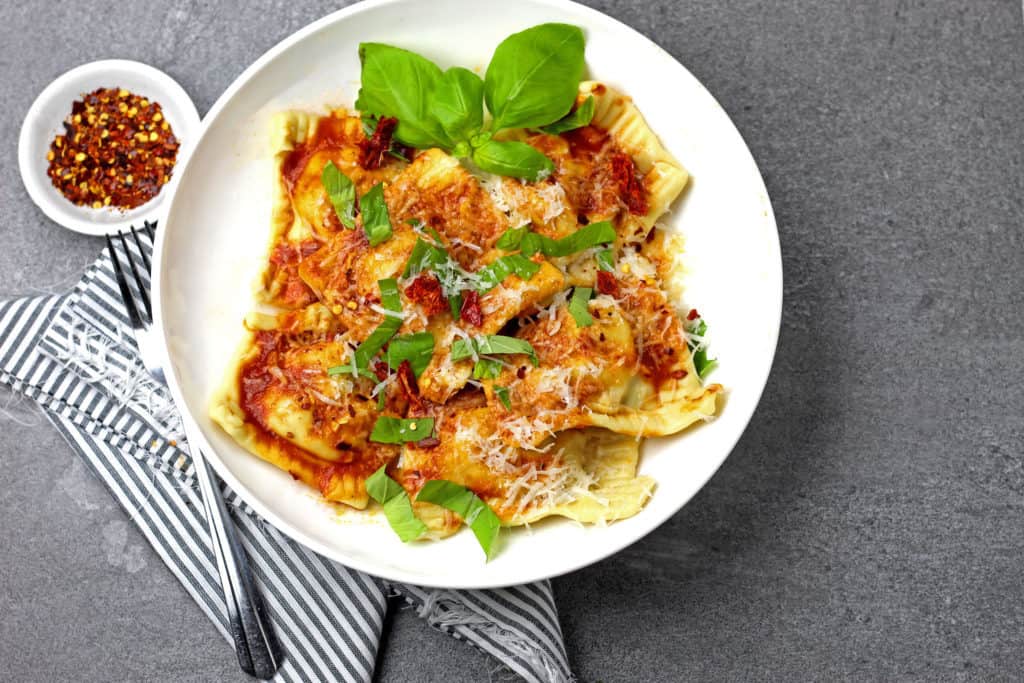 OMG, I love pasta. I mean, who doesn't? I have yet to meet a pasta that I didn't like. Except maybe if there is a cauliflower pasta out there, then that's a hard pass from me.
My dad is a chef, and one of the things that he passed on to me several years ago was his old fashioned pasta maker. I don't use it often, because making pasta from scratch can be quite a time-consuming process.
This is especially so if it's a hand crank one like mine. Nowadays, they do make pasta maker attachments for KitchenAid mixers, which helps the process run a little smoother. When I do make handmade pasta, I remember why it's worth it. It's so freaking good. It's light, airy, and so comforting.
It's the eighth wonder of the world if you ask me. Homemade pasta dough takes this vegetarian ravioli to another level.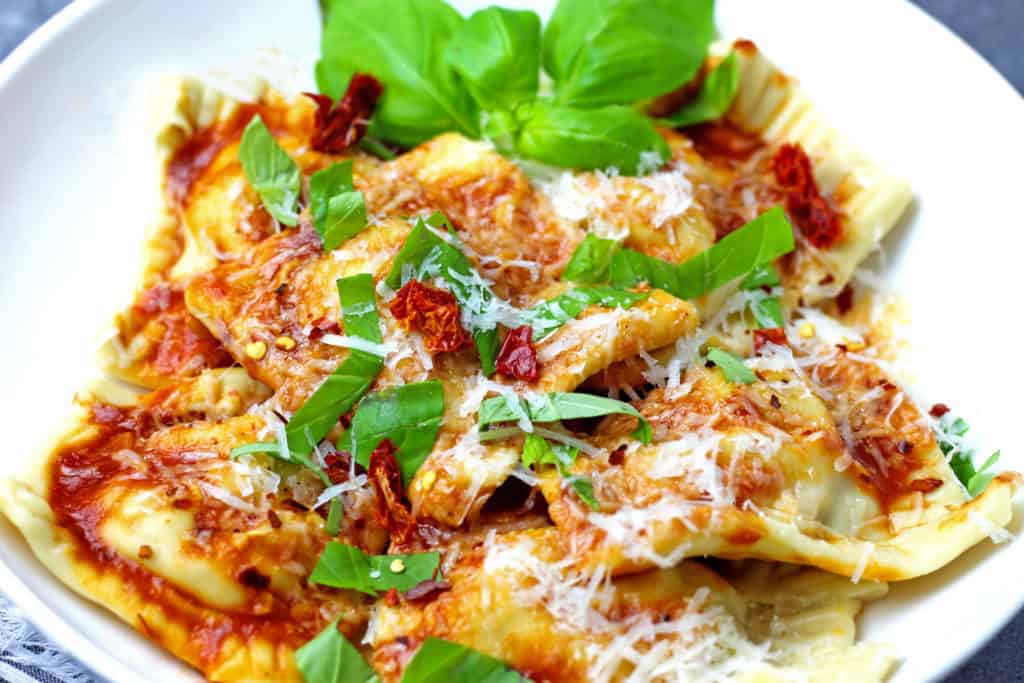 But what if I don't have time to make my own pasta?
While fresh, homemade pasta is so worth the time, sometimes I don't have the time to spare. If you're short on time or don't want to make your own, you can use wonton wrappers straight from the grocery store for this vegetarian ravioli.
Use two wrappers – one for the top and one for the bottom, and seal them just as you would with regular pasta dough. This recipe is still worth making if you use the wonton wrappers because you don't want to miss this sauce and filling.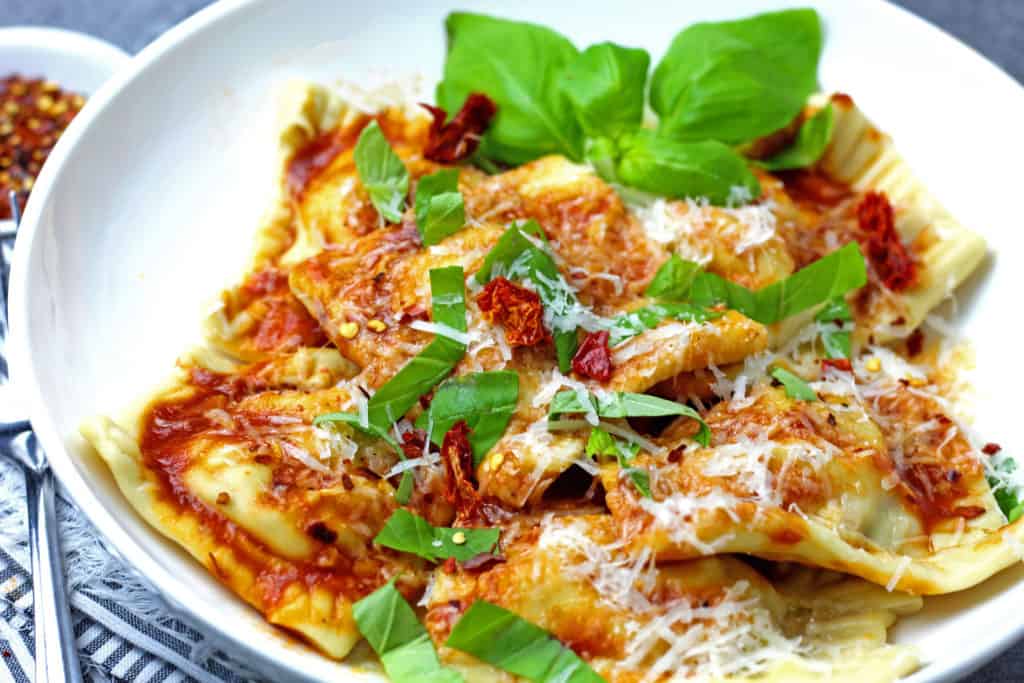 A filling and sauce so tasty, you won't miss the meat.
Don't get me wrong, I do eat meat. Clearly, I have several animal protein recipes throughout the site. Still, beans are one of my favorite protein and carbohydrate sources. They're filling, provide essential nutrients, and taste amazing. White beans, in particular, have a neutral flavor but creamy consistency that is perfectly paired with pasta.
Sun-dried tomatoes balance the creamy, white beans with an intensely sweet, tart flavor. The sauce is a simple tomato reduction with vegetable stock. Top it all off with parmesan cheese, fresh basil, and red pepper flake (if you like a spicy kick!), and it's the perfect meal. If you like wine with your pasta, check out my guide to Wine Pairings for Italian Food.
The leftovers heat up well, so if you want to double the recipe, which may help make bringing out the pasta maker that much more worthwhile.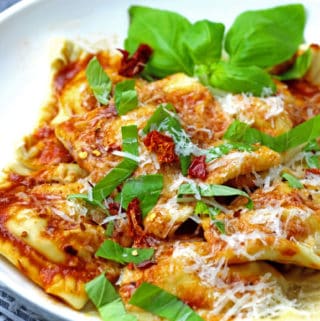 Vegetarian Ravioli with White Beans and Sun-Dried Tomatoes
Ingredients
1

lb.

fresh pasta dough or 40-50 wonton wrappers

4

cloves

garlic

minced, divided

2

tbsp.

olive oil

divided

1

can

~15 oz. white or cannellini beans, drained and rinsed

½

cup

dry-packed sun-dried tomatoes

minced

1

cup

parmesan cheese

grated, divided

¼

cup

fresh basil

minced, divided

1

egg

beaten

1

tbsp.

butter

¼

tsp.

red pepper flake

plus more for topping as desired

2

tbsp.

tomato paste

1

cup

vegetable stock
Instructions
If using fresh pasta dough, after letting it rest for 1 hour, roll it to sheets no thicker than a nickel using a pasta roller. I roll my dough to the 5th setting. Lay sheets out flat on a floured surface. 

To make the filling, saute half of the minced garlic over medium-high heat in 1 tbsp. olive oil until fragrant. Add beans, sun-dried tomatoes, and saute for additional 3-4 minutes. Season with salt and pepper. Remove from heat and add ½ cup of parmesan cheese. Mix and mash beans slightly to bind slightly together. Once slightly cool, mix in 2 tbsp. fresh basil. 

To assemble ravioli, brush wonton wrappers, or pasta sheets with egg. Drop heaping teaspoons of filling into each wrapper or about 1 inch apart on the pasta sheets. Cover each wonton or pasta sheet with another wonton or pasta sheet while pressing out the air and sealing tightly. If using pasta dough, cut the sheet into individual ravioli with a knife or pizza cutter. Ensure edges are sealed or crimped. At this point, you can freeze ravioli on a baking sheet in a single layer for 30-60 minutes. Then transfer frozen ravioli into a ziplock bag or container stored in the freezer for up to 6 months. 

Fill a large pot with salted water and bring to a boil over high heat. Add ravioli and cook for 4-6 minutes or until they float (cook slightly longer if cooking from frozen). Drain well. 

To make the sauce, heat remaining tablespoon of olive oil and butter in a skillet over medium-high heat. Add remaining garlic and crushed red pepper flakes and cook until fragrant. Add in tomato paste and cook for an additional 2 minutes. Stir in vegetable stock and simmer for a minute longer. Add in remaining parmesan cheese. Season with salt and pepper. Toss ravioli in sauce. Top with remaining fresh basil and more red pepper flake if desired. 
CLICK TO DISPLAY NUTRITION INFO
Nutrition
Calories:
603
kcal
Carbohydrates:
61
g
Protein:
18
g
Fat:
33
g
Saturated Fat:
11
g
Polyunsaturated Fat:
4
g
Monounsaturated Fat:
15
g
Trans Fat:
0.1
g
Cholesterol:
51
mg
Sodium:
841
mg
Potassium:
817
mg
Fiber:
7
g
Sugar:
5
g
Vitamin A:
604
IU
Vitamin C:
5
mg
Calcium:
237
mg
Iron:
5
mg