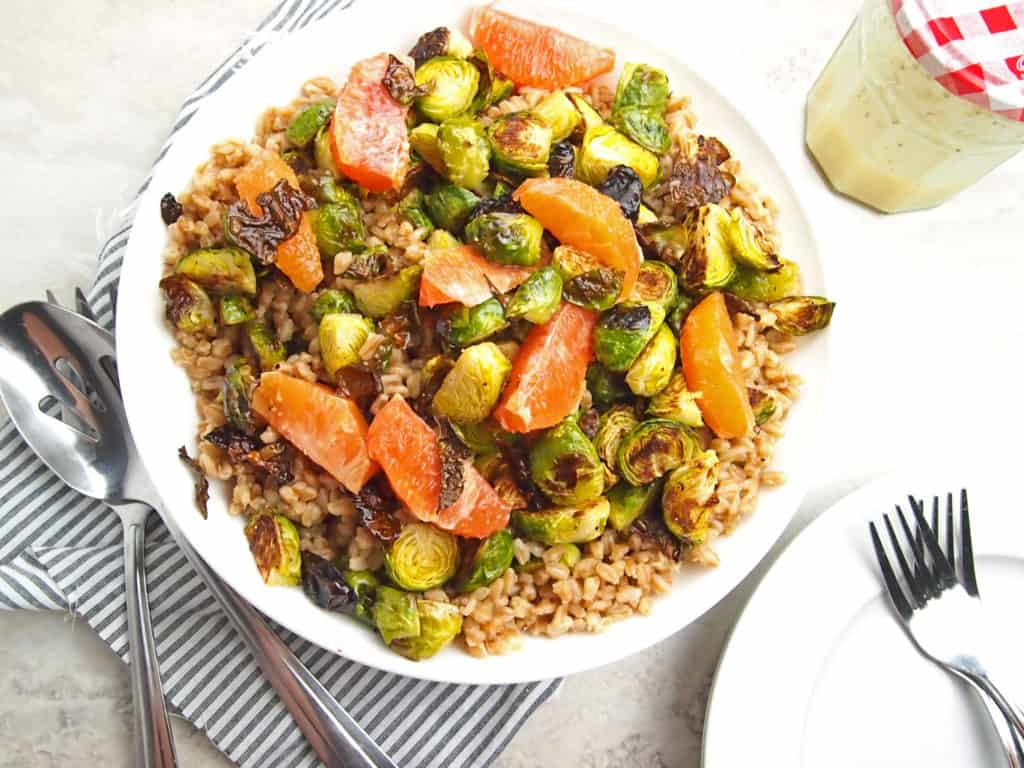 Happy New Year, folks! 2019 was quite the ride, and I'm ready for 2020. 2019 was a year of change for me. I quit my secure, well-paying job to move onto entrepreneurship. And I haven't regretted it one bit. I'm genuinely excited about what the roaring twenties have in store for me and my little corner of the internet. It's been a busy holiday season, and lately, I've been craving some fresh flavors like citrus, which is in season, so this Citrus Winter Farro Salad has been hitting the spot perfectly. It's chock full of whole grains, crispy Brussels sprouts, and vitamin C-rich citrus. I recently went to a local tapas restaurant, which had fried, crispy brussels sprouts with grapefruit, and it was so good. I knew immediately that I needed to recreate it at home and for the blog as this Citrus Winter Farro Salad. It keeps well in the refrigerator, tastes great served warm or cold, and is an easy dish for weekend meal prep.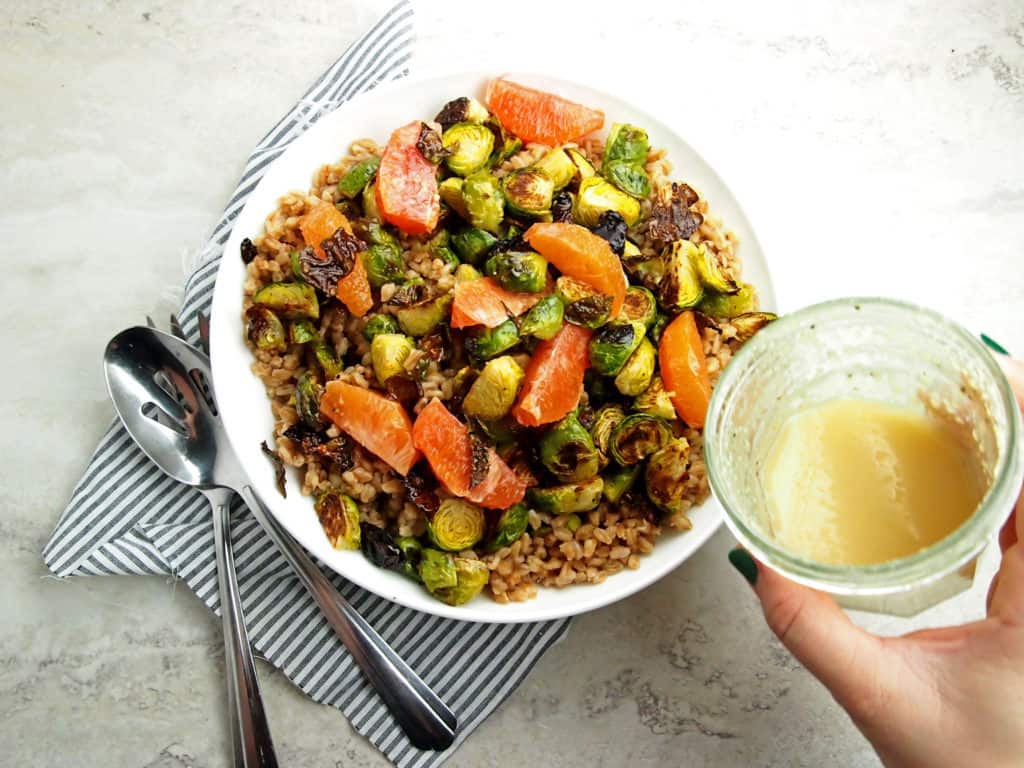 I know it seems cliche that a recipe posted on New Year's Day would be a salad, but I assure you that this post is encouraging you to eat only salads this year. I'm not big on resolutions, but I do like the idea of setting intentions. I've set some intentions this year for peace, including cultivating more peace with food and my body. One area I think we (as a culture and society) could use is making peace with food. "Making peace with food" is the third principle of Intuitive Eating. Making peace with food means giving yourself unconditional permission to eat anything you want. Yes, a Registered Dietitian Nutritionist just told you to give yourself unconditional permission to eat anything you want. It shouldn't be shocking, but sadly, it might be for many. If you want to eat cake, eat cake. If you want to eat a salad, eat a salad. By giving yourself unconditional permission to eat whatever you want, you'll never feel deprived or look at a meal as if its the "last supper." If given permission, no one would only eat cake for the rest of their lives. At some point, it would become awful; you would start craving crunchy and savory foods. This would probably happen sooner than you might think.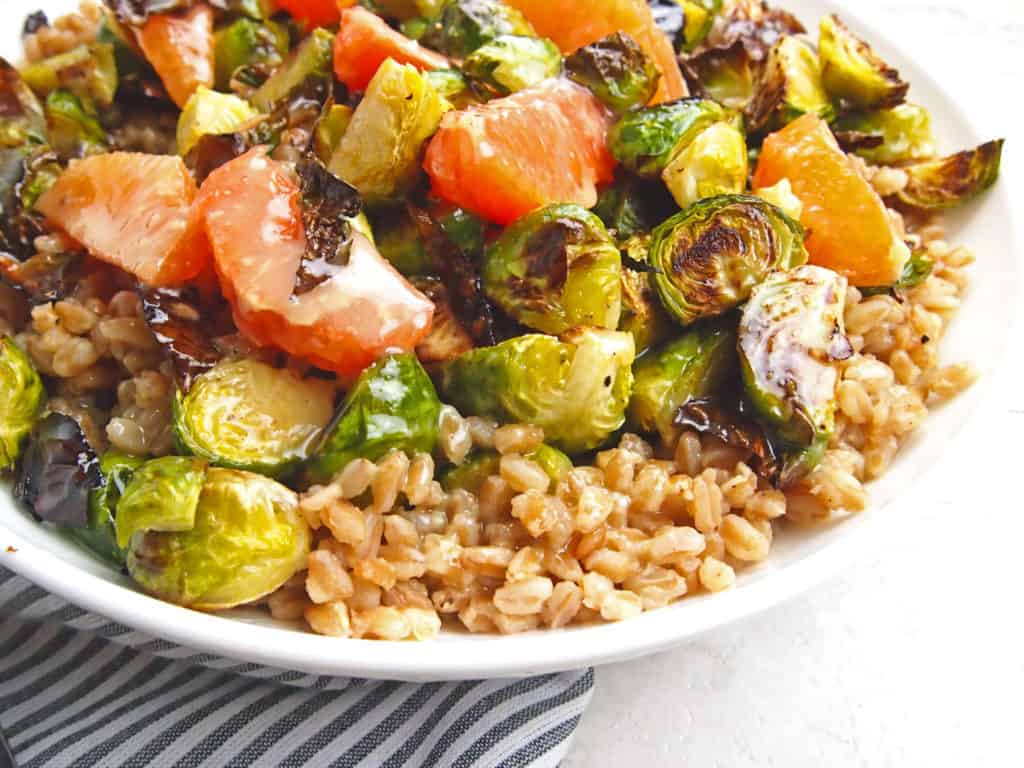 I think that's exactly how this recipe was born. I was craving crunchy vegetables, grains, and bright citrus flavors after having a lot of rich, soft foods around the holidays like mashed potatoes/gravy, desserts, etc. And I love me some rich, soft foods like mashed potatoes with gravy and desserts and plan to eat plenty of them in 2020 as well. But, this is the way life goes. Honor those cravings. Eat the "good" food and the "bad" food. And, challenge yourself this year to make peace with food and changing your vocabulary to not label foods as "good" or "bad." Eat the salad, eat the cake, and get on with your life. And if you're going to eat a salad, eat this one. It tastes so good.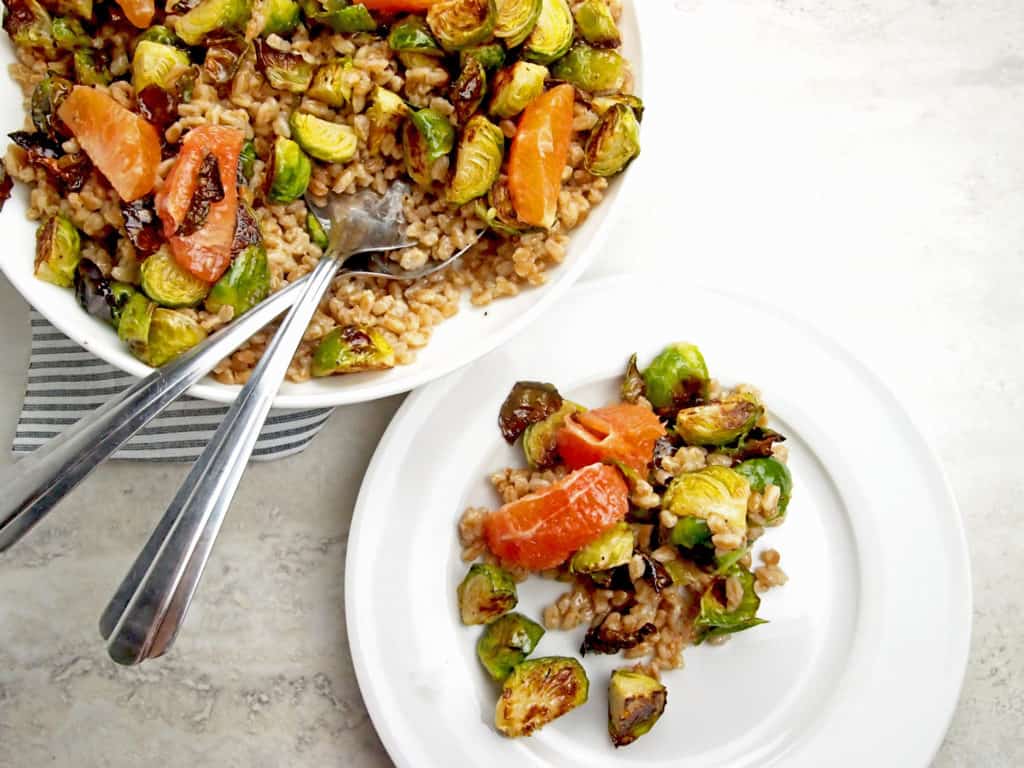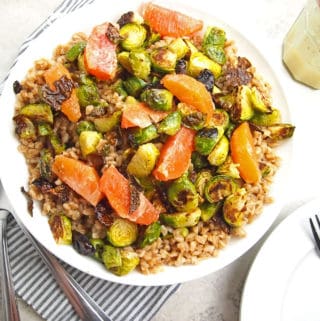 Citrus Winter Farro Salad
Ingredients
1 ½

cups

farro

1

lb.

brussels sprouts

trimmed and cut in half

¼

cup

olive oil

plus 2 tbsp.

3

tbsp.

lemon juice

juice of about ½ of lemon

1

tbsp.

Dijon mustard

1

large orange or grapefruit

peeled and segmented

Salt and pepper to taste
Instructions
Cook farro to package directions, then place in a bowl to set aside to cool. 

Meanwhile, preheat oven to 475 degrees. Line a baking sheet with aluminum foil. Toss sprouts with 2 tbsp. olive oil, salt, and pepper. Spread on sheet and bake for about 10 minutes. Remove from oven and toss again (or shake the pan to move around), place back in oven and cook an additional 5 minutes. Set aside. 

While sprouts cook, make the vinaigrette. Mix lemon juice and dijon mustard together. Season with salt and pepper. Add ¼ cup of olive oil while continually whisking until dressing is well blended.

Toss farro, brussels sprouts, vinaigrette, and citrus segments together in a bowl. Drizzle with vinaigrette.
CLICK TO DISPLAY NUTRITION INFO
Nutrition
Calories:
306
kcal
Carbohydrates:
50
g
Protein:
8
g
Fat:
10
g
Saturated Fat:
1
g
Polyunsaturated Fat:
1
g
Monounsaturated Fat:
7
g
Sodium:
245
mg
Potassium:
501
mg
Fiber:
12
g
Sugar:
5
g
Vitamin A:
652
IU
Vitamin C:
83
mg
Calcium:
61
mg
Iron:
2
mg