This butterfly pea infused vodka requires just two ingredients and few minutes hands on time, making it such an EASY recipe! It's the perfect addition to your bar cart or a no-fuss last-minute gift.
And with its color changing abilities, it makes for a stunning fun party trick and can be used for any occasion – from the Holidays and Christmas to an everyday happy hour.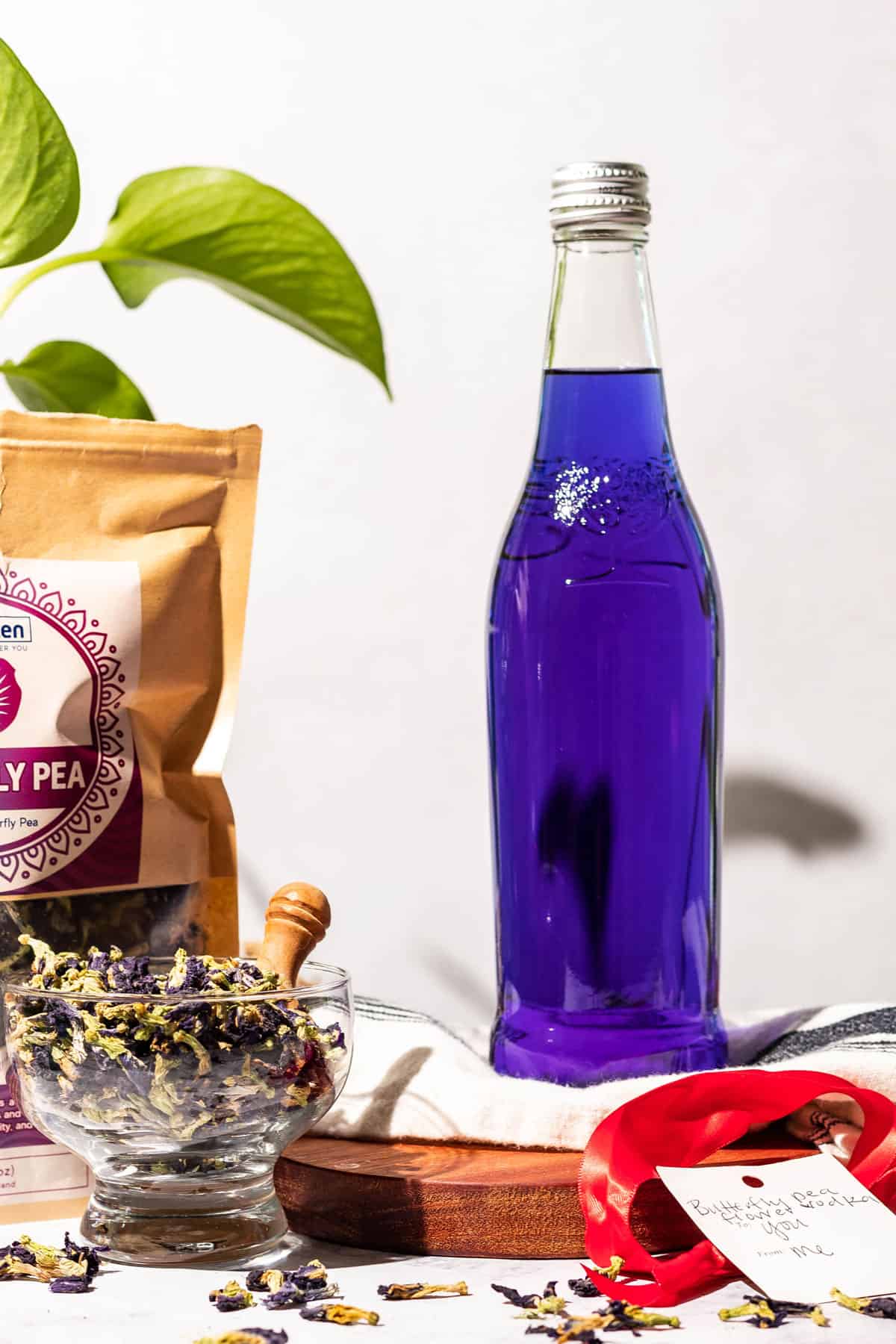 Jump to:
Why You'll Love This Recipe and Gift Idea
Butterfly pea infused vodka is perfect to whip up some magic color-changing cocktails. The vibrant blue color can change to deep purple or beautiful pink color depending on what the infused butterfly pea vodka is mixed with.
If you gift a bottle to family or friends, they are sure to be impressed with a memorable and thoughtful gift.
It's EASY! Two ingredients, just a few minutes of hands on time, and it can be infused in mere hours! So if you are short on time or just need a last minute gift, this is it!
What is Butterfly Pea Flower Tea?
This brightly colored blue butterfly pea tea is a herbal tea made from the petals of the butterfly pea flower plant. Butterfly pea flower tea is a naturally caffeine-free drink that has become increasingly popular to infuse into beverages and liquors, resulting in unexpected cocktails when mixed.
The butterfly pea flower plant is native to Southeast Asia, where the plant's blue petals have been used for years to dye fabric. In recent years, the small edible flower tea has appeared in the mainstream, even as an ingredient in a Starbucks iced lemonade drink.
Butterfly pea flower tea flavors are very subtle and won't change the taste of whatever it is mixed into. With light vegetal notes and a slight floral characteristic, the tea is also delicious when drunk on its own.
In traditional Ayurveda medicinal practices, this blue tea has been used for a variety of ailments. The plant is also known for its beautifying properties. These uses have been common for centuries among ancient communities in Southeast Asia.
Why Does Butterfly Pea Flower Tea Change Color?
The unique thing about butterfly pea flower tea is that it changes color when it interacts with acid. The acid causes the pH levels to lower, so it can also be used as a pH indicator.
Alcohol is naturally acidic, so infusing vodka with butterfly pea flower petals will result in a deep, vibrant purple instead of bright blue.
The color changes from purple to a beautiful lilac when more acidic ingredients are added, like from freshly squeezed citrus juice.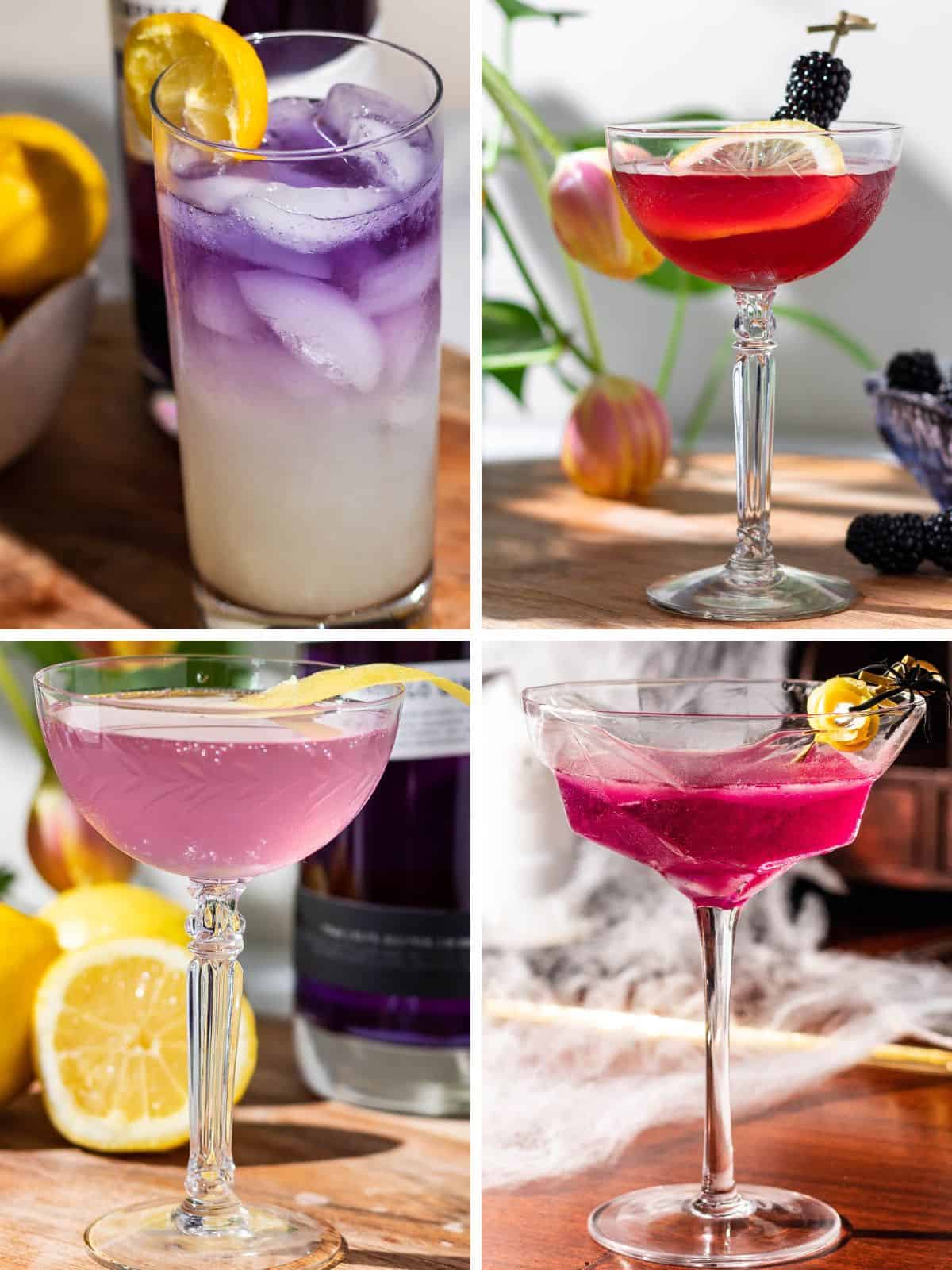 Clockwise from top right:

Butterfly Pea Flower Lemonade (just 2 ingredients)
The different acidity levels in clear liquors such as vodka, gin, or silver tequila produce various shades of purple. Gin is less acidic than both vodka and tequila, so it retains more of the classic blue color from the butterfly pea flower petals.
Pro tip: To make your butterfly pea flower infused vodka more of a blue vodka than purple, add ⅛th of a teaspoon of baking soda per cup of vodka. This simple trick will neutralize the acid in the infused vodka, making the color more prominent.
How To Make Purple Liquor
You may have seen an enchanting blue bottle of Empress Gin 1908 at your favorite bar, which is infused with butterfly pea flowers. But so far, there aren't any butterfly pea flower infused vodkas on the market, so your best bet is to make it at home. It's super easy and only takes two ingredients, vodka, and dried butterfly pea flower petals.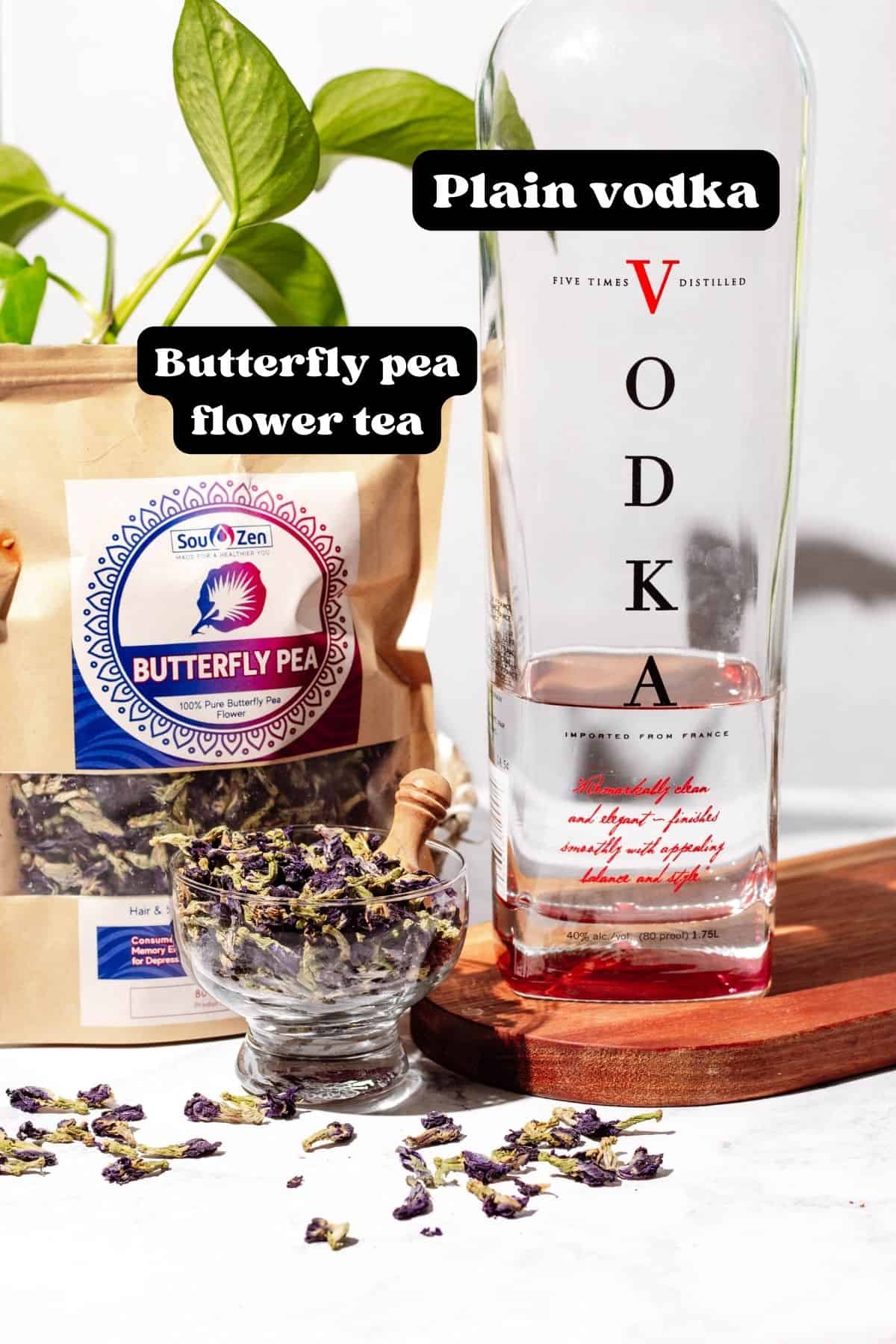 The ingredients are easy to come by, with many options for purchasing these blue flower petals online. You can use your favorite vodka to infuse with the petals since the infusion will not change the flavor of the vodka, only the appearance.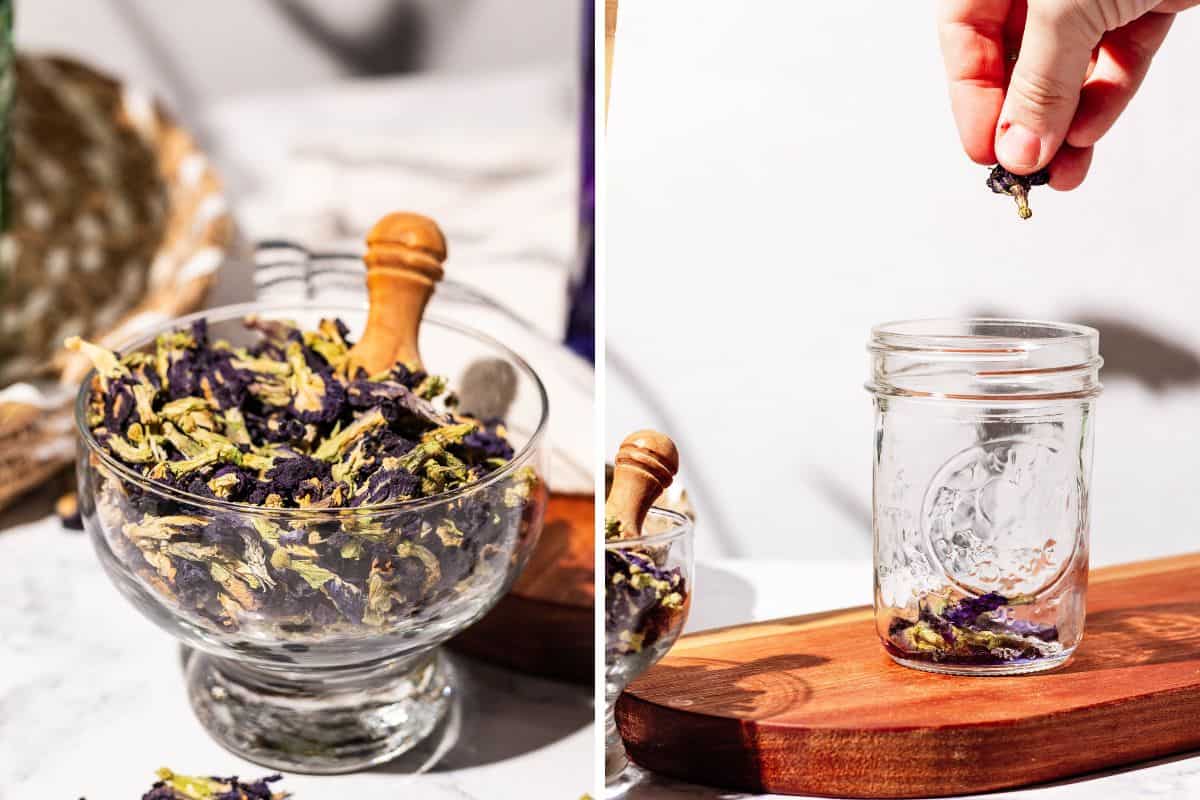 To make this infused vodka, add 15-20 dried butterfly pea flower petals to a 750 ml bottle of the vodka of your choice. A 750 ml bottle equals about 25 oz vodka. Allow the dried flowers to infuse into the vodka for a few hours to 1 day at room temperature. Mine infused within hours.
After the vodka is infused to a hue you are happy with, use a fine mesh strainer to remove the petals from the liquid. Strain the vodka, using a funnel, into a clean bottle. Make sure to store the bottle in a cool, dark place to preserve the natural coloring for as long as possible.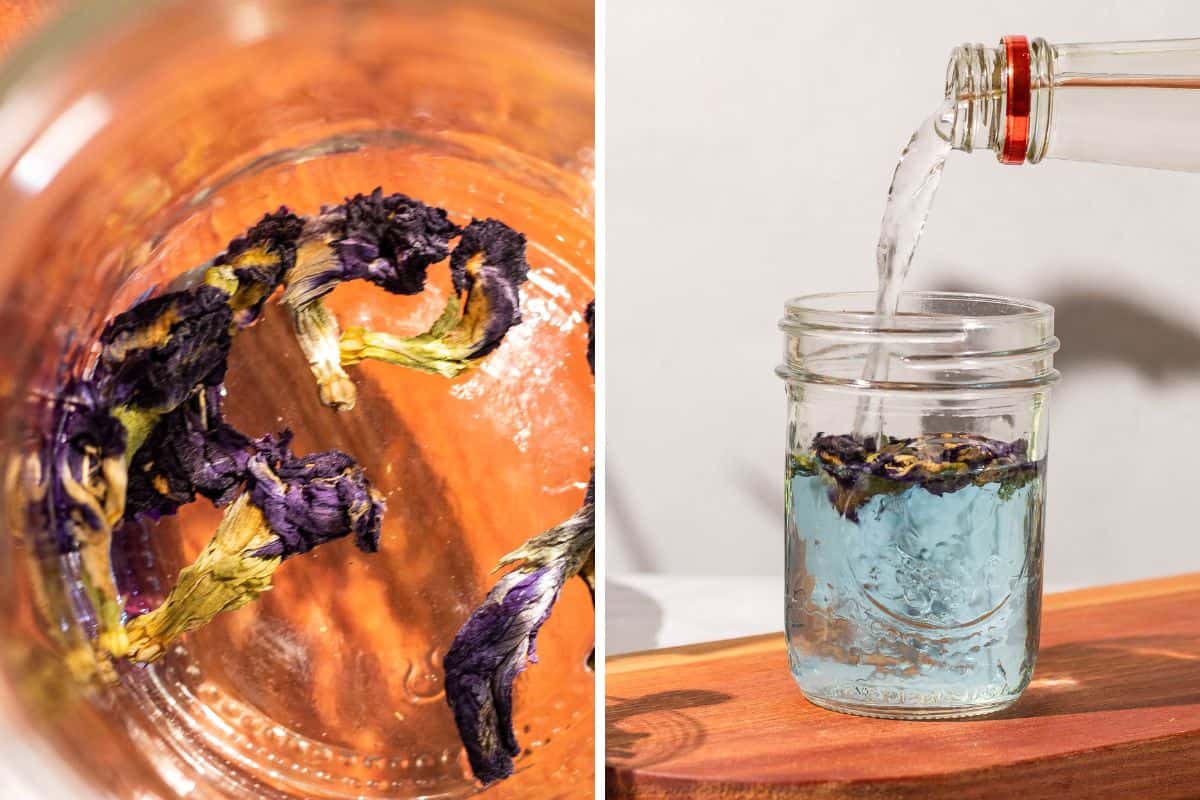 Other Ideas for the Butterfly Pea Flower Tea
If you want to add another layer of slow-released color to your cocktail recipes, try infusing ice cubes with the color from butterfly pea flower petals. As the ice melts, you will have a slow infusion of the butterfly pea flower tea.
To make the ice cubes:
Steep ¾ cup of dried petals in four cups of hot water for two minutes.
Strain the blue liquid to remove the petals and pour it into an ice cube tray.
An excellent tip to accentuate the magical color change is to fill your glass with half regular ice cubes and half infused ice cubes, making an even more eye-catching drink! You can also make a giant blue ice cube by using the large whiskey ice molds.
You can purchase a bottle of butterfly pea flower extract online for a shortcut. Adding a couple of drops to your cocktails as you make them will yield similar results, with the cool color change as you mix your cocktail.
I prefer to infuse my vodka with dried butterfly pea flower petals because the bottle looks fetching sitting out on the bar and makes for a good conversation starter.
How to Gift Infused Liquors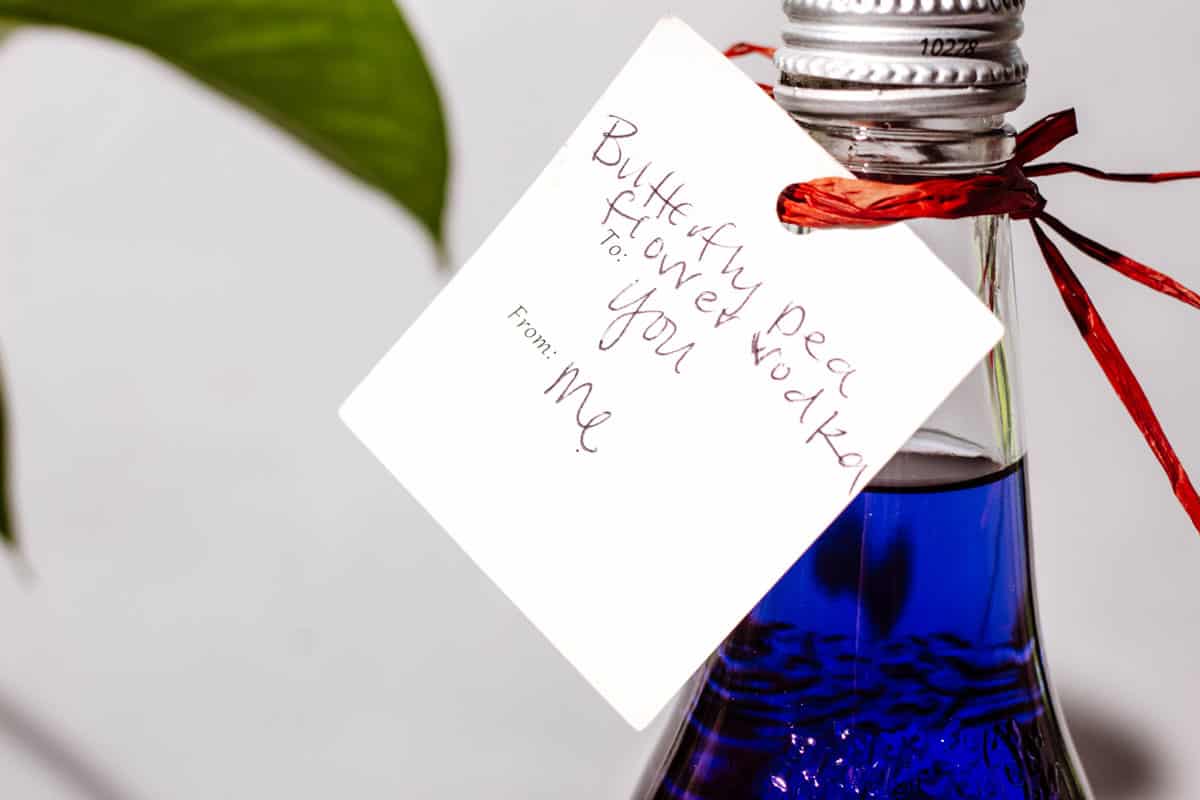 Butterfly pea infused vodka or other infused liquors are the perfect homemade gift for Christmas or any other occasion. A few things you might need for gifting:
Cute or vintage bottles or jars: You can decant the infused vodka into a decorative bottle or mason jar tied with a bow and tag. I like to reuse old bottles – the bottle pictured is an old Fevertree tonic water bottle.
I cleaned the bottle well and pulled off its labels. I use soapy hot water or GooGone to remove the labels depending on how stubborn the labels are.
I've also been lucky to find cute glass bottles when I'm out thrifting. I try to collect them throughout the year as I know I will always find a use for them.
Tags and bows: You can use elaborate bows, but I find for homemade gifts that simple kitchen twine or raffia look best in my opinion.
I'm also a fan of reused ribbons for less waste. Festive Christmas or birthday gift tags are perfect to tie around the neck of the bottle.
Suggest a recipe: Adding a recipe index card with your favorite recipe using the liquor is a nice touch. There are so many wonderful recipes out there using butterfly pea flower-infused liquor, and I've included some ideas below.
Some people might need a little jump start to know what to do with this type of liquor.
Serving Ideas
Here are a few butterfly pea infused vodka cocktail ideas to get you started:
You can substitute butterfly pea flower-infused vodka for Empress Gin (a commercially prepared gin made with butterfly pea flower) in these recipes: Empress Martini and Empress French 75.
This Hocus Pocus Cocktail is one of my favorite cocktails that uses butterfly pea flower-infused liquor. I use it as a Halloween-themed drink, but really this gorgeous drink would be perfect any time of the year.
Make a Butterfly Pea Flower Mule using infused vodka, simple syrup, lime juice, and ginger beer. The acidity from the lime juice will result in a purplish drink that will turn heads. 
Around the holidays, use your infused vodka to make a themed Jack Frost cocktail.
Gather vanilla ice cream, white creme de menthe, and butterfly pea flower vodka and combine ingredients to create a light blue adult milkshake in the blender.
Mix up a Lavender Butterfly Martini. Grab your cocktail shaker and add infused vodka, lavender simple syrup, and ice. Shake the drink until combined and pour out into a chilled martini glass. Add a splash of lemon juice before serving to change the color from blue to lilac.
You can have a lot of fun with colorful drinks when throwing a party. Since this butterfly pea flower infused vodka is such a show stopper, you can incorporate it into the theme of your next party.
Perhaps a garden party with lots of finger foods and purple and blue desserts like blueberry pie, jams, and scones. Or maybe a theme that's a bit more aquatic, Mermaid party, anyone?
Infused Vodka FAQ:
What is the best vodka to use?
I'd go basic but not super-cheap-tastes-like-gasoline vodka. Tito's is a go-to, and check local distilleries near you. It's always good to support local, and local vodka around here is pricer than Tito's but not outrageous.

Honestly, my favorite place to get vodka is Costco. If your local Costco permits liquor sales, I highly recommend this especially if you are wanting to make a large batch.

Costco's French vodka (usually costs ~$25) is often compared to Grey Goose (it is a myth that it is ACTUALLY Grey Goose with a private label), but some rank Costco's French vodka above Grey Goose.
How long does it take to infuse butterfly pea flower vodka?
Not long at all! Unlike many other infused liquors that typically take days to infuse, a few hours is usually plenty to get a deep indigo color from the butterfly pea flower tea.

You can infuse longer if you want to see if you can get the color darker, and it won't change the taste.
Where can I buy butterfly pea flowers/tea?
I have yet to spot butterfly pea flower in my local grocery store, but I'm sure it'll eventually make its way there.

So in the meantime, as with most everything else, you can buy it on Amazon.
Does butterfly pea flower have a taste?
Butterfly pea flower tea flavors are VERY subtle. It won't change the taste of whatever it is mixed into, including the vodka. So when you drink this infused vodka, it will taste like vodka.
More Recipes to Try
Did you like this recipe or idea? I would love it if you leave a 5-star 🌟🌟🌟🌟🌟rating in the recipe card below. I'd also love to hear if you have ideas to make gifting a bottle of this infused liquor extra special! Bottle decorations, labels?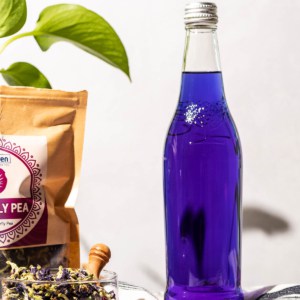 DIY Butterfly Pea Infused Vodka [Perfect DIY Gift]
This butterfly pea flower infused vodka makes for a stunning fun party trick and perfect for a DIY gift for Christmas or any occasion!
Ingredients
750

ml

bottle of vodka

~15 dried butterfly pea flowers [tea]
Instructions
Add the butterfly pea flowers to the bottom of a clean glass jar and top with the alcohol.

Allow to sit for a few hours up to 1 day* in a cool, dark place. You can keep the infusion in the jar or decant into another bottle. 
Notes
*You can infuse with the butterfly pea flower for longer than 1 day, but it's nice to know it doesn't take long.
More Gift Ideas
Want more gift ideas? Check out my Amazon shop for more ideas!