This Churro Chex Mix is a sweet party mix or dessert made with Chex cereal, chocolate, and cinnamon that can be made right in the microwave! It's a total crowd-pleaser.
Who doesn't love churros? I mean it's sweet cinnamon dough dipped in chocolate – what's not to like? Yum. Now take those flavors and put it into party mix? Double yum.
Ingredients
White chocolate chips: I really like white chocolate – I used a 22 oz. of white chocolate chips. You can use your favorite brand. It's much more neutral-flavored over regular chocolate, so it's a great vehicle to allow the cinnamon flavor to come through.
Coconut oil: Adding a little bit of coconut oil helps the melted chocolate have a consistent, silky texture. If you don't have coconut oil, you can use a neutral-tasting oil like canola, light-tasting olive oil, or avocado oil.
Cinnamon: Ground cinnamon is the star of the show with its warm spicy flavor.
Chex cereal: I used three different kinds of Chex cereal: rice, wheat, and corn. If you want a gluten-free snack mix, use only rice and/or corn Chex, but you'll also have to trade out pretzels for a gluten-free version.
Pretzels: You can use salted or unsalted pretzels, but I personally prefer the salty ones for a salty and sweet combination.
Dark chocolate chips: Typically, you dip your churros in rich, dark chocolate, so adding some dark chocolate chips seemed natural. You don't end up melting the dark chocolate – you keep them whole as a mix-in. Pick your favorite dark chocolate chips, or you can also use something like dark chocolate M&Ms if you'd prefer.
Mixed nuts: Feel free to use mixed nuts or your favorite nut by itself. I used almonds because it's what I had on hand. You can't go wrong here. Use salted or unsalted depending on your preferences. You do you.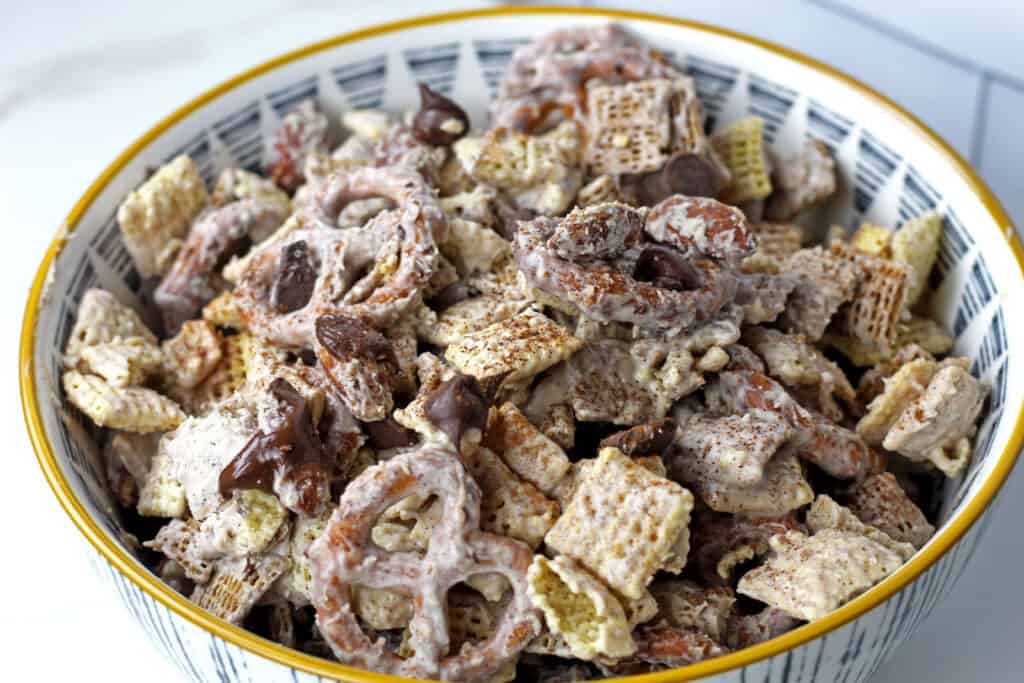 How to Make Churro Chex Mix
All Chex mixes are easy to make, and this Churro Chex Mix is no different. I made a Ranch Chex Mix recently that was just as delicious and easy. For this recipe, you'll need to first melt the white chocolate chips and coconut oil in the microwave. Once the chocolate is smooth and silky, you'll add the cinnamon. After this, you'll add in the cereal, pretzels, dark chocolate chips, and nuts to evenly coat with the white chocolate and cinnamon. Lastly, you'll need to spread the mixture out on a sheet pan to cool and harden. At this point, you'll only need to try to refrain from snacking on the mix until it's cool. Good luck.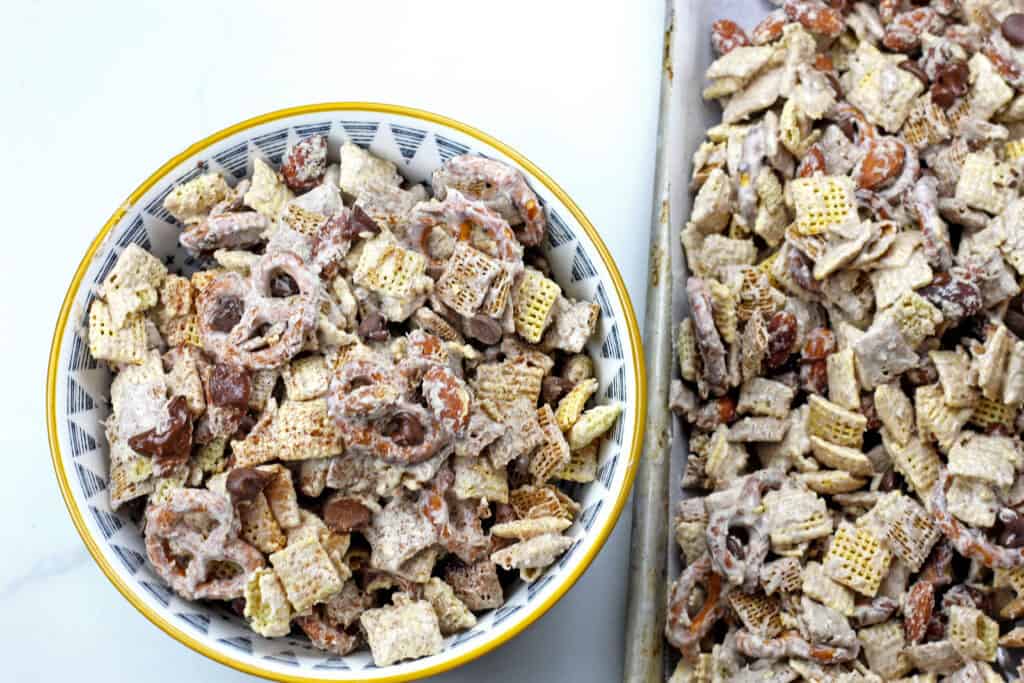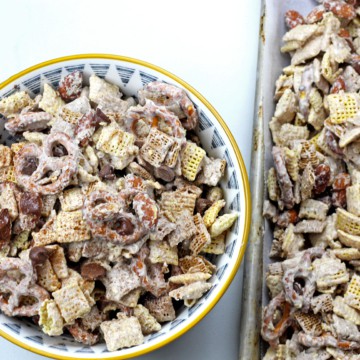 Churro Chex Mix
Ingredients
1

large bag

white chocolate chips

about 22 oz.

1

tbsp.

coconut oil

1

tbsp.

ground cinnamon

3

cups

rice Chex

3

cups

wheat Chex

3

cups

corn Chex

2

cup

pretzels

1

cup

dark chocolate chips

1

cup

mixed nuts or nuts of your choosing

(I used almonds)
Instructions
Melt white chocolate chips and coconut oil in a large microwave-safe bowl on high in the microwave on intervals of 1 ½ - 2 minutes until completely silky smooth.

Add cinnamon into white chocolate and stir until thoroughly distributed.

Mix together the rest of the ingredients (Chex cereal, pretzels, chocolate chips, and nuts) in a separate large mixing bowl. Pour white chocolate and cinnamon mixture over the top and mix until all of the ingredients are equally coated.

Spread out cereal mixture on a sheet pan until cool and hardened.
CLICK TO DISPLAY NUTRITION INFO
Nutrition
Calories:
555
kcal
Carbohydrates:
73
g
Protein:
10
g
Fat:
27
g
Saturated Fat:
15
g
Polyunsaturated Fat:
2
g
Monounsaturated Fat:
8
g
Cholesterol:
10
mg
Sodium:
268
mg
Potassium:
427
mg
Fiber:
5
g
Sugar:
36
g
Vitamin A:
519
IU
Vitamin C:
5
mg
Calcium:
237
mg
Iron:
9
mg