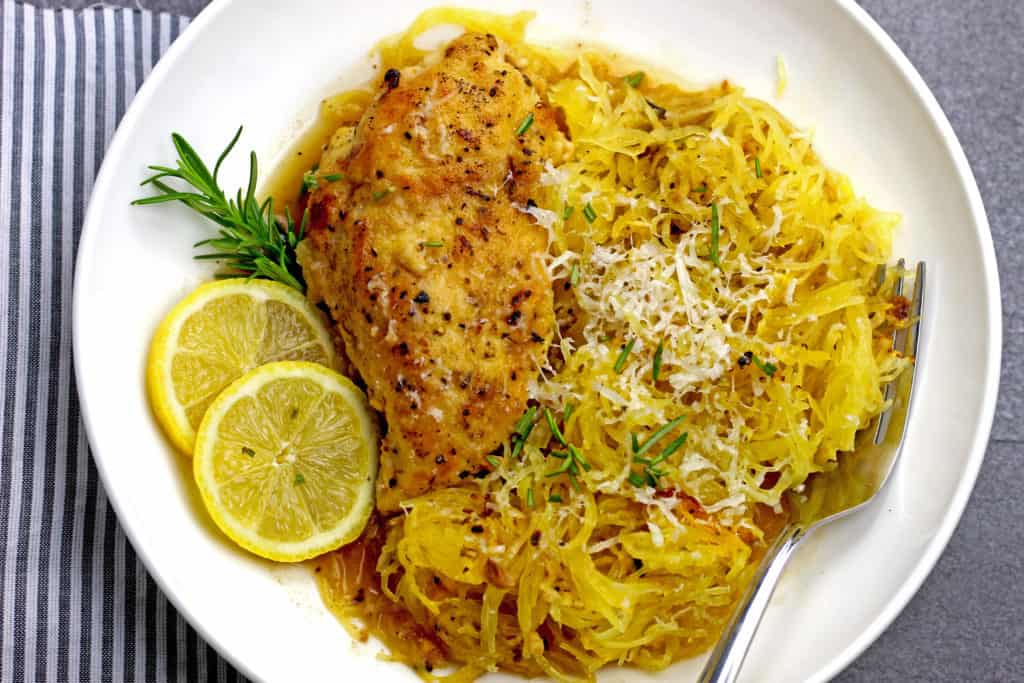 One of my favorite easy recipes that I make is Braised Lemon Chicken. I have been making it for years, and it's always a hit for potlucks and dinner parties, not to mention as a super simple weeknight meal. I frequently am asked for the recipe, but I never wrote it down until now. I once had to type out the basic idea of how to make it over text message to a friend that wanted to make it for herself at home. It wasn't too hard to describe, but texting a made-up recipe was rather amusing. It's a simple chicken breast that is dredged in flour and Italian seasoning, seared in a pan, and braised with chicken stock and lemon juice. I've paired the chicken dish with all sorts of sides, including potatoes, salad, lentils, and other various vegetables. But, one of my favorite side dishes to go with the chicken is spaghetti squash.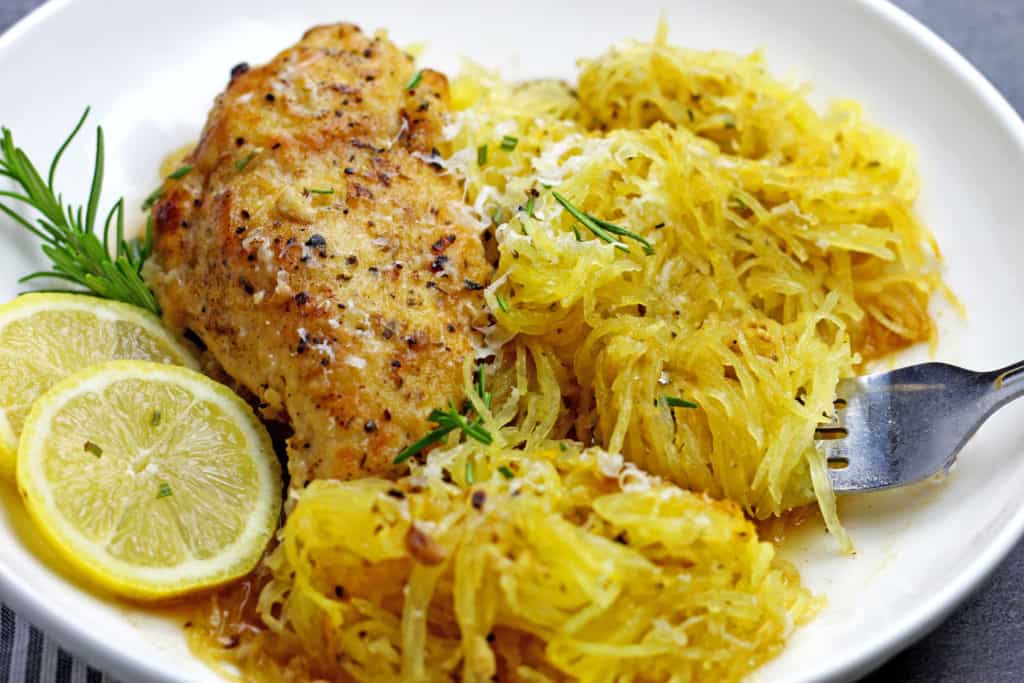 I have not always been a spaghetti squash lover. I tried it years ago, and it was just so watery and flavorless. The problem was that I tried roasting it whole. It essentially steamed the squash from the inside out, which kept all the water inside, making the texture off-putting and hard to season to give it real flavor. A couple of years ago, after hearing of my dislike for spaghetti squash, a coworker insisted that I try making it again. Instead of roasting it whole, she recommended splitting the squash in half and roasting at high heat, which would evaporate the water and carmelize the natural sugar in squash. Made sense to me, so I tried again. Boom, a spaghetti squash lover was born. I never expect it to replace pasta for me because no one can replace pasta. But, I do like spaghetti squash as a simple vegetable option.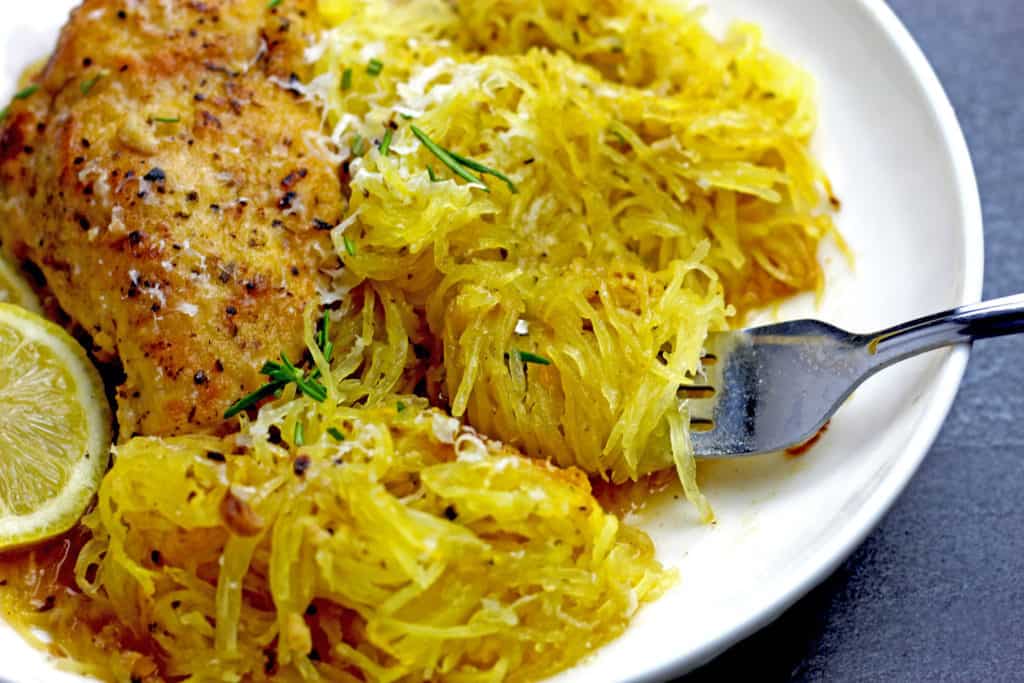 Moral of the story, if you don't like a particular food, you don't have to write it off forever. In fact, I certainly haven't always been a vegetable lover. I was a notoriously picky eater when I was a kid and into early adulthood. The problem was, at least when I was an adult, that I was not too fond of the way some vegetables were cooked. It was all about texture and seasoning. Plain, steamed, soft green beans? Hell no, I hate mushy vegetables. Roasted green beans? I'll take seconds. Other people? They might like soft vegetables and hate crisp vegetables. You do you, but you may not have discovered the way you like a particular food. And, taste preferences change over time. If you like it, great! If not, that's okay too! I haven't figured out how to make cauliflower taste good to me yet, but I try it every so often. The day I post a cauliflower recipe on here, you'll know. But for now, I do like roasted spaghetti squash.
Don't forget you can keep the recipes coming straight to your inbox by signing up for my newsletter.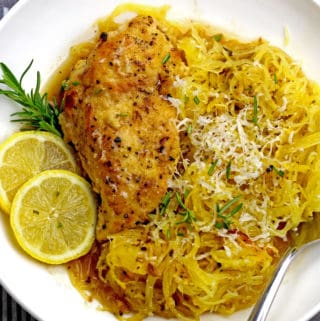 Braised Lemon Chicken with Spaghetti Squash
Ingredients
1

large

spaghetti squash

2

tbsp.

olive oil

divided

Salt and pepper

to taste

¼

cup

all-purpose flour

2

tsp.

Italian seasoning

1 ¼

lb.

chicken breasts

boneless/skinless

1

tbsp.

butter

3

garlic cloves

minced

1

tbsp.

fresh rosemary

chopped fine

1 ¼

cup

chicken broth

1

lemon

¼

cup

Parmesan cheese

grated
Instructions
Preheat oven to 450 degrees. Cut spaghetti squash in half and scoop out seeds. Drizzle with 1 tbsp. olive oil and season with salt and pepper. Roast on a baking sheet for 50-60 minutes or until flesh is tender and can easily be poked with a fork. 

Place flour and Italian seasoning in a shallow dish. Dredge chicken through flour mixture. Heat 1 tbsp. olive oil over medium-high heat. Sear chicken breast in pan, browning each side. Cook for about 3 minutes on each side. Place on plate and set aside. 

Melt butter in the same skillet. Add garlic cloves and saute for about 30 seconds or until fragrant. Add broth, rosemary, and juice of half of the lemon. Add chicken back to skillet and simmer for at least 5 minutes or until chicken cooked thoroughly. 

Once spaghetti squash finished roasting, scoop out flesh of squash. Top squash with chicken, pan sauce, and sprinkle with Parmesan cheese. Slice remaining lemon and serve with chicken. 
CLICK TO DISPLAY NUTRITION INFO
Nutrition
Calories:
405
kcal
Carbohydrates:
28
g
Protein:
35
g
Fat:
18
g
Saturated Fat:
5
g
Polyunsaturated Fat:
2
g
Monounsaturated Fat:
8
g
Trans Fat:
0.1
g
Cholesterol:
106
mg
Sodium:
904
mg
Potassium:
899
mg
Fiber:
5
g
Sugar:
7
g
Vitamin A:
631
IU
Vitamin C:
14
mg
Calcium:
179
mg
Iron:
3
mg