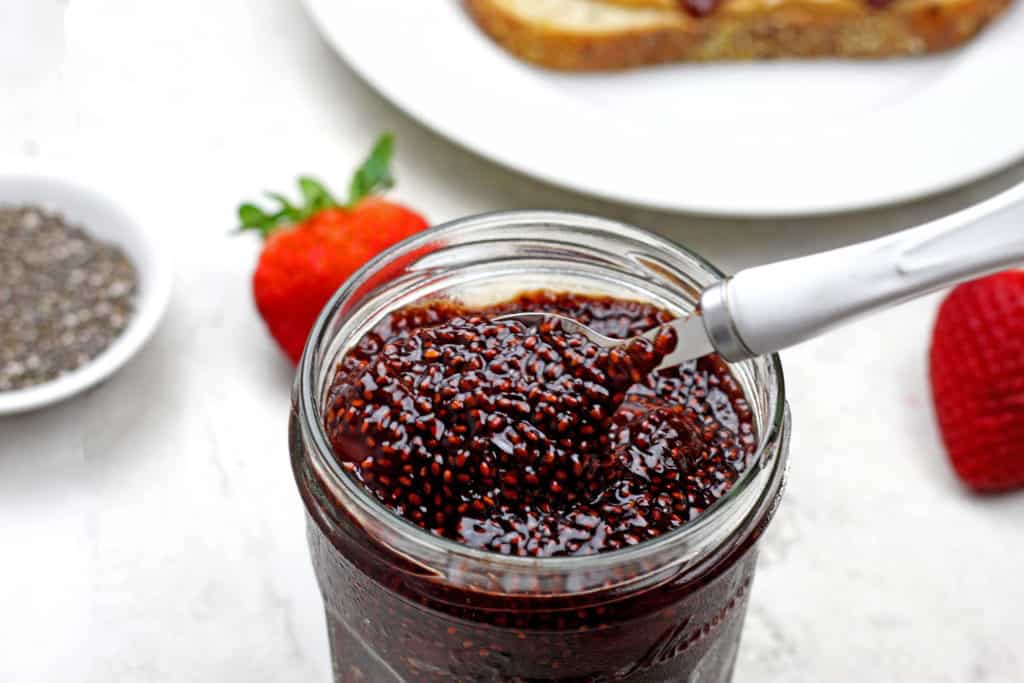 I love making homemade jams. If you ever have fresh fruit starting to turn and don't think you'll be able to use it before it's gone bad, don't throw it anyway just yet. Make some jam like this Balsamic Strawberry Chia Jam! It as simple as simmering fruit on the stovetop – you'll be done in no more than 15 minutes flat. One of my favorite flavor combinations is balsamic vinegar and strawberries. Trust me; it's so good. While it has a nice tang, it does not turn out vinegary at all. With just a dash of added sweetness, along with the sweetness from the strawberries, it balances out the vinegar well. I once went to a balsamic vinegar tasting (I know, strange, right?). While we did dip bread in the vinegar to taste, we also used the vinegar on top of lemon and strawberry ice cream. It was one of the best flavor combinations I've ever had. You will need to simmer the vinegar for a few minutes before adding the strawberries to concentrate the flavor. If you have a bottle of expensive, syrupy balsamic vinegar, you can skip that step.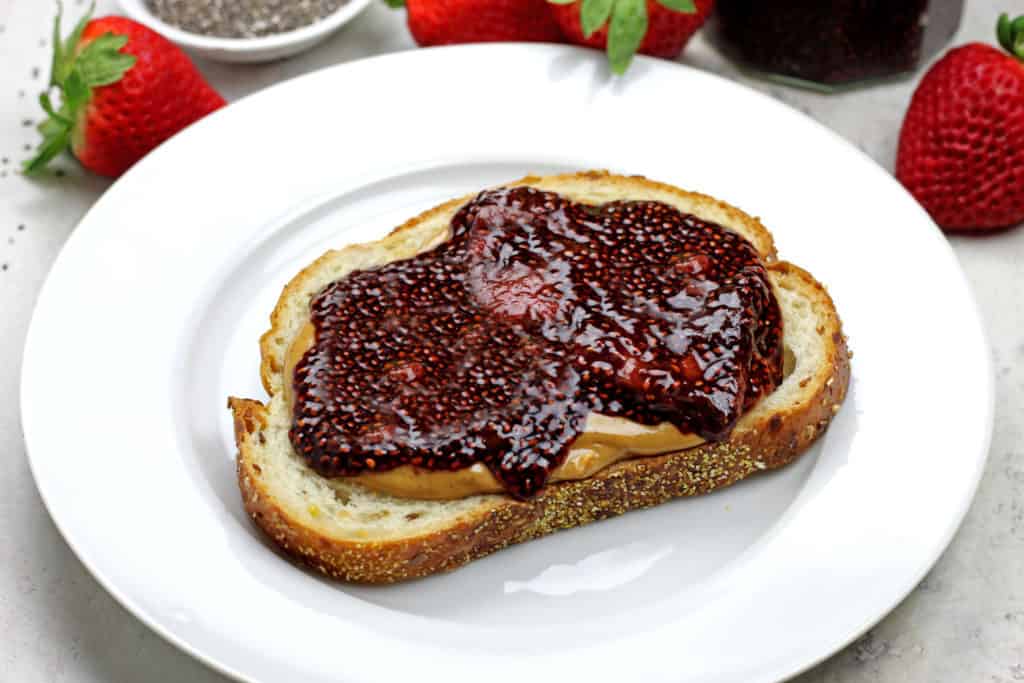 Why Chia Seeds?
Fruit naturally has pectin, which is a thickening agent used to make jellies and jams. And while you can certainly add some pectin or simmer the strawberries until they reach the desired consistency, I like to use chia seeds to help thicken the jam and add a little nutritional punch to the recipe. Chia seeds form a gel-like consistency when immersed in liquid. That gel helps thicken this jam into a perfect, spreadable consistency. Not only do chia seeds add the right texture, but they also add omega-3 fatty acids, which are known to be beneficial to heart health. They also add a dose of antioxidants, vitamins, minerals, and fiber.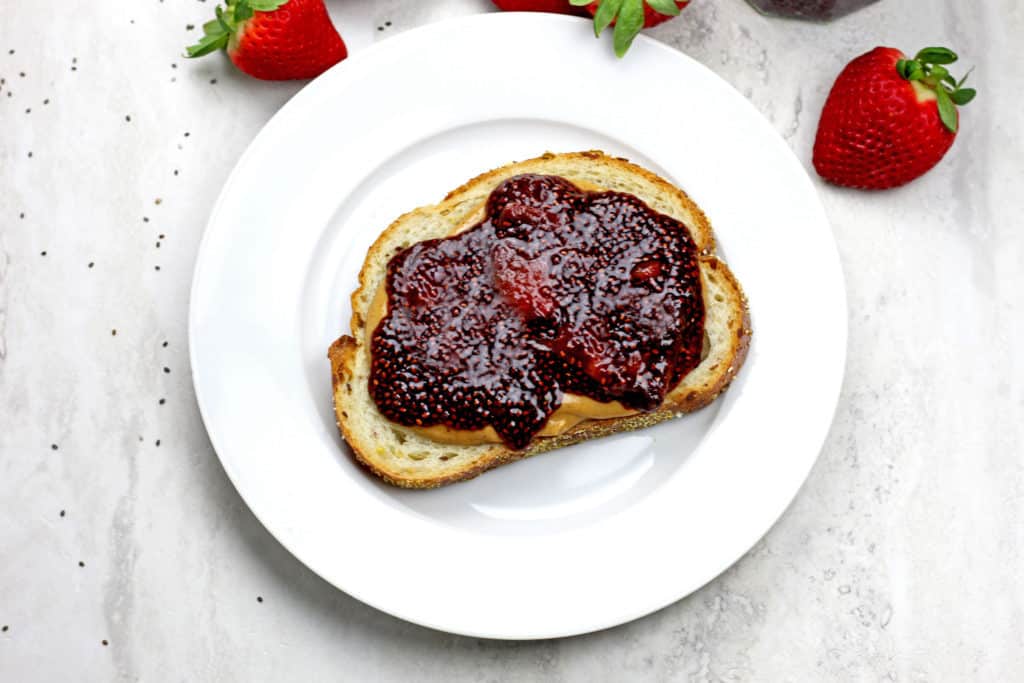 Spread it on everything!
The most obvious use for this strawberry chia jam is a PBJ or ABJ, but don't stop there! Top off your oatmeal or yogurt (or ice cream, like I mentioned above) with this jam. Bake a wheel of brie, pour the jam on top, and serve with crackers for an easy appetizer. Whisk it into a vinegarette for an unexpected punch of flavor. The sky is the limit.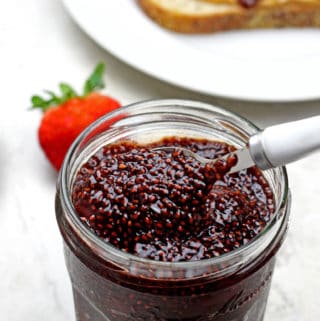 Balsamic Strawberry Chia Jam
Ingredients
½

cup

balsamic vinegar

1

lb.

strawberries

tops removed, sliced

2-3

tbsp.

agave syrup or honey

2

tbsp.

chia seeds
Instructions
Bring vinegar to boil over medium-high heat. Simmer until vinegar reduced by half (5-10 minutes). 

Add strawberries and agave. Use a spoon to help break up berries and release juices. Cook for an additional 5 minutes. 

Stir in chia seeds and remove from heat. Allow to cool. Jam can be served immediately warm but will thicken considerably when completely cooled. Keep in a sealed container in the fridge for up to one week or freeze for up to 3 months.  
CLICK TO DISPLAY NUTRITION INFO
Nutrition
Calories:
20
kcal
Carbohydrates:
4
g
Protein:
0.4
g
Fat:
0.4
g
Saturated Fat:
0.04
g
Polyunsaturated Fat:
0.3
g
Monounsaturated Fat:
0.04
g
Trans Fat:
0.002
g
Sodium:
2
mg
Potassium:
41
mg
Fiber:
1
g
Sugar:
3
g
Vitamin A:
3
IU
Vitamin C:
11
mg
Calcium:
12
mg
Iron:
0.2
mg