This crispy Air Fryer Schnitzel with Sweet and Sour Cabbage is an easy German weeknight meal or perfect to celebrate Oktoberfest.
If crispy meat paired with sweet and sour cabbage and apples doesn't scream comfort food, I don't know what does. Schnitzel is typically a thin fried piece of meat (usually pork, chicken, or veal) topped with lemon juice and parsley. I used chicken for my schnitzel, but you can use whatever meat you'd prefer.
Rather than making a huge mess frying up the schnitzel, I decided to make mine in my air fryer. It's no secret around here how much I love my air fryer. Thanks to the hot air circulating rapidly in the air fryer, the meat gets super crispy and cooks very quickly. Quick, easy, and tasty are all excellent reasons to use the air fryer for this recipe. Now, let's get on to how to make this dish!
Key Ingredients
Eggs: These makeup part of the batter needed for the crispy breading of the schnitzel.
Spicy brown mustard: Brown mustard mixed with the eggs will help the breading and provide extra flavor to the meat.
All-purpose flour and panko bread crumbs: This, along with the eggs and mustard, also make up the breading. I chose panko breadcrumbs because they give extra texture.
Boneless meat: I used thinly sliced chicken breast for this recipe, but pork is also commonly used for schnitzel. I prefer the boneless, but the key is to get it as thin as possible. If you buy the thinly sliced meat, you can also take a meat mallet, which is just a kitchen hammer to pound the meat until it's very thin.
Light tasting olive oil: I like to use the light tasting olive oil because it's hard to burn, unlike extra-virgin.
Cabbage: I used half a head of purple cabbage for my side dish, but if you want a short-cut, you can use a bag of shredded cabbage slaw instead.
Shredded carrots: I wanted a little more texture and color to my cabbage side dish, so I added about a cup of the pre-shredded carrots into the cabbage mixture. I buy the carrots that are already bagged and pre-shredded.
Granny smith apple: Apples are also very common in German food, often served with meat (especially pork) dishes. Since granny smith apples are naturally tart, they make a great addition to the sweet and sour cabbage.
Apple cider vinegar: This adds the sour to the cabbage along with a mild apple flavor.
Honey: Obviously, the sweet part of the sweet and sour cabbage.
Caraway seeds: These little seeds add a subtle but complementary flavor and crunch the cabbage. Caraway seeds are often found in rye bread.
Lemon slices and parsley: A squeeze of lemon juice and some parsley add a little freshness to the schnitzel.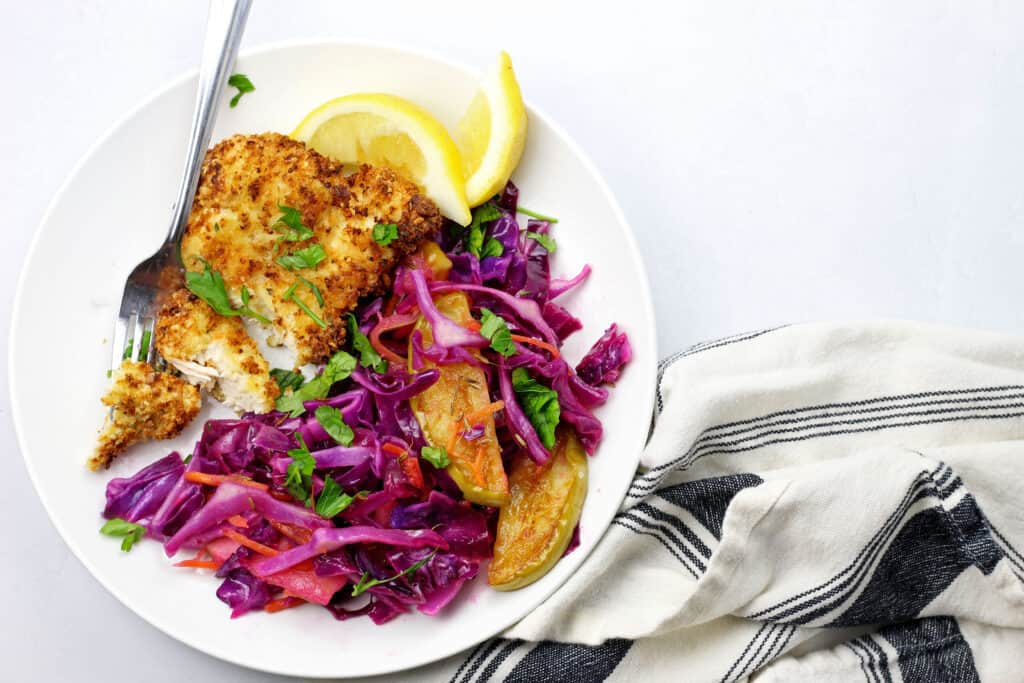 How to Make Air Fryer Schnitzel with Sweet and Sour Cabbage
One key element to schnitzel is making sure the meat is thin. You can do this by buying thinly sliced meat or butterflying a thicker cut of meat, but it's also helpful to pound the meat out thinly. To pound it out thinly, cover the meat with plastic wrap while it's on the cutting board and use a meat mallet (or a rolling pin or heavy skillet) to pound the meat until the desired thickness. Afterward, you dip the meat into flour, then egg/mustard mixture, then finally panko breadcrumbs.
While one of the perks of using the air fryer is that you don't have to use a ton to fry up the schnitzel, I like to brush some oil onto the schnitzel before adding it to the air fryer to ensure that it gets super crispy and brown. While the schnitzel cooks, you can work on making the cabbage. The cabbage along with the shredded carrots and sliced apple is simply cooked in a skillet until tender. The pan deglazed with apple cider vinegar, honey, and caraway seeds.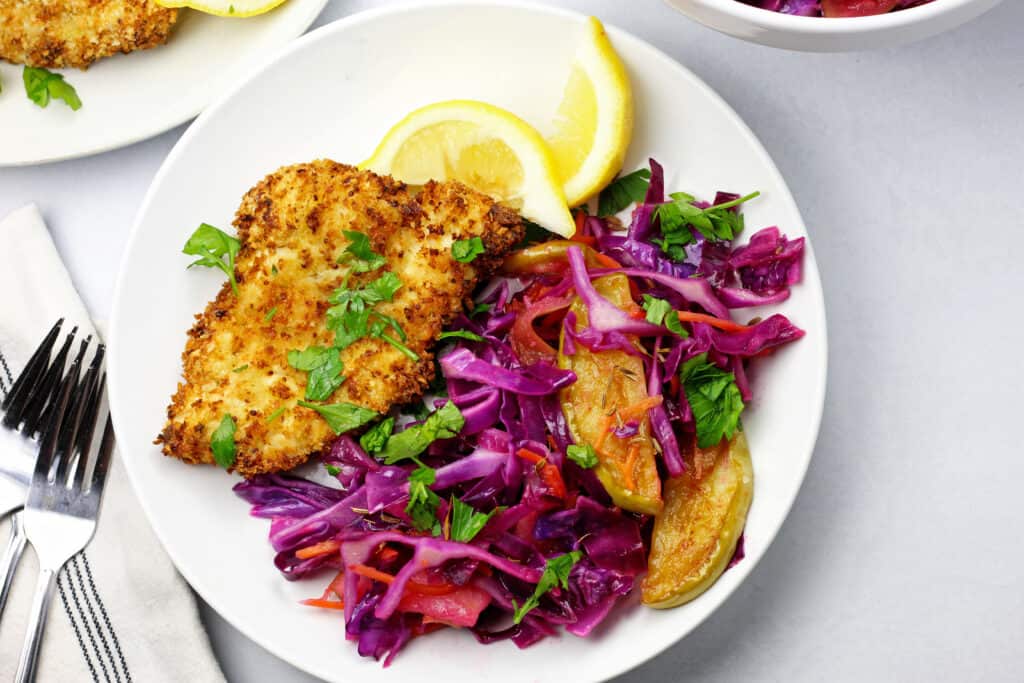 Print
Air Fryer Schnitzel with Sweet and Sour Cabbage
This crispy Air Fryer Schnitzel with Sweet and Sour Cabbage is an easy German weeknight meal or perfect to celebrate Oktoberfest.  
Author: Melissa
Prep Time:

15 minutes

Cook Time:

15 minutes

Total Time:

30 minutes

Yield:

4

1

x
Method:

air fryer
2

eggs

3 tbsp

. (heaping) spicy brown mustard

¾ cup

all-purpose flour

1 ½ cups

plain panko breadcrumbs

1

–

1 ¼

lb. boneless meat such as skinless chicken breast or pork, very thinly sliced and/or pounded thin

1 tbsp

. light tasting olive oil plus more for brushing

½

head of a large purple cabbage, sliced thinly (or sub 1 bag (

16 oz

.) shredded cabbage or slaw mix, if desired)

1 cup

of shredded carrots 

1

medium-large granny smith apple, sliced

¼ cup

apple cider vinegar

2 tbsp

. honey

1 tsp

. caraway seeds
lemon slices and parsley for serving
Instructions
1. Preheat air fryer to 360 degrees F for at least 5 minutes. Whisk eggs and mustard together in a bowl. Put flour and panko in two separate bowls. Dip meat in flour, then egg mixture, then panko. Brush meat with olive oil and season with salt and pepper. Cook in the air fryer for 5-6 minutes, flip the meat, then cook for additional 5-6 minutes.
2. Heat 1 tbsp. olive oil in a skillet over medium-high heat. Add cabbage, shredded carrots, and apples—season with salt and pepper. Sauté until tender and apples have caramelized some. Whisk together apple cider vinegar, honey, and caraway seeds. Pour the vinegar mixture into the skillet to deglaze. Toss, then serve with schnitzel, lemon wedges, and parsley.
Keywords: air fryer, chicken, cabbage, German, fall