These Air Fryer Crab Cakes are everything you want and more in a crab cake. Lots of crab meat and just enough filler to keep them from falling apart.
I love crab cakes, and I know I'm not alone. In order to have a good crab cake, you need that perfect balance of "filler." You know what I'm talking about, you go to a restaurant and order crab cakes, only to take the first bite and find mostly breadcrumbs or "filler." Or, bite in, and the flavor is fantastic with loads of crab, but it just kind of falls apart. You need just enough breadcrumbs or fillers to hold the cake together, but not too much where you don't get to taste the crab.
Luckily, these crab cakes have the right balance of filler, and they're super easy to make thanks to my handy-dandy air fryer. I have loads of air fryer recipes on the blog because I love how easy it is to air fry food without the mess of regular frying. But really, an air fryer is just a countertop convection oven. Hot air circulates rapidly, causing the crisping and cooking of food very quickly. Since it's a very efficient oven, you can make just about anything that you would a regular oven but faster and at a higher temperature. Anyway, back to the Air Fryer Crab Cakes.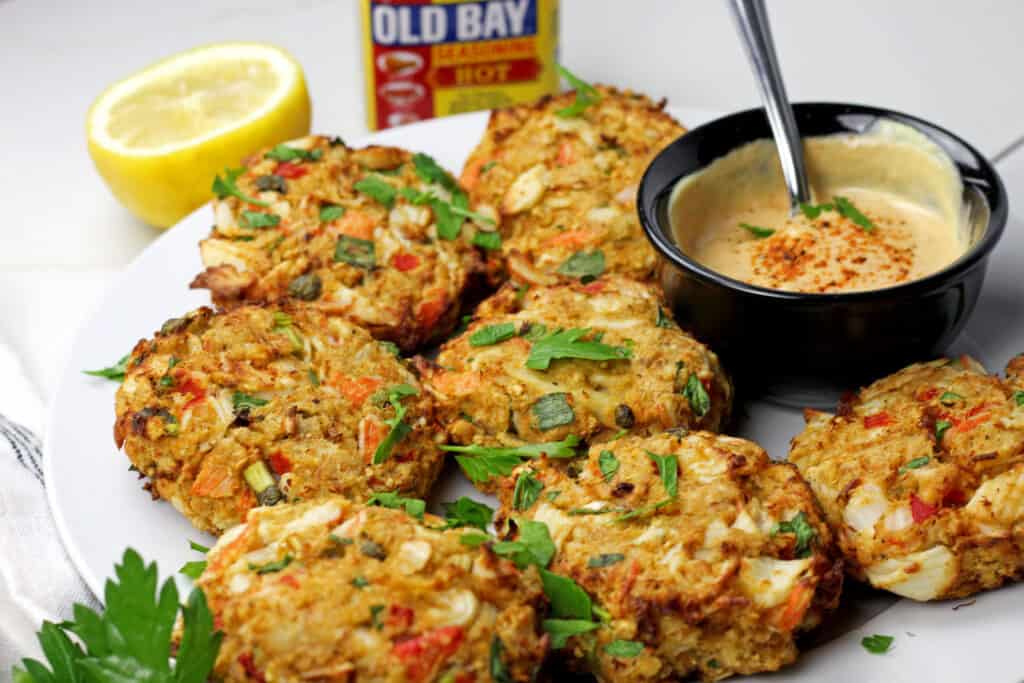 Ingredients
Egg: Using just one egg gives the breadcrumbs and crab meat something to hold onto during the cooking process, and prevents the crab cakes from falling apart.
Mayonnaise or Greek yogurt: Use your preferred option or a combination of the two. Some people have strong feelings about one or the other. Personally, I used all mayo. It helps hold the crab cakes together, gives a little tangy flavor, and keeps the cakes from drying out in the air fryer.
Dijon mustard: This gives a little mustardy tang to the crab cakes.
Worcestershire sauce: This sauce gives the crab cakes a salty, umami flavor that goes well with crab.
Old Bay Seasoning: Old Bay is a classic crab cake ingredient. If you don't have any hand, you can substitute Cajun seasoning. Just don't tell anyone from Maryland that – they're fiercely loyal to their Old Bay Seasoning.
Lemon juice: Lemon adds a nice punch of tanginess like the mustard along with a refreshing taste.
Parsley: Fresh parsley adds a pleasant fresh taste and a punch of green color. If you use dried, you won't get nearly as much flavor.
Crab meat: I'm not going to lie. Quality crab meat can be pricey. Buy what you can afford. The imitation crab (which is fish that's been processed to look and taste like crab) just doesn't have enough crab flavor, but it's cheap. You can look at it two ways – 1) You can splurge on the real deal and savor every bit of it, or 2) if cost a big deal for you, you can opt for half-pound of the real deal and half a pound of the imitation. You do you. Personally, I went the half claw meat and half imitation – not the most expensive, nor the cheapest, and the recipe turned out awesome!
Panko breadcrumbs: It's crucial to buy panko breadcrumbs for fluffy crab cakes. Panko breadcrumbs have a bigger crumb size, so they don't turn into complete mush when you mix them into the cakes.
Green onions: Green onions add some onion flavor with a bright green pop of color.
Jarred roasted red peppers: I used one big slice of roasted red peppers from a jar for color and taste. They have a little acidic flavor to them from being brined, so the flavor marries well with the mustard and lemon juice.
Capers: I feel like capers are one of the most underrated ingredients. Salty and sour, they go great with any seafood. Even if you're not a caper fan typically, you should add them – they're perfect in these crab cakes!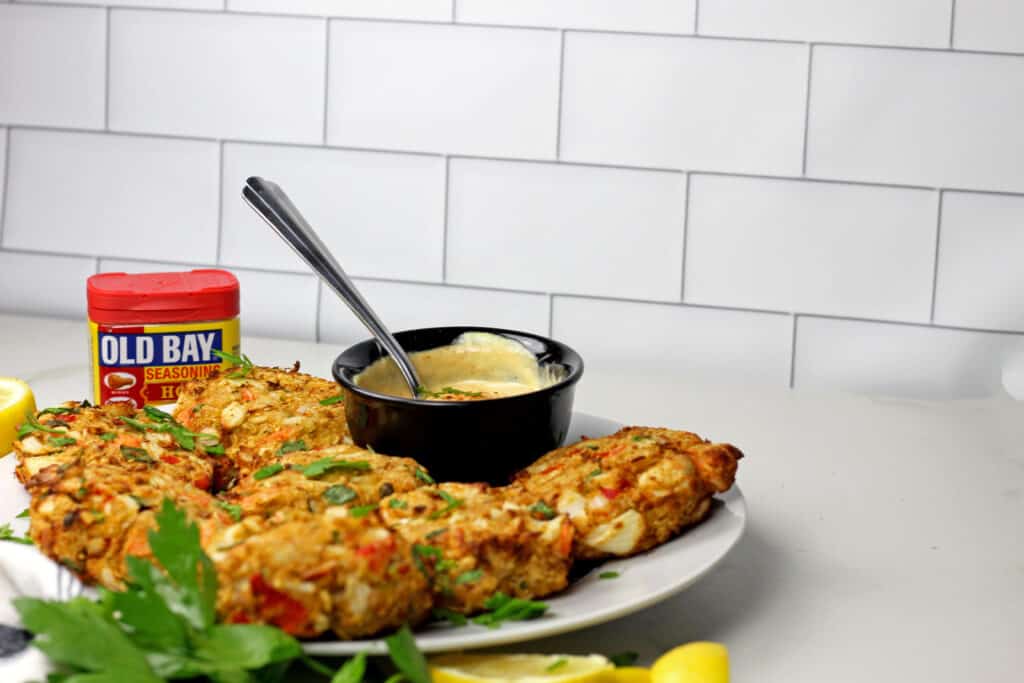 How to Make Air Fryer Crab Cakes
Like most of my recipes, they're pretty dang easy. It involves mixing all of the ingredients together in a bowl. Like baking though, you should mix the wet and seasoning ingredients together first and then add "drier" ingredients for even distribution of flavor and texture. Then you'll need to form patties. I used a leveled ⅓ cup measuring cup to portion out the crab mixture into about 8 equal patties. Lightly press the patties to make sure they stick together but don't smush them too much – just enough to hold together. You'll then air fry them for about 7 minutes at 360 degrees, then flip them, and air fry for another 5 minutes. Boom, done.
How to Serve Crab Cakes
There are so many ways you can serve these crab cakes. You can make a crab cake burger by serving them on buns with your favorite sauces and toppings. Speaking of favorite sauces, you can service them all by themselves with your favorite sauce. They go great on top of salads, or you can make them into 16 smaller patties and serve as an appetizer. I always recommend extra lemon slices to serve. The possibilities are endless. However you serve them, I hope you enjoy them.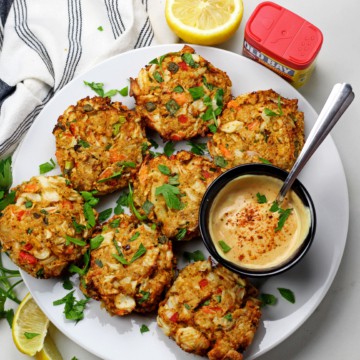 Air Fryer Crab Cakes
These Air Fryer Crab Cakes are everything you want and more in a crab cake. Lots of crab meat and just enough filler to keep them from falling apart.
Ingredients
1

large egg

¼

cup

mayonnaise or Greek yogurt

1

tbsp.

dijon mustard

1

tbsp.

Worcestershire sauce

2

teaspoon

Old Bay Seasoning or Cajun seasoning

Juice of half of a lemon

plus extra for slices

⅛

teaspoon

salt

1

Tablespoon

chopped fresh parsley

or 2 teaspoons dried

1

pound

crab meat

⅔

cup

panko breadcrumbs

2

green onions

chopped

1

large piece of jarred roasted red pepper

diced

1

tablespoon

capers
Instructions
Preheat air fryer to 360 degrees F.

Whisk egg, mayo (or Greek yogurt), mustard, Worcestershire sauce, Old Bay, lemon juice, and salt together in a bowl. Then add the parsley, crab meat, panko bread crumbs, green onion, red pepper, and capers, and mix gently.

Form crab mixture into 8 equally sized patties, using a ⅓ cup measuring cup. Press patties together gently without flattening the patty – just enough for mixture to stick together.

Cook in the air fryer for 7 minutes. Flip the patties, and cook for an additional 5 minutes.

Serve warm with lemon slices and your favorite dipping sauce, if desired.
CLICK TO DISPLAY NUTRITION INFO
Nutrition
Calories:
130
kcal
Carbohydrates:
5
g
Protein:
12
g
Fat:
7
g
Saturated Fat:
1
g
Polyunsaturated Fat:
3
g
Monounsaturated Fat:
2
g
Trans Fat:
0.02
g
Cholesterol:
50
mg
Sodium:
736
mg
Potassium:
173
mg
Fiber:
1
g
Sugar:
1
g
Vitamin A:
148
IU
Vitamin C:
9
mg
Calcium:
52
mg
Iron:
1
mg