Embrace the refreshing blend of sweet melon and tangy bubbles in this delightful Midori Spritz cocktail. Ideal for a sunny summer day or any special occasion, each sip of this vibrant cocktail is crisp and zesty.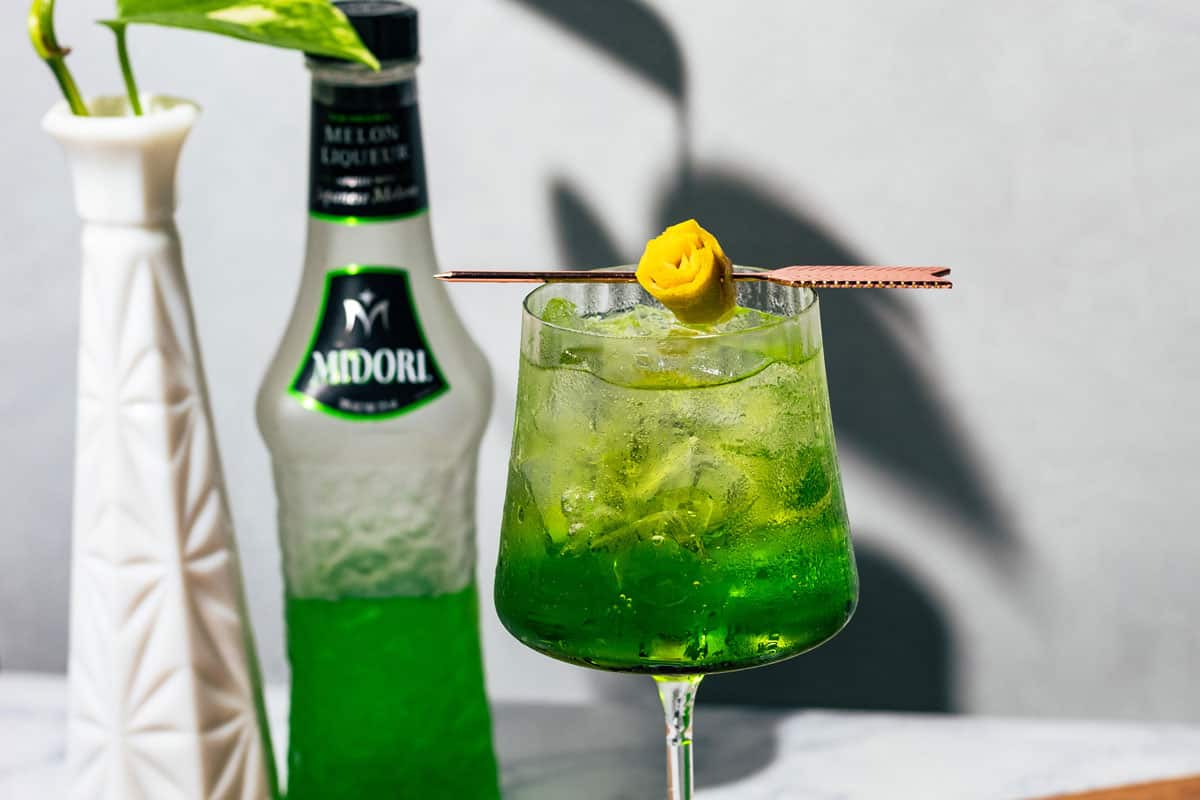 If you love Midori liqueur, be sure to check out my recipe for a Midori Sour or Midori Margarita.
Jump to:
Why You'll Love This Recipe
Simple ingredients, complex taste: With only four ingredients, this cocktail is easy to make but boasts a sweet and sour flavor profile that will intrigue your taste buds.
Adaptable to batch preparation: The Midori Spritz can be easily scaled up to serve at larger events, making it a convenient choice for entertaining.
Easily customizable: The basic recipe can be tweaked to accommodate individual preferences or to create unique variations.
What is Midori?
Midori is a vibrant green, Japanese melon-flavored liqueur that was first introduced in the United States in 1978. It gets its distinctive color and flavor from muskmelons. The name "Midori" means "green" in Japanese, reflecting the liqueur's striking appearance.
Ingredient Notes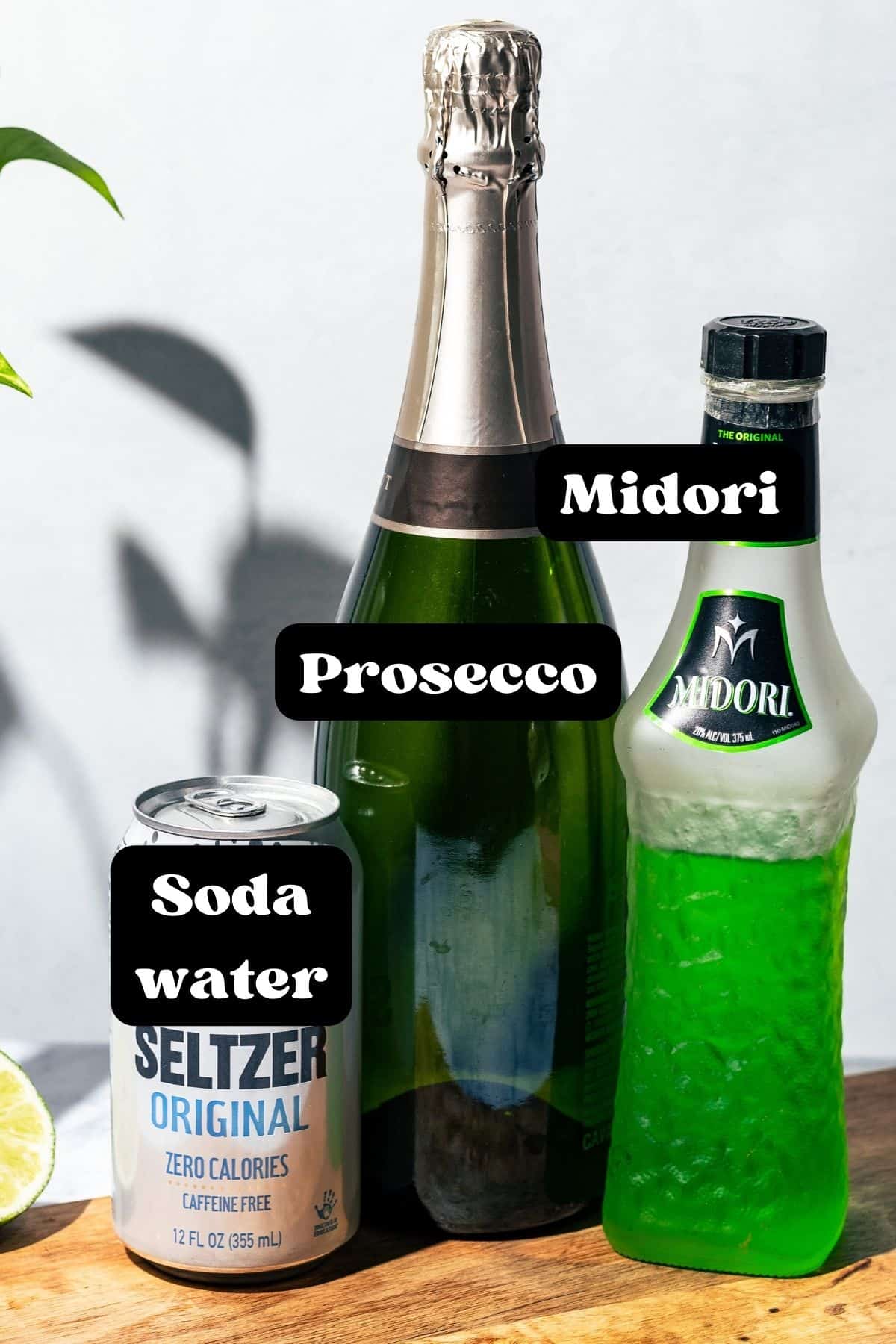 Midori: The star of this cocktail, Midori can be found at most liquor stores. Its vibrant green color adds an eye-catching visual element to the beverage.
Prosecco: An Italian sparkling wine, prosecco adds a light, bubbly texture and a subtle fruitiness that complements the sweetness of the Midori.
Soda water: Soda water helps to dilute the sweetness of the Midori and prosecco, adding extra effervescence to the cocktail. You can use club soda or seltzer.
Lemon twist: The lemon twist garnish not only adds visual appeal but also imparts a zesty citrus aroma that enhances the flavor. A lemon or lime slice is another good option for garnish.
Substitutions and Variations
If you prefer a more citrusy flavor, swap the soda water for lemon or lime-flavored sparkling water. You can also just add some fresh lime juice or lemon juice.
For a boozier cocktail, add a shot of vodka to your spritz.
Step-by-Step Instructions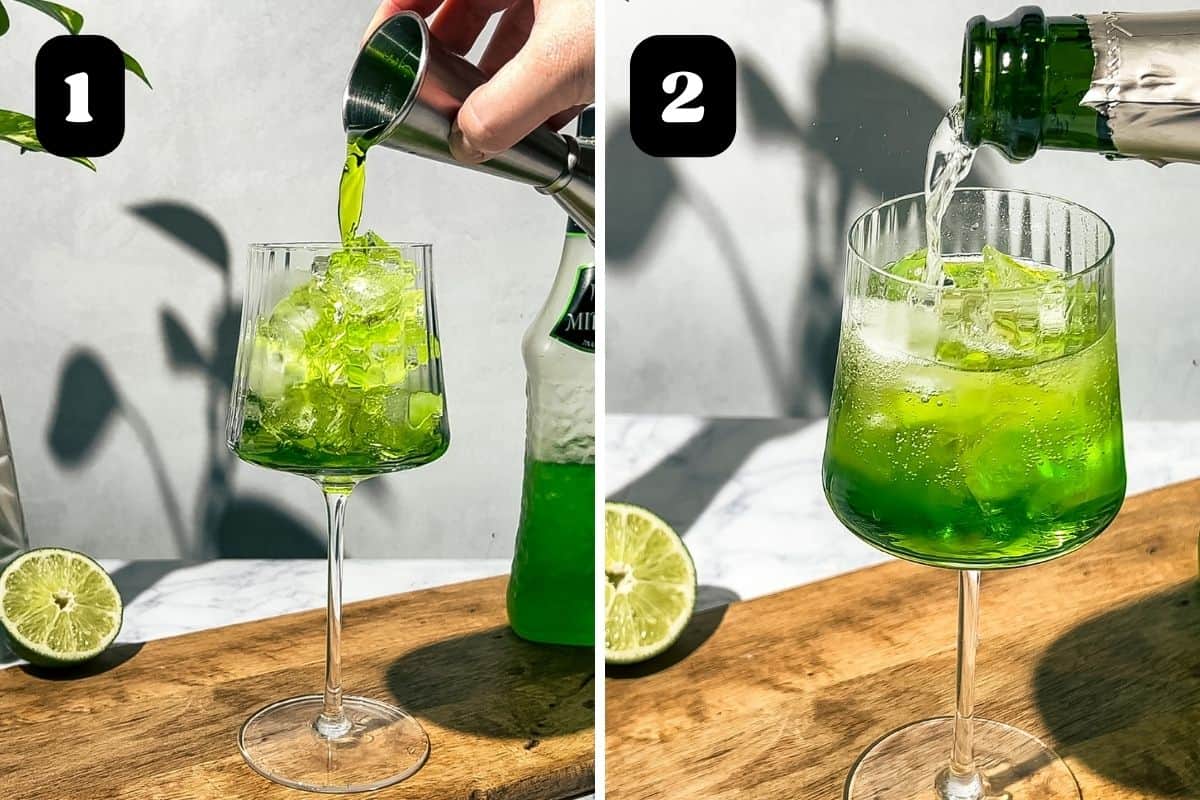 Steps 1-2: Add the Midori to a large wine glass filled with ice. Top with prosecco.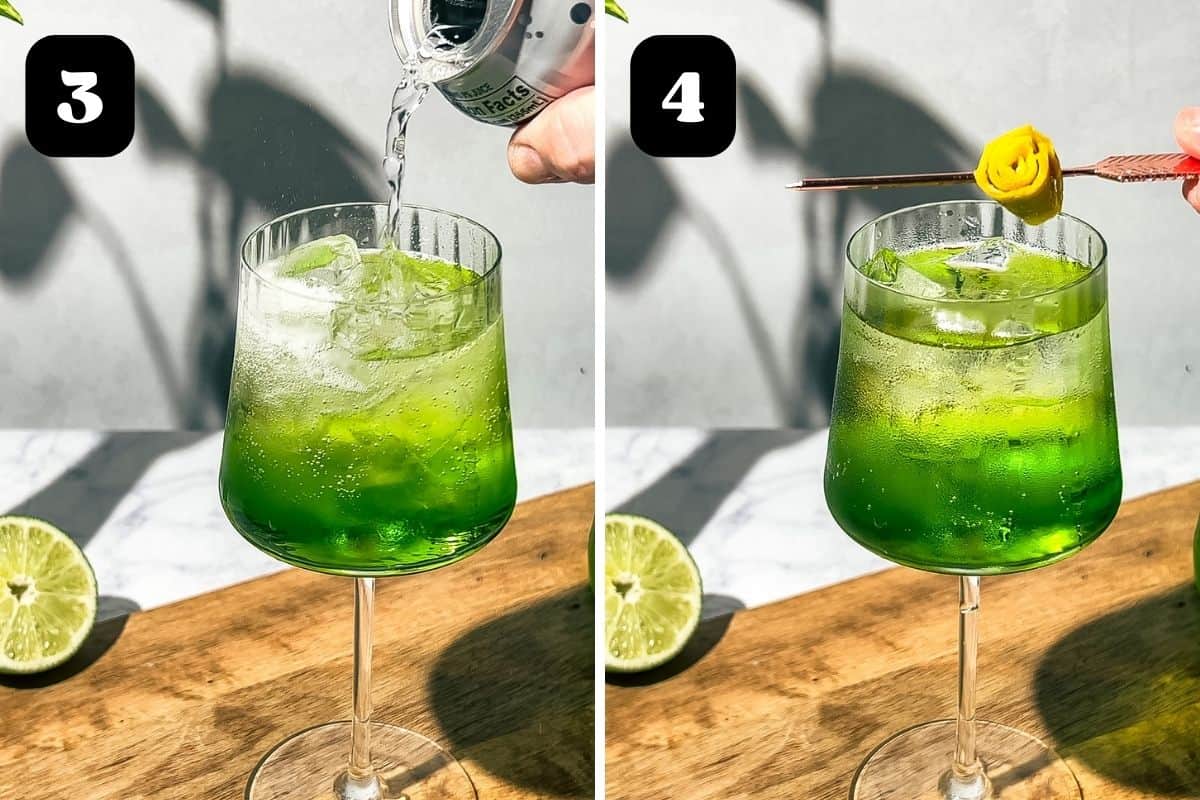 Step 3-4: Add the soda water. Garnish with a lemon twist with or without a cocktail pick.
Expert Tips
Opt for a brut or dry style of prosecco for this spritz as Midori is a very sweet liqueur. If you don't want to use or can't find prosecco, try a dry cava or champagne.
Rim the glass with granulated sugar or salt before pouring the cocktail. To do this, rub a lemon wedge around the rim and then dip the glass into a plate of sugar or salt.
Freeze some melon balls overnight and use in place of the ice cubes to keep your drink cold without dilution.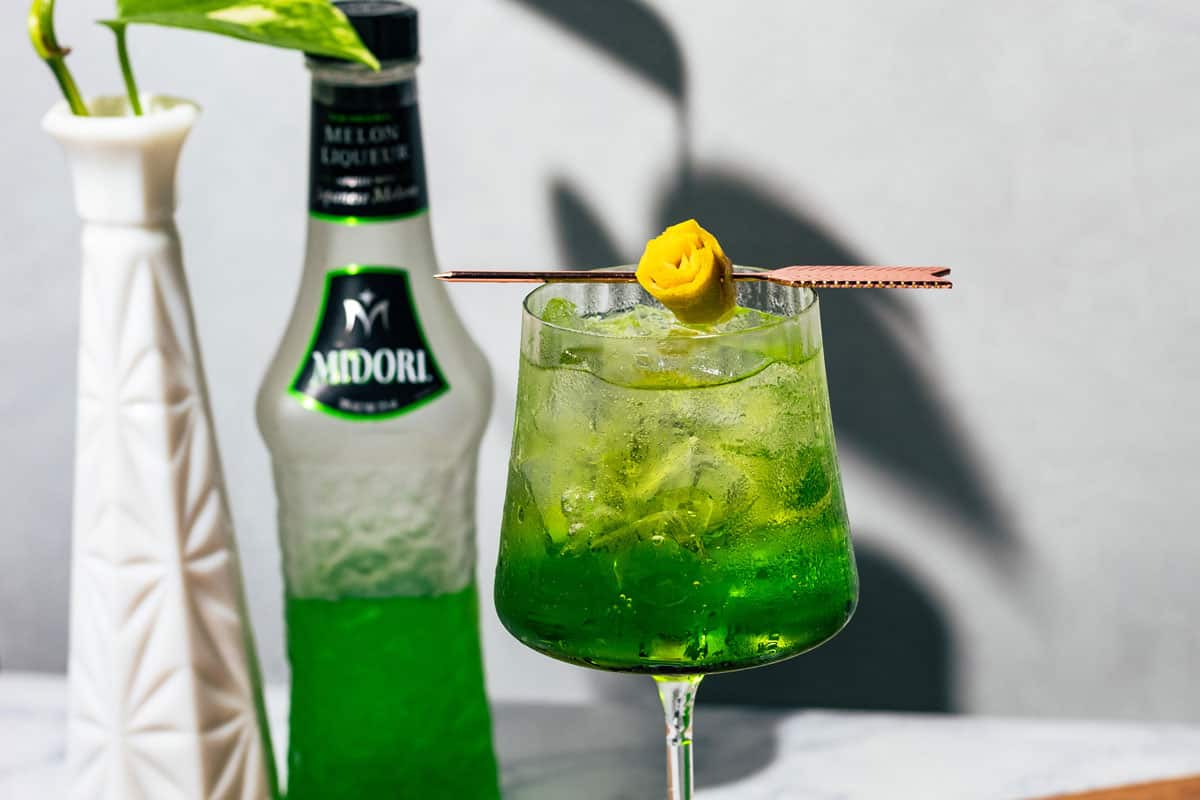 FAQ
Q: Can I make a batch?
Yes, you can make a big batch of Midori Spritz cocktails. To make a batch, simply multiply the ingredients by the number of servings you need, combine everything except the prosecco and soda water in a large pitcher, and chill until ready to serve. When it's time to serve, top off with prosecco and soda water and garnish with lemon twists or slices.
Q: Can I make a batch in advance?
You shouldn't make a batch too far in advance as it can go flat easily. Instead to prep ahead, have all of your ingredients ready to go so that you can throw everything together at a moments notice.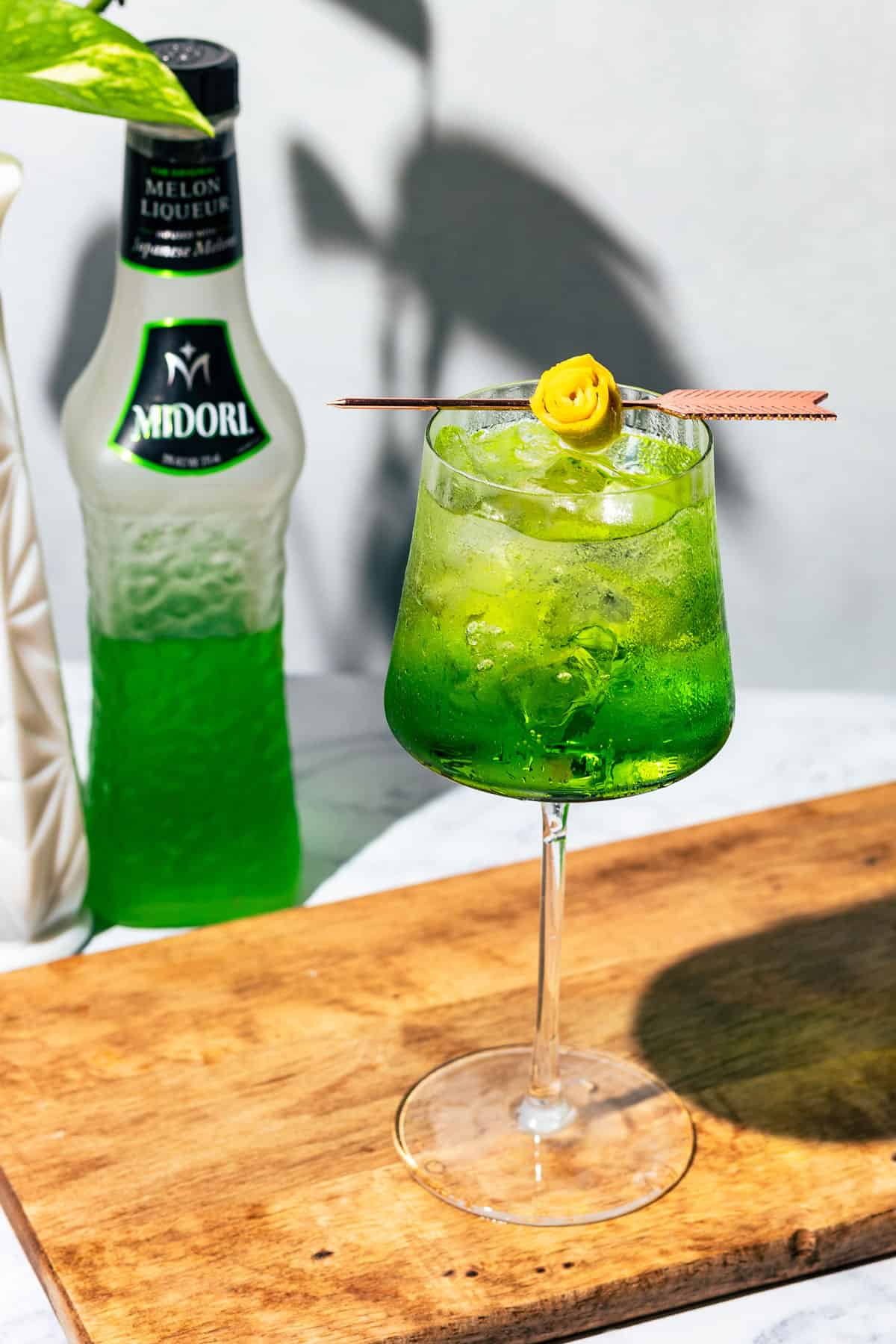 Related Recipes
Did you love this cocktail?
Please leave a 5-star 🌟🌟🌟🌟🌟 rating & review in the comments below.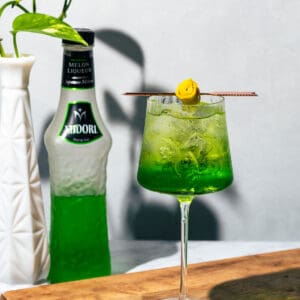 Sweet and Sour Midori Spritz Recipe
Embrace the refreshing blend of sweet melon and tangy bubbles in this delightful Midori Spritz cocktail.
Ingredients
2

ounces

Midori melon liqueur

3

ounces

prosecco

(dry or brut)

1

ounce

soda water

Lemon twist for garnish

(optional)
Instructions
Add the Midori to a large wine glass filled with ice.

Top with prosecco and soda water.

Garnish with a lemon twist, if desired.
Notes
Measurements for 8 cocktails:
2 cups Midori melon liqueur
1 bottle prosecco (750 ml bottle, dry or brut)
1 cup soda water 
Lemon twists or slices for garnish. 
Instructions and tips for making a batch:
Combine all ingredients in a large pitcher and serve immediately over ice. 
Avoid adding ice to the pitcher or making it in advance as it can get diluted and/or go flat easily. 
However, you can have everything chilled and ready to add to a pitcher at a moment's notice for easy serving.
Don't forget to follow along on social media for alerts on new recipes!
You can catch me on Instagram, TikTok, Pinterest, and Facebook.