THIS POST CONTAINS AFFILIATE LINKS, WHICH PAYS ME A SMALL COMMISSION AT NO COST TO YOU.
I can't wait for you to try these grilled pineapple and jerk pork bowls with kale and avocado. These bowls are loaded with nutrients – kale (rich in vitamin K), sweet potatoes (rich in vitamin A), avocado (which aids in absorption of said vitamins), and pineapple (rich in vitamin C). But, these bowls have just as much flavor as they do good nutrition. Caramelized, tart, spicy, and savory – lots of flavor to love.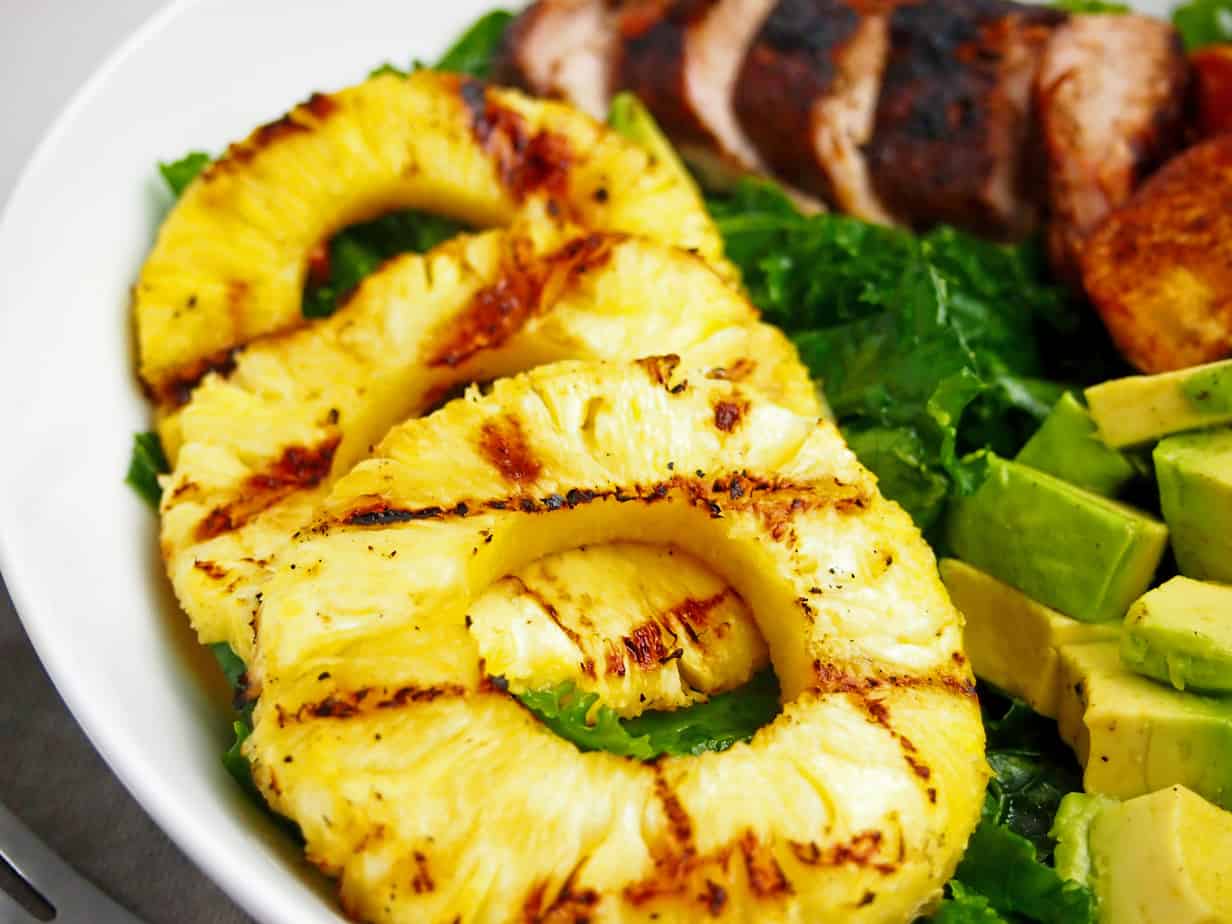 Let's start with some pineapple and kale.
By grilling the pineapple, the natural sugars caramelized into melt in your mouth sweetness. By using some of the contrasting tart pineapple juice in the dressing, you can help tenderize the fibers in the kale. Pineapple contains a natural tenderizing enzyme called bromelain that breaks down tough proteins. This is exactly why if you use pineapple juice in gelatin, it won't set. The protein isn't able to form strong bonds to congeal. Pineapple juice makes a great meat tenderizer. It was perfect to help tenderize the super fibrous kale greens. Raw kale is so chewy and fiber rich, but with a touch of pineapple juice the fibers break down if it has been cooked. Tenderizing the raw kale makes the texture much more palatable. You can marinate tough greens like kale over night in this pineapple dressing, which turns into perfectly tender greens the next day.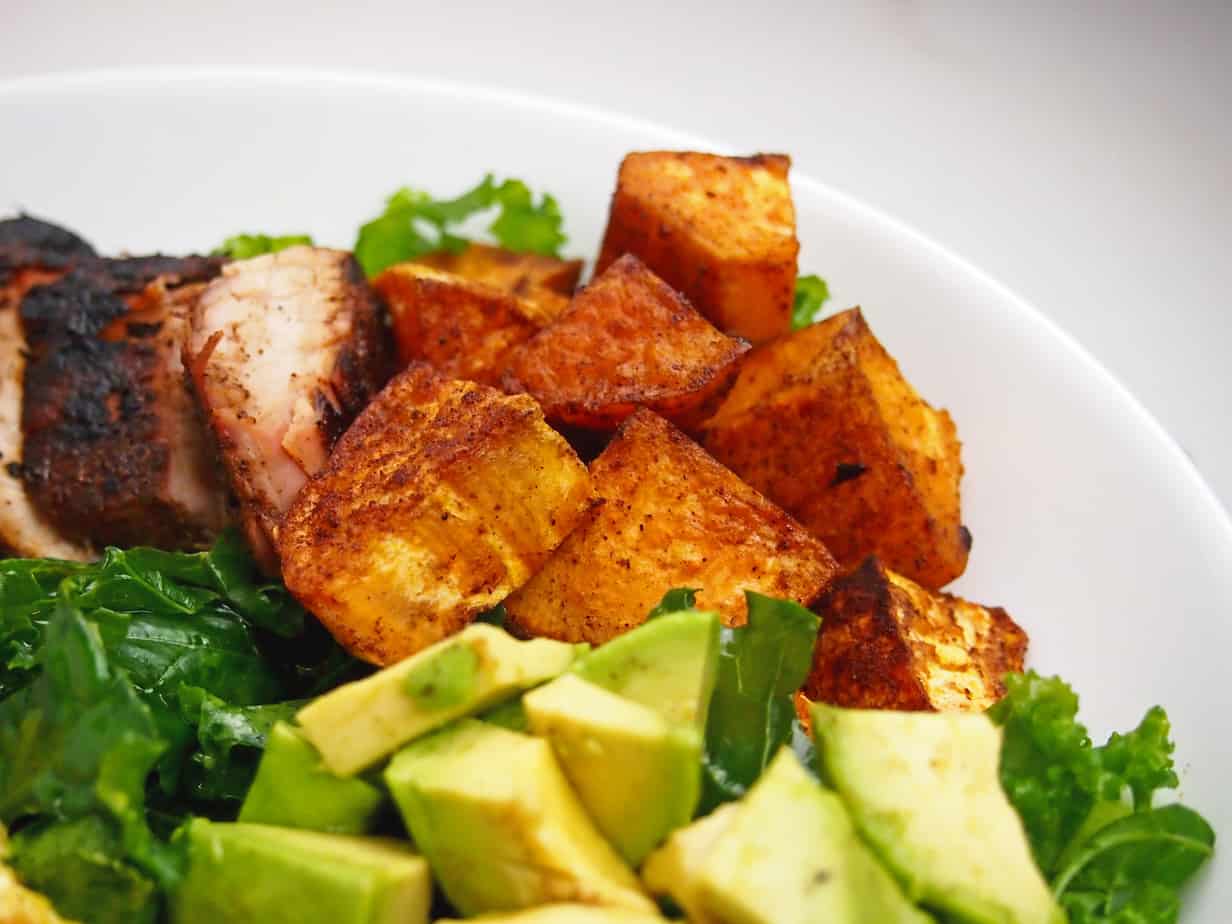 On to the sweet potatoes and pork!
Slathering the sweet potatoes and pork tenderloin with a homemade blend of Jamaican jerk seasoning adds a slight sweetness and a mild warming spice. For maximum flavor, let the spice blend marinate on the pork for at least 20-30 minutes before grilling. I also recommend butterflying the pork tenderloin. Butterflying is a simple way to cut the meat to allow the meat to cook faster and more evenly. Put simply, you cut through the middle (but not all the way through the meat) so that you can open the meat like a book.
Top with some diced avocado and call it a day!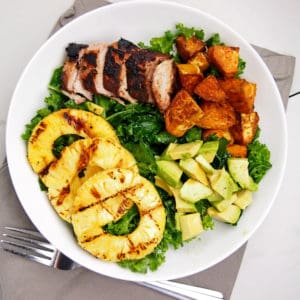 Grilled Pineapple Jerk Pork Bowls
Ingredients
¼

cup

pineapple juice

1

tbsp.

honey

4

tbsp.

olive oil

1

bunch

kale

chopped and stalks removed

1

tsp.

allspice

½

tsp.

cinnamon

½

tsp.

garlic powder

1

tbsp.

brown sugar

⅛

tsp.

cayenne pepper

1

tsp.

salt

1

lb.

pork tenderloin

butterflied (tutorial found above)

1

whole

pineapple

peeled, cored, and cut into rings

4

small

sweet potatoes

peel and cubed into 1 inch pieces

1

medium

avocado

sliced or cubed
Instructions
Preheat grill and oven each to 400 degrees.

Whisk together pineapple juice, honey, oil, and pinch of salt together in a large bowl. Add in chopped kale and toss until evenly and well coated. Set aside.

Mix the allspice, cinnamon, garlic powder, brown sugar, cayenne pepper, and salt into a small bowl.

Rub half the seasoning mixture on the pork. Place on grill and allow to sear 7-10 minutes and flip. Grill pork loin an additional 7 minutes or until internal temperature reaches 145 degrees. Remove from grill and allow to rest.

Place pineapple slices on grill and grill for about 3 minutes per side or until marks appear. Remove and set aside.

Meanwhile, use the other half of the seasoning blend to season the sweet potatoes and place on a greased baking sheet. Place in oven for about 20-25 minutes or until sweet potatoes are golden and are easily pierced with a fork.

Slice pork thinly. Top kale with pork slices, pineapple slices, sweet potato cubes, and diced avocado.
CLICK TO DISPLAY NUTRITION INFO
Nutrition
Calories:
611
kcal
Carbohydrates:
72
g
Protein:
29
g
Fat:
26
g
Saturated Fat:
4
g
Polyunsaturated Fat:
3
g
Monounsaturated Fat:
17
g
Trans Fat:
0.03
g
Cholesterol:
74
mg
Sodium:
635
mg
Potassium:
1546
mg
Fiber:
12
g
Sugar:
36
g
Vitamin A:
21968
IU
Vitamin C:
149
mg
Calcium:
183
mg
Iron:
4
mg
Shop the tools: