This Vegan Coffee Cake is tender and full of warm cinnamon spice. Like any good coffee cake, it's best served with a piping hot cup of coffee.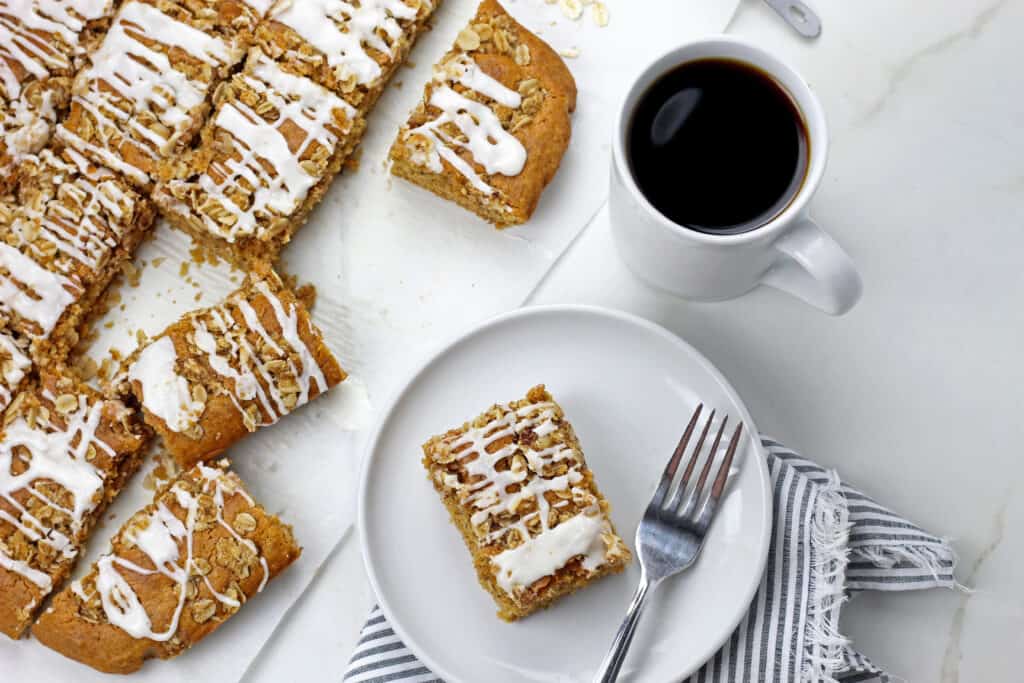 Coffee cakes are one of my favorites. In my mind, many sweets go with coffee because the bitterness of the coffee helps balance the sweet dessert. This coffee cake very simple and has a warm, cinnamon flavor that I love pairing with my coffee. Whether you are vegan or not, this recipe is a crowd-pleaser.
Ingredients
Coconut oil: If you keep your coconut oil in the fridge, take it out before making this recipe and let it soften a bit.
Brown sugar: You can use dark or light brown sugar. Dark brown sugar will give it a richer taste as it has more molasses in the sugar.
Flax egg: The easiest vegan substitute for eggs in baking are flax eggs. A flax egg is simply 1 tablespoon of ground flax mixed with 3 tablespoons of water.
Applesauce: The applesauce gives moisture to the cake and adds some natural sweetness.
Apple cider vinegar: Apple cider vinegar adds a nice flavor. Most importantly, vinegar is needed to activate the baking soda to produce more lift or rise in baking.
Vanilla extract: Use the real deal if you can. The flavor is better.
Flour: I used all-purpose, but you could split half and half of all-purpose and whole grain if desired.
Baking powder and soda: Using the combo helps give the lift we need for the cake to rise.
Ground cinnamon: It's a must in the coffee cake, in my opinion. If you're feeling extra fancy, you can sub in pumpkin pie spice.
Oats: The oats add a nice crumbly topping for the cake.
Icing (powdered sugar, non-dairy milk, vanilla extract): What's cake without some icing? You can use any type of non-dairy milk you like (almond, coconut, oat, etc.)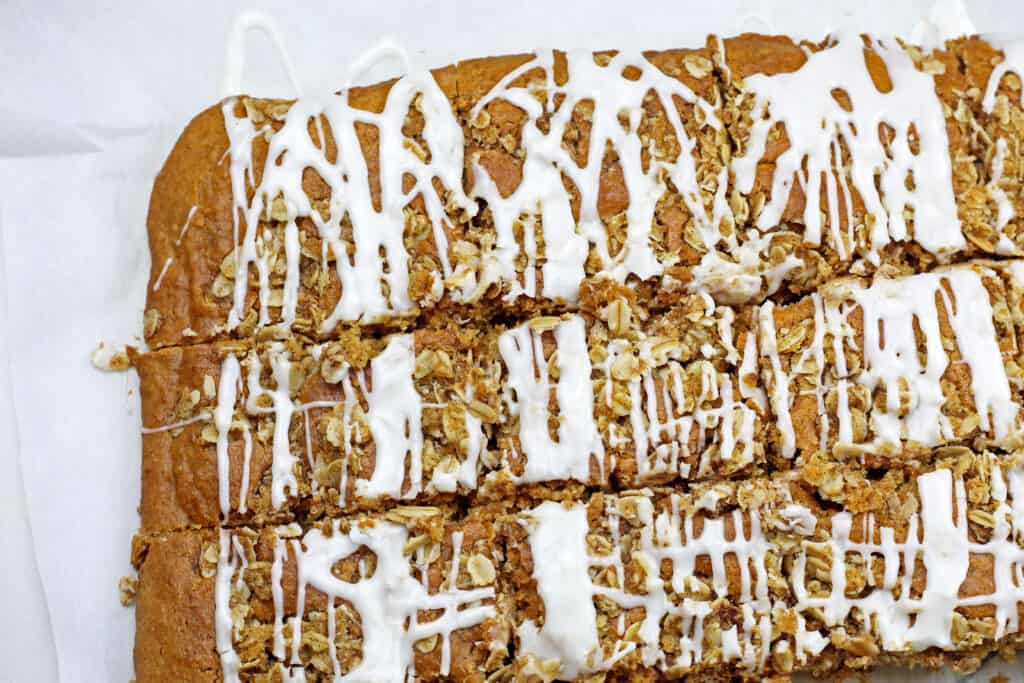 How to Make Vegan Coffee Cake
This cake is pretty typical to other cakes – you mix dry and wet ingredients separately and combine them together. After the cake batter is in the pan, you can top the cake with the crumb topping. After baking, you let the cake cool a little before drizzling on the icing.
Why Vegan? And, how does cake or veganism fit into Intuitive Eating?
As you may know, I consider myself a non-diet dietitian and a proponent of Intuitive Eating. If you're not familiar with intuitive eating, it is a practice that shrugs off the external food rules of dieting and focusing on internal cues such as hunger, fullness, and satisfaction in eating. Intuitive eating doesn't mean eating whatever you want, whenever you want – although you have full permission to do that.
One of the principles is something called gentle nutrition. Gentle nutrition isn't food rules or dieting. It still focuses on your individual needs but shifts your focus to not feel guilty even if you eat food that isn't as nutritious as others.
So, cake absolutely fits this model. Cake can be super satisfying, and there is no reason to feel guilty for eating cake (or really any food). As far as veganism goes, you could argue that veganism has "rules" that you have to follow. As with anything in intuitive eating, it is more about your intention. Are you following a vegan diet because of sustainability, environmentalism, or other reasons that feel "aligned" with yourself? Or, are you doing it because some random influencers on social media suggested it, and you feel like you "should?" Ask your why and whether that feels in line with your values. Those are two vastly different intentions. Intuitive eating is about finding what feels good, both mentally and physically.
Personally, I eat vegan food, and I eat animal-based food (clearly based on my recipes). All foods can genuinely fit into an intuitive eating model.
Again, if you're new to intuitive eating, you can find more information about the intuitive eating principles in my free ebook.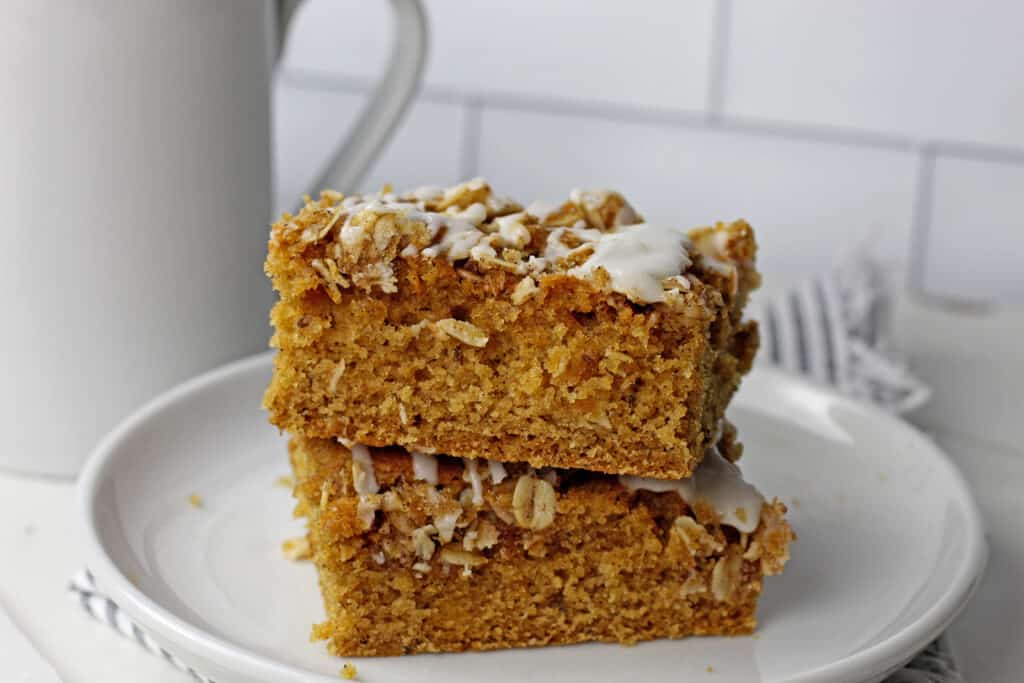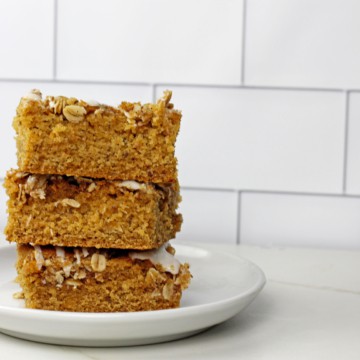 Vegan Coffee Cake
Ingredients
Cake:
½

cup

of coconut oil

softened (plus extra for the pan)

1

cup

of brown sugar

1

flax egg

1 tablespoon ground flax with 3 tbsp. water

1

cup

of applesauce

2

tsp.

apple cider vinegar

2

tsp.

vanilla extract

2 ¼

cup

all-purpose flour

1

tsp.

salt

2

tsp.

baking powder

½

tsp.

baking soda

½

tsp.

ground cinnamon
Crumb topping:
3

tbsp.

melted coconut oil

3

tbsp.

brown sugar

½

tsp.

ground cinnamon

½

cup

flour or oats
Icing:
½

cup

powdered sugar

1

tbsp.

non-dairy milk

½

tsp.

vanilla or almond extract
Instructions
Preheat oven to 350 degrees. Coat a 9x13 pan with cooking spray or the extra coconut oil and line with parchment paper.

Mix together the coconut oil, brown sugar and beat together in with hand mixer or stand mixer until fully incorporated. Add flax egg, applesauce, vinegar, and vanilla extract and mix again until fully combined. In a separate bowl, mix together dry ingredients (flour, salt, baking powder, baking soda, and cinnamon). Add dry ingredients to wet ingredients and combine until fully mixed. 

In a separate bowl, mix together all ingredients for crumb topping (should be clumpy) with a fork or your fingers. Put batter in a parchment paper-lined pan and top with crumb topping. Bake for 45-50 minutes. If crumb topping gets too brown, tent with foil. Allow cake to cool.

While the cake is cooling, mix all icing ingredients together in a bowl and drizzle on top of the cake. Let icing set before cutting into squares and serving.
CLICK TO DISPLAY NUTRITION INFO
Nutrition
Calories:
306
kcal
Carbohydrates:
50
g
Protein:
3
g
Fat:
14
g
Saturated Fat:
11
g
Polyunsaturated Fat:
1
g
Monounsaturated Fat:
1
g
Sodium:
311
mg
Potassium:
94
mg
Fiber:
2
g
Sugar:
24
g
Vitamin A:
12
IU
Vitamin C:
0.3
mg
Calcium:
81
mg
Iron:
2
mg