This post contains affiliate links, which pays me a small commission at no cost to you.
Umami = Pure Comfort Food
I can't think of anything more comforting that a big juicy burger on a soft bun, slathered in tangy condiments, on a hot summer day. Many of the flavors that make a burger so darn delicious are thanks to umami flavors. Umami is widely considered the "fifth" taste, the other four being sweet, sour, salt, and bitter. Umami derives its flavor from the naturally occurring amino acid, glutamic acid (or "glutamate"). Glutamic acid occurs naturally in richly flavored foods such as beef, black beans, mushrooms, tomatoes, miso, etc. Since I just listed the majority of the ingredients in this burger; hence, the Umami Bomb Burger.
Flavorful and Healthy
Red meat is umami rich, but often gets a bad rap. I like to include all foods in moderation, including red meat. #allfoodsfit – so to "moderate" my consumption of red meat, I went halfsies with the beans and made a half-veggie burger. Black beans are also rich in umami flavor AND rich in fiber. Just ½ cup is ~8 grams of fiber – which is 30% of the recommended daily amount. This burger is all about the balance. When paired up with some simple roasted potatoes, I've got the traditional burger and fries but in much healthier way.
Mushrooms + Miso = Umami Love
In addition to the red meat and black beans, I added some dried mushrooms. By reconstituting in water for a few minutes, it releases tons of rich flavor. If you're not a mushroom fan stay with me. It's more of an extra meat-y taste that the mushrooms give rather than the typical earthy mushroom flavor.
Regular mayo would do you just fine in this burger, but who wants fine? I want out-of-this-world. If you can find miso in your local grocery store, go for it. I go to a local Asian market to buy it. Miso is readily available on Amazon. (As an Amazon Associate I earn from qualifying purchases.) Since making this burger, I've found myself mixing miso + mayo together for all sorts of dishes. It's the new sriracha mayo in my book.
Grill or Sear?
I hear there's quite a debate on the best way to cook a burger, to sear or to grill? Searing fans argue that it keeps the juices of a burger from running out. Grilling enthusiasts counter that the grill adds that classic smokiness to the patties. Wherever you land on this debate, I would recommend for these burgers you go with a sear method in a screaming hot skillet. Because of the beans, it may not stand up to the grill grate. Plus, less chance of losing all those umami flavors in the drip pan. It's liquid gold.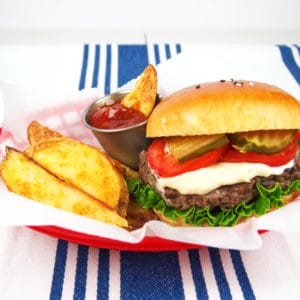 Umami Bomb Burger
Ingredients
1

oz.

dried mushrooms

like porcini

1

can of black beans

1

tablespoon

of seasoning blend

or 1 teaspoon garlic powder, 1 teaspoon onion powder, ½ teaspoon salt, ½ teaspoon black pepper

1

lb

of ground beef

>90% lean

1

egg

1

tablespoon

of light colored oil

canola or grapeseed oil

6

burger buns

½

cup

mayo

1

tablespoon

miso
Instructions
Place dried mushrooms in a bowl and cover with boiling water. Allow to sit for about 10 minutes.

Place black beans in food processor and pulse a few times.

Drain dried mushrooms well and add to food processor bowl with the bean mixture. Pulse a few more times until a paste forms, but a few black beans remain intact.

Heat skillet over medium high heat with oil.

Place mushroom/bean mixture in a separate bowl. Add seasoning blend, ground beef, and egg. Mix gently with hands until even distributed.

Form into 6 patties and sear in skillet for 3-5 minutes. Flip and cook for another 3-5 minutes.

Mix mayo and miso together in a bowl.

Serve burgers on buns with miso mayo divided evenly.

Enjoy!
CLICK TO DISPLAY NUTRITION INFO
Nutrition
Calories:
386
kcal
Carbohydrates:
18
g
Protein:
22
g
Fat:
25
g
Saturated Fat:
6
g
Polyunsaturated Fat:
9
g
Monounsaturated Fat:
9
g
Trans Fat:
1
g
Cholesterol:
88
mg
Sodium:
564
mg
Potassium:
587
mg
Fiber:
7
g
Sugar:
1
g
Vitamin A:
104
IU
Vitamin C:
2
mg
Calcium:
83
mg
Iron:
4
mg