Hello again!
I'm so excited for today's recipe – it's a real hit and turned out even better than I imagined. It's homemade strawberry shortcakes with yogurt whipped cream. The yogurt cream is sweet with a light tang – absolutely perfect for these shortcakes.
Creamy, Dreamy Yogurt Whipped Cream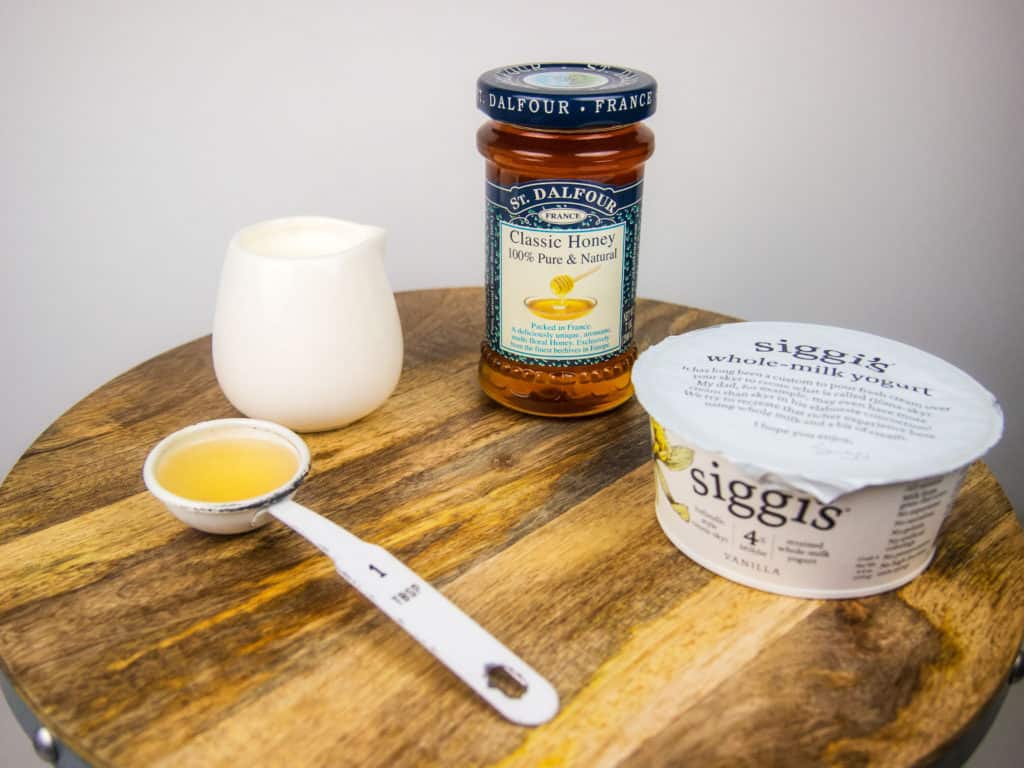 I am in LOVE with this stuff. The slight tang in the yogurt is a perfect offset to the sweetness of the strawberries and buttery biscuits. I do think it is very important to pick a high quality, whole milk yogurt with simple ingredients. I did add some extra vanilla extract for a little extra oomph. Dare I say, I think I might like this better than regular whipped cream. It's just got more flavor.
Give me the honey, honey.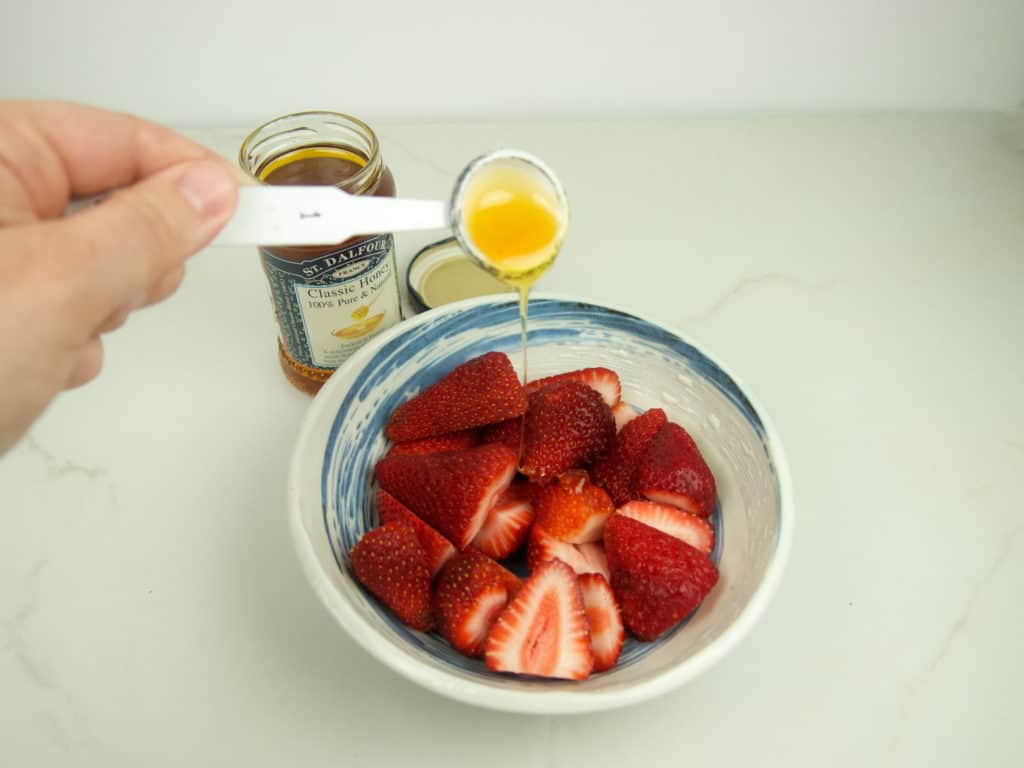 The main sweetener in this dessert is honey. Not because it is any healthier, but because of it's taste. The taste of honey changes so much from variety to variety that you could have a different taste every time depending on the honey's flower source or location. I think it will be fun to try a new variety of honey every time I make this dish…and trust me I will be making this again (and again, and again!)
This one goes out to all those Mamas!
It's the perfect dessert to show those Mamas some love on Mother's Day! Strawberries are always a hit with my mom, and I would definitely be making it if we were able to get together this weekend. Unfortunately, she lives a weeee bit far away. If you're reading this, Ma – I'll make sure it's a part of our next get together!
BUT, this recipe isn't just for the Mamas – it's a keeper as long as those fresh strawberries keep on coming!
Enjoy!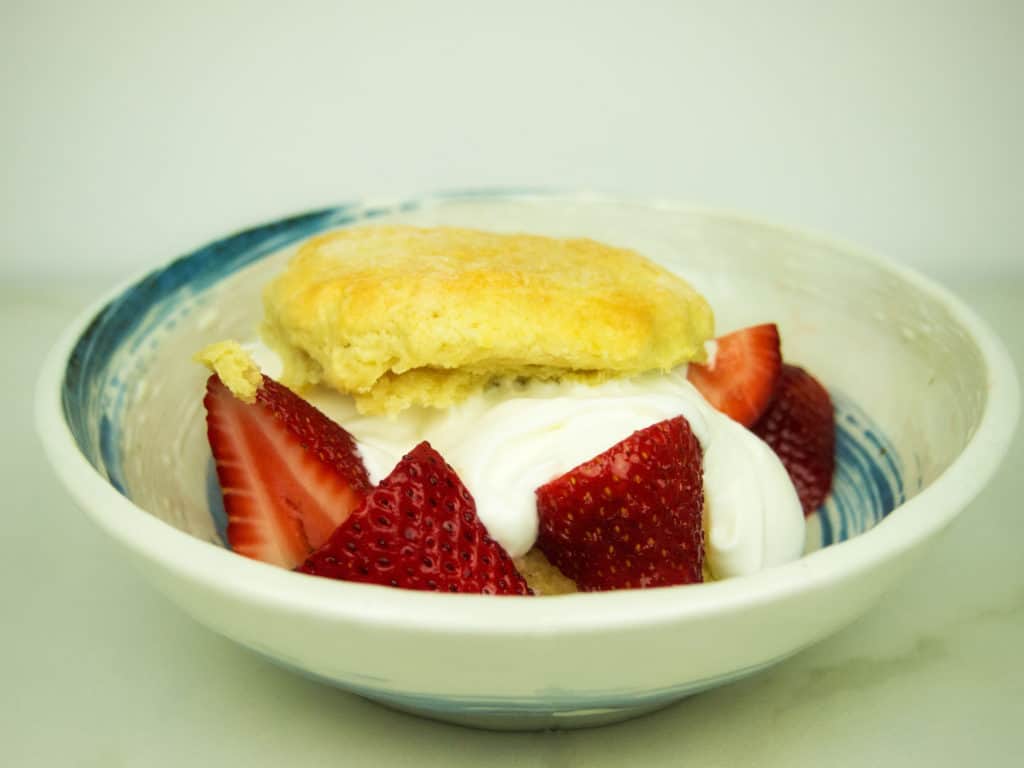 Strawberry Shortcake
Ingredients
6

oz.

all-purpose flour

(about 1 ¼ cups)

3.5

oz.

whole wheat flour

(about ¾ cup)

3

tsp.

baking powder

1

tbsp.

granulated sugar

½

tsp.

salt

½

tsp.

baking soda

¼

cup

unsalted butter

cut into small cubes and very cold

1

cup

buttermilk

very cold

1

lb.

fresh strawberries

1

tbsp.

honey

⅓

cup

regular whipping cream

1

small container

high quality thick vanilla yogurt

4-5 oz, suggest Siggi's 4% vanilla

1

tbsp.

vanilla extract
Instructions
Preheat oven 450 degrees F.

Add flours, baking powder, sugar, salt, and baking soda to the bowl of food processor. Pulse until mixed thoroughly.

Add cold cut-up butter cubes to processor and pulse until flour looks like corn meal. Little pockets of butter should be speckled throughout flour mixture.

Add cold buttermilk. Pulse just until dough forms and comes together.

Turn out dough on floured board. With floured hands and a floured rolling pin, roll out dough until about 1 inch thick and then fold the dough over. LIGHTLY roll to 1 inch thickness one more time taking care not to overwork dough.

Cut shortcakes with a cookie cutter or an upside down jar. Place biscuits on baking sheet lined with parchment paper or a silicone baking mat or use a greased cast iron skillet. Bake for about 15 minutes until golden brown.

While biscuits are baking, cut strawberries, place in a bowl, and drizzle with honey. Mix with a spoon until even coated and set aside.

Mix whipping cream, yogurt, and vanilla extract in a separate bowl on high speed with an electric mixer until soft peaks form about 2-3 minutes.

Once shortcakes come out of the oven, split shortcake in a serving dish, top with honeyed strawberries, and yogurt whipped cream. Serve immediately.
CLICK TO DISPLAY NUTRITION INFO
Nutrition
Calories:
367
kcal
Carbohydrates:
50
g
Protein:
9
g
Fat:
15
g
Saturated Fat:
9
g
Polyunsaturated Fat:
1
g
Monounsaturated Fat:
4
g
Trans Fat:
0.3
g
Cholesterol:
41
mg
Sodium:
597
mg
Potassium:
332
mg
Fiber:
4
g
Sugar:
14
g
Vitamin A:
518
IU
Vitamin C:
45
mg
Calcium:
265
mg
Iron:
3
mg