I'm such a sucker for spinach and artichoke dip.
Creamy, cheesy, I mean what's not to like? Also, I have a confession. There was a time that I did not like vegetables. What?! A dietitian that didn't always love vegetables? Yes, it's true. It's not so much that I didn't like vegetables, I just didn't know I would like them. I wasn't a very adventurous eater until I was in my late teens. However, one of the ways that I began to become a more adventurous was to combine new foods with foods and flavors that I knew that I loved. Slowly over time, I developed a palate for new foods. This extended beyond vegetables, but I did mostly have an aversion to vegetables.
It's all about balance!
Back then, a cheesy, creamy dip was a perfect vehicle for vegetables. Today, I would still stand by they are a perfect vehicle for vegetables. 🙂 Nowadays, I do prefer to balance the nutrients a bit. I figured this bean burger would be a perfect way to do so by bumping up the fiber with the beans and decreasing the fat and overall calories by using a light cream cheese as a binder. The white beans are perfect as they will take on any flavors and typically result in being extra creamy when mashed or ground up.
Unlike my half bean/half beef umami bomb burger, I went fully vegetarian with this burger, and it's just as good. (Tip: just like my umami bomb burger, I would recommend searing the burgers in a pan over using a grill.)
Maximize those toppings!
The toppings are another great opportunity to add in extra vegetables. I used more spinach and some tomatoes but go with what you love. Some red onion or pickles might be a nice touch as well. I also upped the creamy factor and threw in a small amount of Parmesan cheese with some light mayo for some extra flavor and texture.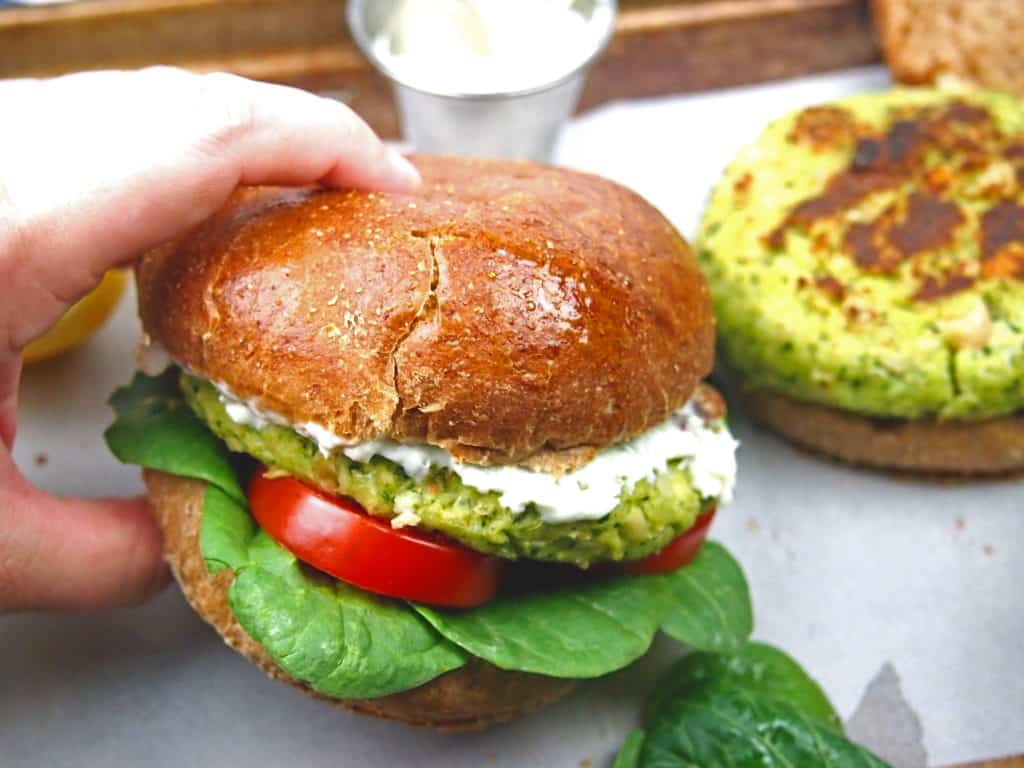 Whether you're a bona fide veggie lover or looking for ways to increase your consumption of vegetables, this burger is for you. Really it's for us all – as only 1 in 10 Americans get enough fruits or vegetables. All the more reason to get cooking!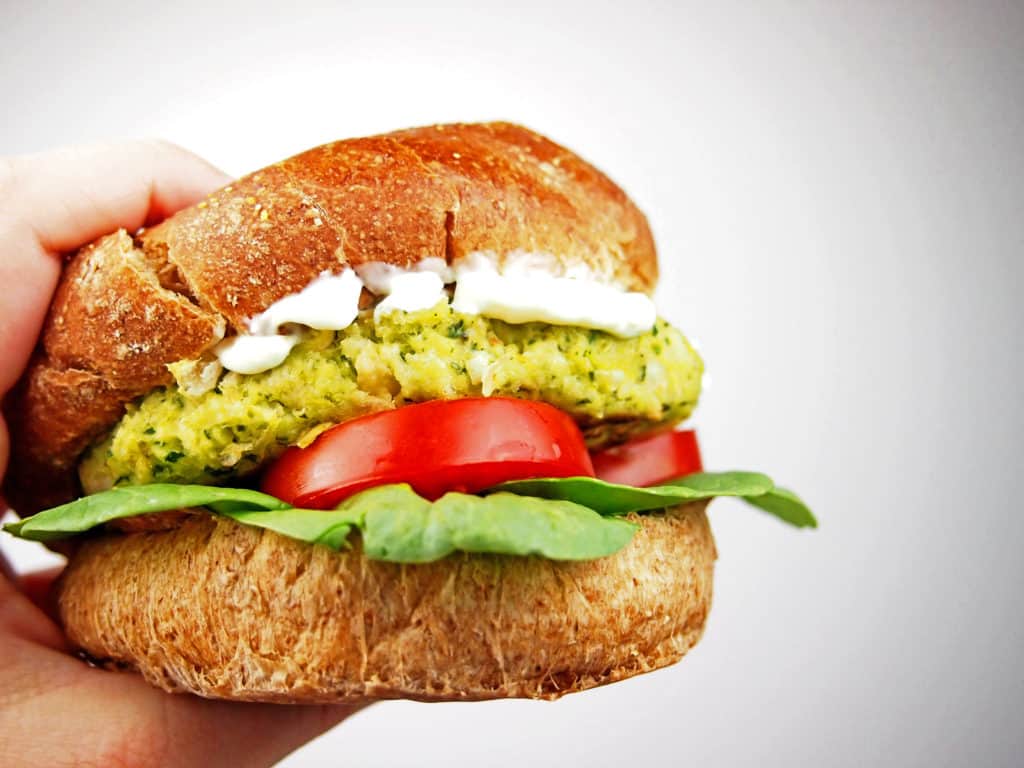 Print
Spinach and Artichoke Bean Burger
Prep Time:

40 mins

Cook Time:

15 mins

Total Time:

55 mins

Yield:

4

1

x
1

–

2

garlic cloves

4 oz

light cream cheese (aka Neufchatel cheese)

1

small jar (

6.5 oz

) artichokes, drained

2 cups

(

2

large handfuls) fresh spinach
Zest of half lemon + squeeze of juice

⅓ cup

Parmesan cheese, divided

1

can (15.5 oz) of cannellini beans

1 cup

of panko breadcrumbs

1

egg
Salt and pepper

1

–

2

tsp. cooking oil

4

whole grain burger buns
Optional: Parmesan mayo (4 tbsp. light mayo + 4 tbsp. Parmesan mayo), other burger toppings such as lettuce, more spinach, tomato, onion, etc.
Instructions
Grind garlic cloves in large food processor until minced and no large pieces remain.
Add in cream cheese, artichokes, spinach, lemon zest, squeeze of lemon juice, ⅓ cup of parmesan cheese, and cannellini beans into the bowl of the food processor.
Pulse the food processor 4-6 times or until ingredients are well combined, but pieces of the beans remain.
Pour mixture into a large mixing bowl. Mix in panko bread crumbs and egg. Mix until well combined.
Form mixture into 4 evenly shaped patties and place on a plate. Cover with plastic wrap.
Chill bean patties for 20-30 minutes. Bean patties will be firmer and easier to cook. Season each side of the patties with salt and pepper.
Heat large skillet over medium-high heat with 1-2 tsp. of light cooking oil or spray oil.
Sear bean patties for about 5-7 minutes on each side.
Mix 4 tbsp. light mayo with 4 tbsp. of parmesan cheese in a small, separate bowl.
Place bean patties on burger buns and top with favorite toppings.
Shop the recipe: