So, the husband is going nuts over this pepperoncini chicken bowl!. I highly doubt he has an ounce of Mediterranean anything in him, but the man sure does love some Medi-inspired food. Honestly, I think as long as feta cheese is involved, he's game. The man loves feta so much that I actually created an Etsy shirt inspired by his favorite phrase about the funky, but oh-so-delicious cheese. He proudly wears it everywhere. Side note: the feta cheese I bought from Whole Foods for this recipe read: "Barrel-Aged Feta" – having never had such a thing, I had to try it. Verdict? Apparently, barrel aging isn't just for wine and bourbon, feta is "betta" in a barrel too!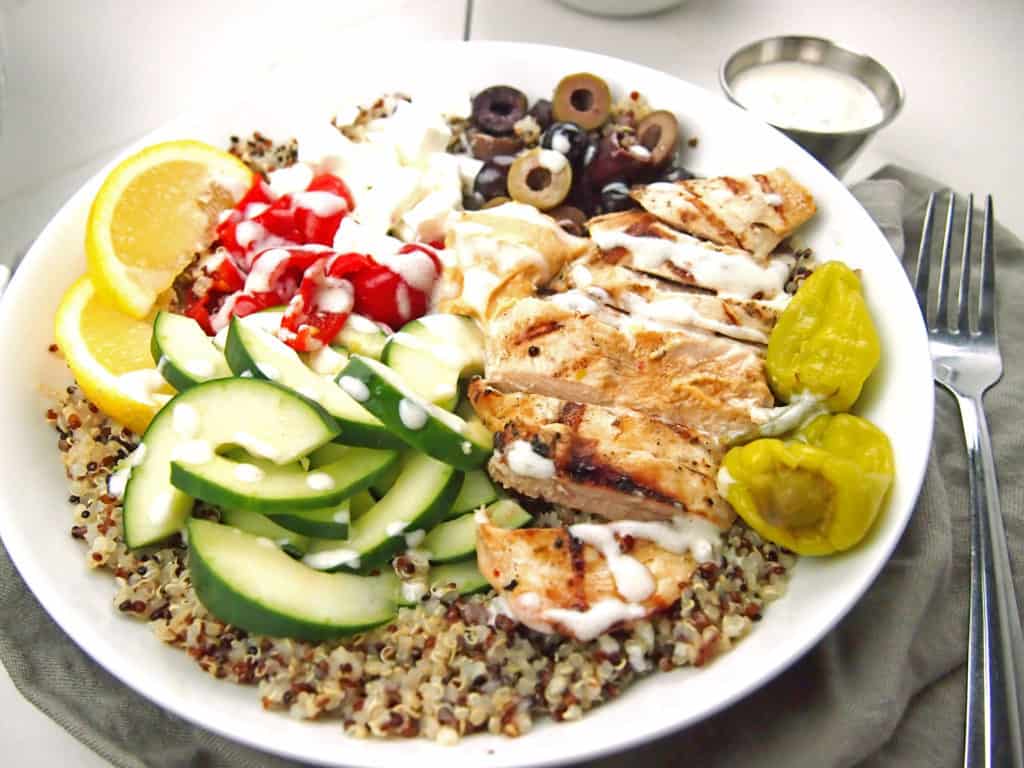 Moving on, one of my favorite things about this dish (aside from barrel aged feta, that is) is that it reminds me of this simple summer meal that my mom used to make when I was a kid. For a quick meal, she would grill chicken that she marinated in Italian dressing overnight. May not sound like much, but it's packed with tons of flavor. To make my version extra special, I made a quick homemade version instead of the bottled Italian dressing, and I used pepperonchini peppers. The dressing does double duty by pairing with Greek yogurt and serving as an extra creamy, zesty drizzle on top of the bowl.
As with most "bowl" recipes out there, this recipe makes for excellent meal prep and you can customize with your preferred mix-ins. Don't like cucumbers, swap for fresh tomatoes. Olives not your thing? Avocado would be nice. You get the idea. However, there are 2 things this recipe must have: 1. The homemade Italian dressing with pepperonchinis, 2. The feta (see paragraph #1, rinse and repeat) – everything else is customizable. Don't like pepperonchinis or feta? Not sure we can be friends. Just kidding…kind of.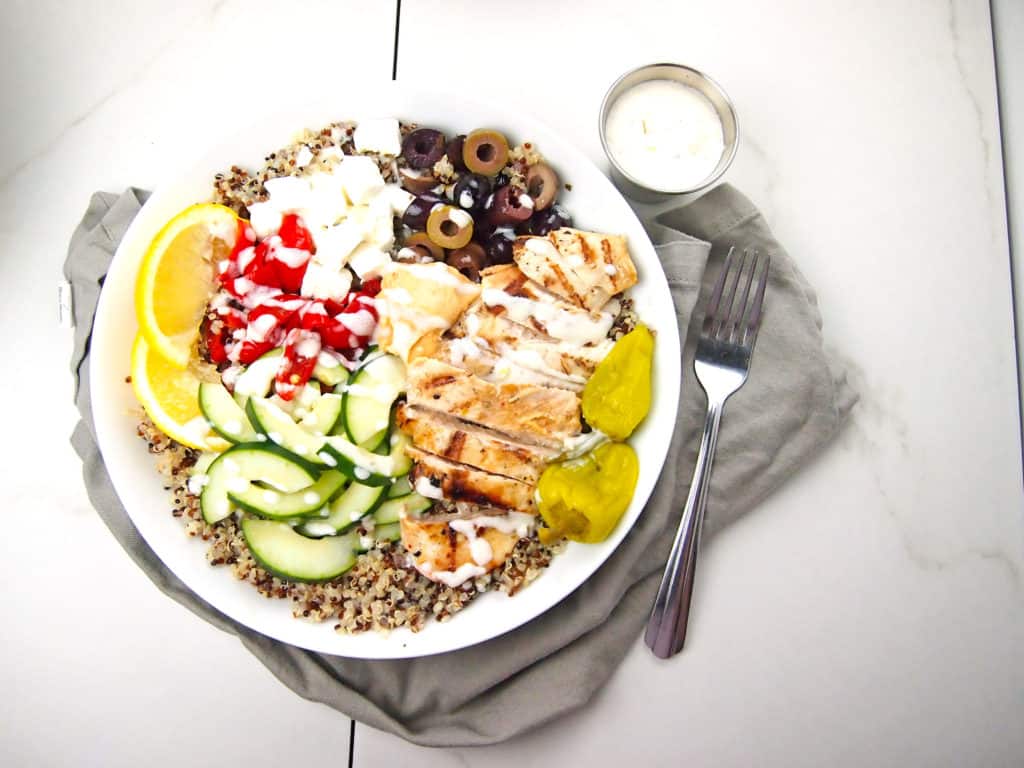 Pepperoncini Chicken Bowls
Ingredients
⅓

cup

pepperoncini rings

chopped fine

1

oz

lemon juice

1

teaspoon

dried basil

1

teaspoon

garlic powder

1

pinch

dried oregano

7

tbsp.

olive oil

1

lb

chicken breast

boneless and skinless

2

tablespoon

Greek yogurt

heaping

2

cups

quinoa

cooked (or other whole grain of your choice)

Toppings of choice

such as cucumber slices, olives, feta or goat cheese, hummus, roasted peppers, and/or avocado
Instructions
Whisk (or pulse in food processor) chopped pepperoncini rings, lemon juice, and herbs. Season with salt and pepper to taste. Drizzle olive oil into mixture while whisking (or pulsing) ingredients until well incorporated.

Measure out ¼ cup of dressing and set aside in refrigerator. Take remaining dressing and marinate chicken in either a ziplock bag or baking dish. Marinate chicken for at least 1 hour or up to overnight in the fridge.

Brush grill or pan with with olive oil or cooking spray. Preheat grill or pan over medium high heat. Grill marinated chicken for about 5-6 min on each side until cooked through. Remove chicken from grill and allow to rest for 10 minutes. Slice the chicken against the grain.

Take ¼ cup of reserved dressing that was set aside in refrigerator and whisk in Greek yogurt.

Arrange a bowl with grains on bottom, grilled chicken, toppings of your choice, and and drizzle of Greek yogurt dressing. Serve and enjoy!
CLICK TO DISPLAY NUTRITION INFO
Nutrition
Calories:
482
kcal
Carbohydrates:
22
g
Protein:
29
g
Fat:
31
g
Saturated Fat:
4
g
Polyunsaturated Fat:
4
g
Monounsaturated Fat:
20
g
Trans Fat:
0.01
g
Cholesterol:
73
mg
Sodium:
144
mg
Potassium:
642
mg
Fiber:
3
g
Sugar:
2
g
Vitamin A:
77
IU
Vitamin C:
13
mg
Calcium:
41
mg
Iron:
2
mg