This blog post covers how to make Instant Pot Basmati Rice. It doesn't matter whether you prefer brown or white rice, this recipe works for both!
Truth is, as much as I love to cook and feel that I'm a pretty decent cook, I am terrible at making rice – or at least I used to be. I especially struggled with brown rice – it just never turned out right until I started using my Instant Pot. I think one of the reasons I used to be bad at making rice is that I used to peek and lift the lid of the pot, which you are never supposed to do. What can I say? I'm impatient.
One of the first things that I made in my Instant Pot, when I got it years ago, was rice. I was initially skeptical about having an Instant Pot in the first place, but how easy and foolproof rice was to make in the Instant Pot sold me. (Don't worry, I have since discovered the many more benefits of owning an Instant Pot.) I love that I can set it and forget it. Whole grain rice doesn't take forever as it does on the stove thanks to the pressurization. Plus, there is the fact that I can't mess it up by "peeking" on the rice.
So, I thought I'd put together a tutorial on making one of my favorite rice varieties, basmati. It's fragrant, nutty, and goes perfectly with my Vegan Tikka Masala with Chickpeas.
What you'll need:
Basmati rice: You can use white or brown basmati rice. Did you know that white rice is just merely the inner carbohydrate part of brown rice? Brown rice has retained its outer layer and thus has B-vitamins and more fiber than it's white counterpart. There is nothing wrong with preferring one or the other. Both are a good source of carbohydrates and energy. One just happens to retain extra vitamins and fiber.
Liquid: Clearly, you could just water for the liquid portion of cooking the rice, but if you want to add more flavor switching to a broth or stock like chicken, beef, or vegetable will add more flavor to otherwise bland food. Basmati rice does have some fragrance to it and more flavorful than you're typical rice.
Seasonings: You could certainly spice up the rice any way you'd like, but adding at least a pinch of salt adds some flavor.
Oil: Adds some flavor and a more creamy mouthfeel to the rice. Olive oil or butter are my usual choices.
How to Make Instant Pot Basmati Rice
When it comes to the Instant Pot, the high-pressure setting is your friend. It gets the job done SO much faster! It might seem a little scary, but the Instant Pot makes it perfectly safe compared to the old pressure cookers of yesteryear. Simply dump all of your ingredients in the Instant Pot, make sure the pressure release knob is sealed, and that's it. Because brown rice retains more fiber, it takes longer to cook, even with the high-pressure setting. Here is a breakdown of the cooking settings that I use:
Brown rice: use the manual setting on high pressure to cook for 25 minutes. The rice button on the Instant Pot is typically used for white rice.
White rice: use the manual setting on high pressure for 12 minutes, or use the default rice setting (on my model it's 12 minutes on high pressure).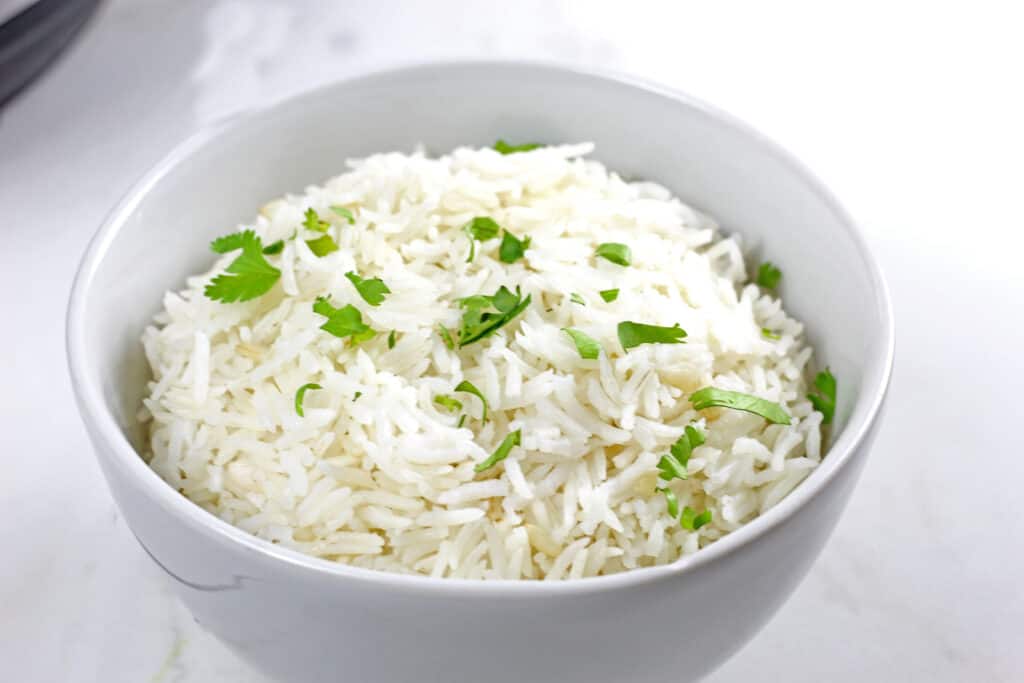 Also, you can use the quick release on this Instant Pot Basmati Rice if you're in a hurry, but the texture will be best if you let it naturally release for at least 10-15 minutes.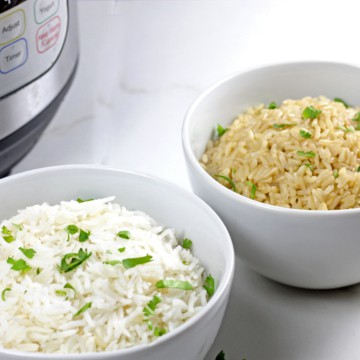 Instant Pot Basmati Rice
Ingredients
2

cups

basmati rice

brown or white

3 ½

cups

liquid

water or broth

½

tsp.

salt

plus other seasonings, if desired

1

tablespoon

olive oil or butter
Instructions
Put all of the ingredients in the Instant Pot. Cover with lid and seal the pressure release knob.

Cook on high pressure for 25 minutes for brown rice and high pressure for 12 minutes for white rice.

Allow the pressure to release naturally (ideally 10-15 minutes) before serving.
CLICK TO DISPLAY NUTRITION INFO
Nutrition
Calories:
144
kcal
Carbohydrates:
25
g
Protein:
2
g
Fat:
4
g
Saturated Fat:
1
g
Polyunsaturated Fat:
0.4
g
Monounsaturated Fat:
3
g
Sodium:
1062
mg
Potassium:
28
mg
Fiber:
0.3
g
Sugar:
2
g
Vitamin A:
438
IU
Calcium:
8
mg
Iron:
0.2
mg