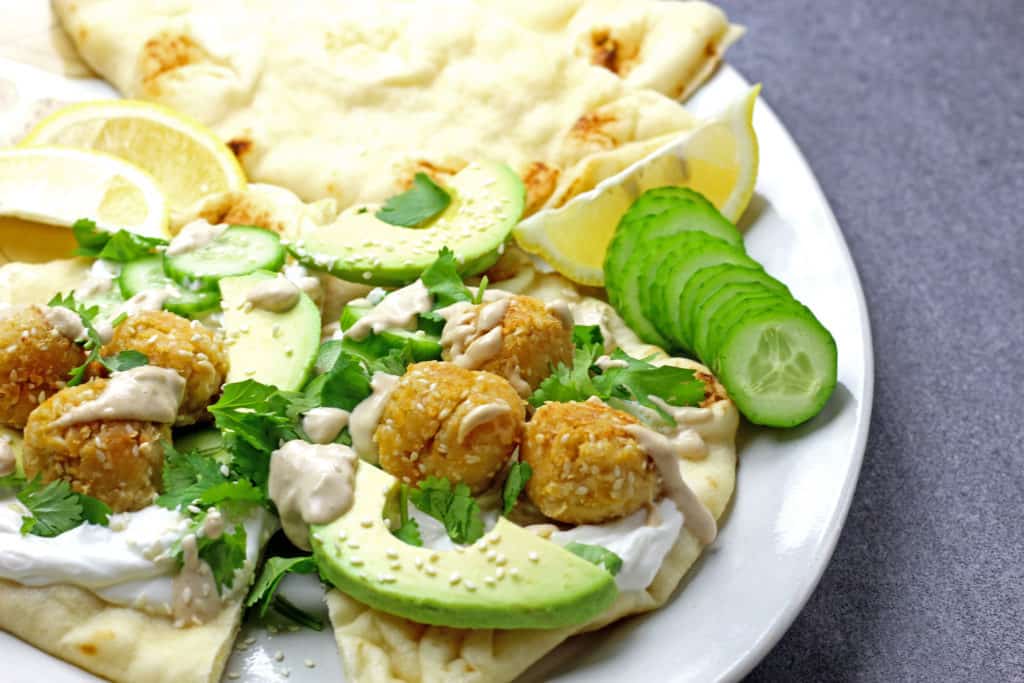 Let's talk falafel – as in spiced, fried chickpea balls. Chickpeas are packed with protein and fiber, making falafel a simple, delicious, and filling addition to any meal. I added sesame seeds to my falafel to add a nutty flavor as well as lemon and cumin to add a citrusy brightness and smoky spice. When the chickpea balls are lightly pan-fried in a skillet, the sesame seeds and spices get all toasty and delicious. I love to serve this sesame falafel with Greek yogurt spread on warm naan bread topped with avocado, cilantro, cucumbers, and tahini. Squeeze extra lemon slices on top for a finishing touch.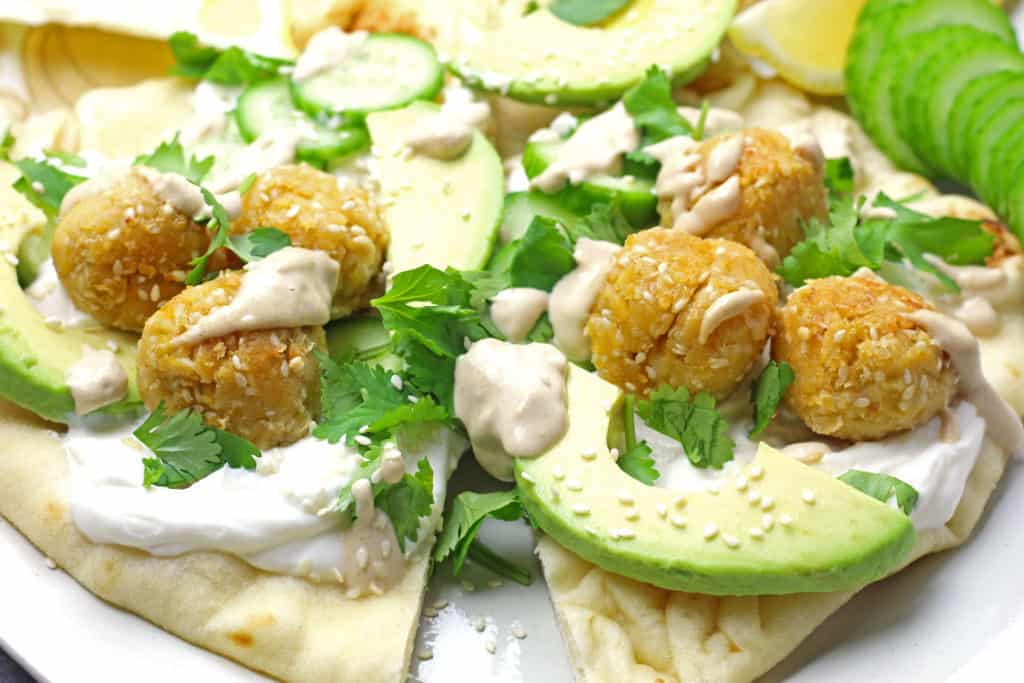 This Sesame Falafel comes together in no time. It's a quick whirl in the food processor, a little pan-frying, then some minor assembly with the toppings. They make great leftovers. To keep the crispiness alive, I recommend reheating the falafel in a 350-degree oven until warmed through rather than the microwave. Although I have to say, I took the leftovers for lunch at the office where we only have a microwave, and while they weren't super crispy, the flavor was spot on. I was so happy to get such a big plant-powered boost between the chickpeas, cucumbers, avocados, seeds, and cilantro. What a powerhouse of a meal! Like I mentioned above, it so satisfying and filling and makes for a great balanced meal. By balanced meal, it's an excellent combination of high fiber carbohydrates, protein, healthy fats, vitamins, and minerals.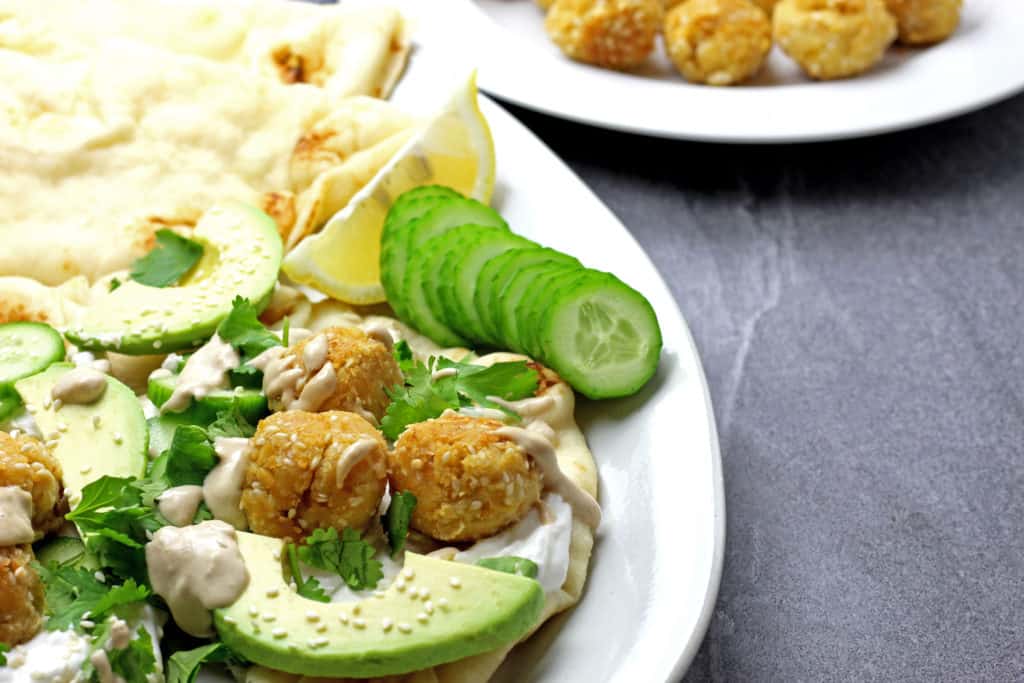 I also talked about how to create balanced meals this past week for those on my email list. Next week, I'll be talking about how to create balanced snacks and more. You can join us by signing up for my email list! I like to pop in weekly and share some fun and exciting content, as well as keeping you in the know about new blog posts. It's a win, win for all!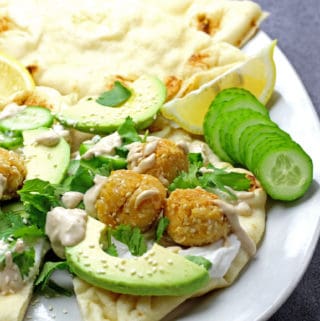 Easy Sesame Falafel
Ingredients
1

can

chickpeas

15 oz. can, drained and rinsed

2

cloves

garlic

minced

¼

cup

raw sesame seeds

2

tbsp.

lemon juice

(about the amount from half a large lemon)

¼

tsp.

cumin

1

tsp.

baking powder

2

tbsp.

flour

all purpose

4-6

tbsp.

light tasting olive oil

or other light colored oil such as avocado or canola oil

4

slices

naan bread

For topping: plain Greek yogurt

cucumber slices, avocado slices, tahini, chopped cilantro, and additional lemon juice
Instructions
Combine chickpeas, garlic, sesame seeds, lemon juice, cumin, baking powder, and flour in a food processor. Season with salt and pepper. Pulse until mixture is combined and mostly smooth. Press mixture together. If it forms easily, move on to the next step. If it's too wet, add additional flour. If it's too dry, add extra lemon juice or water.  

Form balls from a heaping teaspoon of the mixture and set aside. 

Heat 4 tbsp. of oil over medium-high heat in a large skillet. Work in batches if necessary. Add falafel balls to the oil and cook for about 10-12 minutes, moving them around to brown evenly about every 3 minutes or so until golden brown. Lower heat to medium about halfway through if falafel begins to brown quickly. Use additional oil if necessary if the skillet becomes dry. Drain falafel on paper towels and set aside. 

Top naan with falafel and desired toppings to serve. 
CLICK TO DISPLAY NUTRITION INFO
Nutrition
Calories:
485
kcal
Carbohydrates:
53
g
Protein:
14
g
Fat:
25
g
Saturated Fat:
3
g
Polyunsaturated Fat:
5
g
Monounsaturated Fat:
13
g
Cholesterol:
2
mg
Sodium:
352
mg
Potassium:
381
mg
Fiber:
10
g
Sugar:
6
g
Vitamin A:
34
IU
Vitamin C:
5
mg
Calcium:
243
mg
Iron:
5
mg