I love fried calamari. If it's on the appetizer menu, I'm pretty much guaranteed to order it. One of my favorite versions of fried calamari was a pretzel-encrusted calamari with a creamy mustard dipping sauce that I had at a local Charleston restaurant, which I tried to recreate in this recipe. Making fried calamari can be challenging, though. It can take on a tough texture if not cooked properly, and I find deep frying foods at home to be more trouble than it's worth. Luckily, this Air Fryer Calamari recipe solves both of those problems.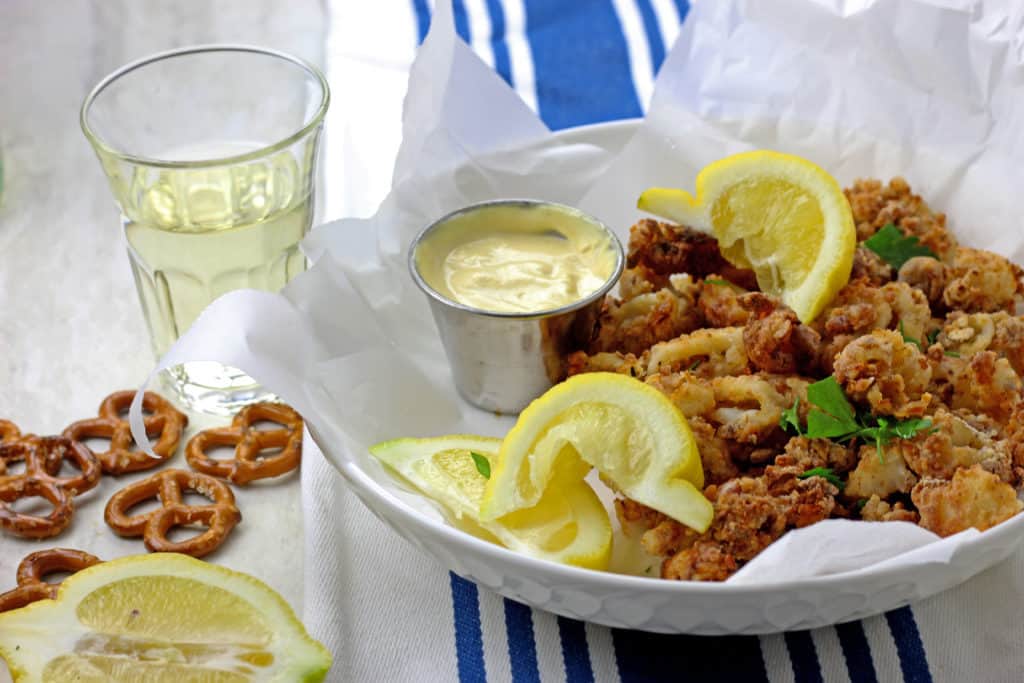 Solution #1: Marinate the Calamari
There is a reason that fried foods are often marinated in acidic marinades before cooking. The acidity in buttermilk is a classic tenderizer. When we let the calamari marinate in buttermilk (or yogurt mixture – see below) for at least 30 minutes, it will no longer have the texture of rubber after cooking.
Solution #2: Air Fry the Calamari
I've mentioned before, my love of my air fryer. An air fryer is really just a countertop convection oven. Hot air circulates rapidly, causing the crisping and cooking food very quickly, similar to deep frying but without all the extra oil and mess. The calamari is cooked to perfect crispiness in about 10 minutes. So now, let's move on to the ingredients and how to make this recipe.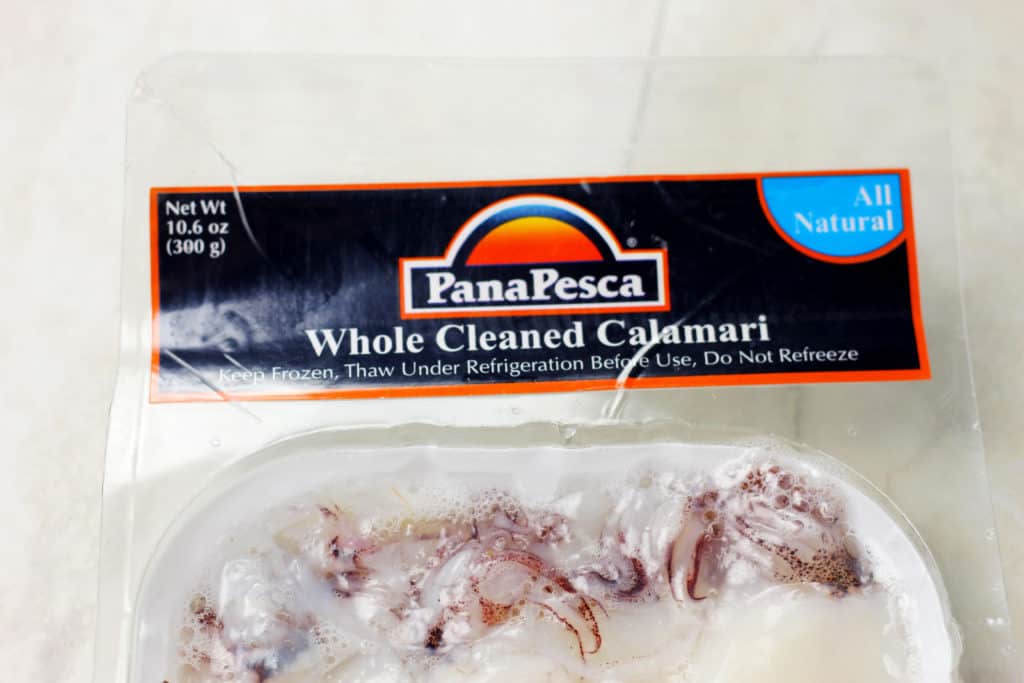 Air Fryer Calamari Ingredients
You'll need:
Calamari tubes and tentacles: Calamari might sound really daunting, but it's actually super convenient. At my local Harris Teeter, they sell pre-cleaned calamari tubes and tentacles in the frozen seafood section. All you have to do is defrost and slice. It's easier than EZ peel shrimp.
Buttermilk: If you keep some around for baking, great. I never seem to be able to use all the buttermilk before it goes bad, so I like to make mock buttermilk by stirring some plain yogurt with some milk. The yogurt has acidity just like the buttermilk and is a great tenderizer.
Mini salted pretzels: This recipe uses salted pretzels as a breading and a mustard dip to give the calamari a little twist. You can substitute panko breadcrumbs if you prefer.
Flour: You can use a whole grain flour or an all-purpose. They both will work great.
Pepper: I used crushed red pepper in addition to black pepper because I like a little spicy kick.
Light-colored oil: The lighter the oil's color, the less likely it is to burn at high temperatures in the air fryer. You can use spray oil or brush on some light-colored oil (like light tasting olive oil, canola, or avocado).
Sauce: To go with the pretzel-crust, mixing equal parts dijon mustard and mayonnaise make for a perfectly tangy and creamy sauce to dip the calamari.
Toppings: Calamari would not be complete without being served with lemon slices to squeeze over or some chopped parsley for some freshness and color.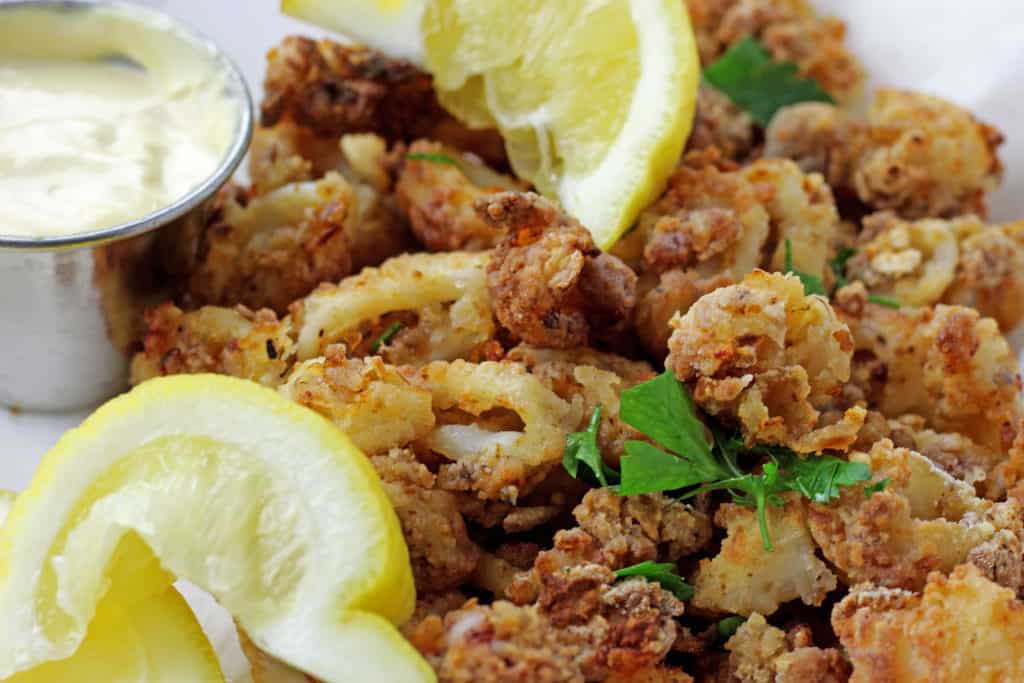 More Air Fryer Recipes
If you enjoyed the Air Fryer Calamari, you might also enjoy these recipes: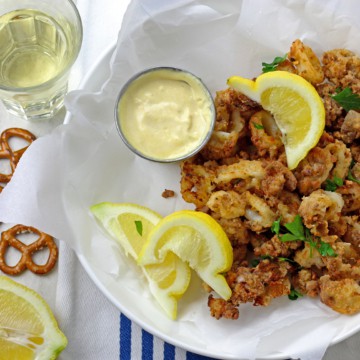 Air Fryer Calamari
Ingredients
10

ounces

cleaned calamari tubes and tentacles

1 ½

cup

buttermilk

or if you don't have buttermilk use plain yogurt and dilute with milk to make about 1 ½ cups

Salt and pepper

as desired

1

cup

mini salted pretzels

¾

c

flour

whole wheat or all-purpose

¼

tsp.

crushed red pepper

optional

Light-colored oil

canola, light olive, etc., for brushing or spray oil

Mustard sauce: dijon mustard

mayonnaise

Lemon slices and chopped fresh parsley for topping
Instructions
Slice calamari tubes into bite-size pieces. Also, chop any larger tentacles. Soak calamari in buttermilk or yogurt solution along with salt and pepper for at least 30 minutes in the refrigerator.  

Meanwhile, pulse mini pretzels and flour together in a

food processor

until pretzels are finely crushed, but still have some texture. Season with black pepper and red pepper flake if using. Place pretzel-flour mixture in a shallow dish. 

Spray 

air fryer

 basket with oil. Preheat air fryer to 360 degrees F. Drain calamari from marinade. Dip calamari into pretzel-flour mixture and roll around until completely coated. Place calamari in air fryer basket and spray or brush with oil. Air fry calamari for 10-12 minutes, turning and brushing or spraying with more oil about halfway through. 

While calamari cooks, mix together equal parts mustard and mayonnaise in whatever amount desired for dipping.

Once calamari is cooked, serve immediately with sauce, lemon slices, and parsley on top. 
CLICK TO DISPLAY NUTRITION INFO
Nutrition
Calories:
301
kcal
Carbohydrates:
41
g
Protein:
19
g
Fat:
7
g
Saturated Fat:
2
g
Polyunsaturated Fat:
1
g
Monounsaturated Fat:
3
g
Cholesterol:
175
mg
Sodium:
463
mg
Potassium:
413
mg
Fiber:
2
g
Sugar:
4
g
Vitamin A:
264
IU
Vitamin C:
4
mg
Calcium:
137
mg
Iron:
2
mg